It pays to follow what short sellers are doing. Backtesting has shown that stocks with the highest levels of short interest underperform the market, meaning the "shorts" produce results for their investors by bringing skepticism and skill to their work. If you are long a stock that suddenly attracts the shorts' interest, it is worth retesting your thesis and trying to understand why they are short. At the very least, you might gain a better understanding of the risks to your long position. At best, it could save you from an expensive mistake.
What are the shorts doing today?
At the sector level, short sellers are increasing exposure most to the Transportation, Communications, Consumer Services (including Retail) and Health Services sectors. Notably, the total short market value in Transports showed a 35% increase while the market value of the sector increased just 8% over the same 3 month period.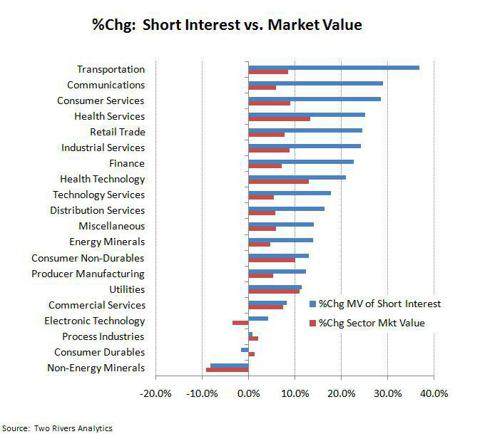 Despite swift increases in short exposure in these sectors, the greatest concentrations of total short market value remain in Finance, Health Tech and Technology. Finance tends to be the largest share due to the size of the sector and the number of companies comprising it, followed frequently by fast-changing Health Tech and Technology. Consumer Durables, Distribution and Minerals have the highest levels of Short Interest to Shares Outstanding ("SISO") with average SISO's in the 4.5% range.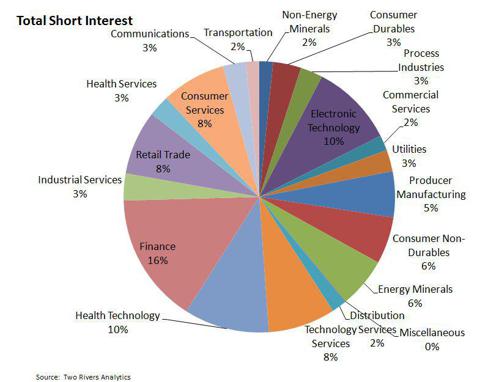 Stocks showing the largest spikes in short interest (those that suddenly appeared on short investors' radars) include Liberty Global (NASDAQ:LBTYA), Linn Co (LNCO), US Airways (LCC), Intercontinental Exchange (NYSE:ICE), Joseph Banks (NASDAQ:JOSB), Standard Pacific (SPF) and lululemon (NASDAQ:LULU). A table showing recent short interest spikes is included below. If you own stocks on this list, you might want to understand what makes them attractive to the shorts and be sure you are still comfortable with your original thinking.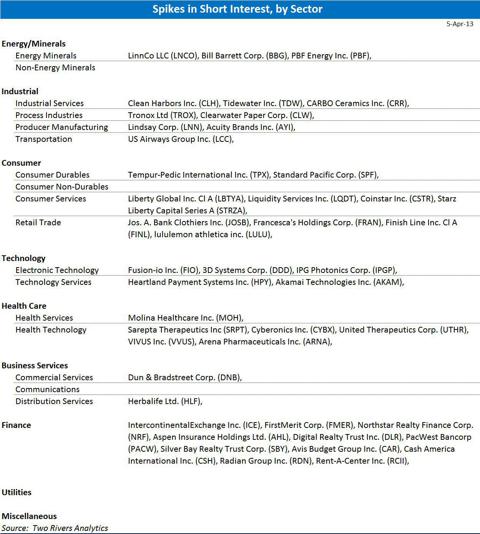 Disclosure: I have no positions in any stocks mentioned, and no plans to initiate any positions within the next 72 hours. I wrote this article myself, and it expresses my own opinions. I am not receiving compensation for it (other than from Seeking Alpha). I have no business relationship with any company whose stock is mentioned in this article.