Back in December 2012, I wrote on how Apple (NASDAQ:AAPL) products being sold at a discount in Wal-Mart were not the most positive of signs for Apple. This was worrisome mostly for three major reasons:
It broke a long-standing rule where Apple was not open to major discounting. It thus could invite further retailers and mobile partners to press for further discounting affecting ASPs (Average Selling Prices);
It brought demand forward, thus benefiting current quarters at the expense of future quarters;
And it potentially damaged Apple's high-end image.
I could add that there was a slight further worry. The items being discounted included the most recent product, the iPhone 5. At the time, the only iPad being discounted, however, was the iPad 3.
New developments
At the time, it was somewhat noteworthy that the iPad mini - a product in great demand - was not included in the Wal-Mart discounts. This shows that at least partially, the discounts were taking into account how much merchandise was available to be moved. Since the iPad mini was in shortage, there was no need from Apple's side to discount it so that it could move in quantity.
This, however, also highlights that the rest of the product range was, indeed, available in such quantity that Apple saw an advantage in trying to move as much quantity as possible even if it had to discount it.
It's in this context that we thus must see today's developments. As it stands, Wal-Mart is now offering a discounted iPad mini. As we can see below, Wal-Mart is proposing the mini at $299, $30 or a full 9.1% below list price.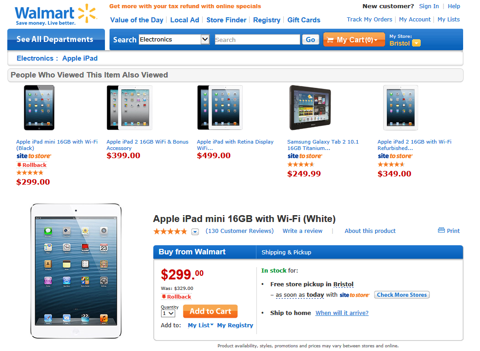 Beyond the 3 worrisome reasons I stated before, this thus seems to indicate that now even the iPad mini is not seeing blowout demand. At this point, it seems that Apple is ready to let discounts hit even the best-selling, most in-demand, products. That's a worrisome sign, as it clearly points to weakening demand.
Conclusion
Tellingly, when Apple launched its products in Wal-Mart at discounted prices starting in December 2012, the iPad mini was not included. Yet, now Wal-Mart has started offering even a discounted iPad mini. Such seems to point towards revenue weakness even for the most in-demand Apple products. It's not a good sign.
Disclosure: I have no positions in any stocks mentioned, and no plans to initiate any positions within the next 72 hours. I wrote this article myself, and it expresses my own opinions. I am not receiving compensation for it (other than from Seeking Alpha). I have no business relationship with any company whose stock is mentioned in this article.