Friday's report of just 88,000 jobs added was one of the worst reports since the U.S. first started consistently adding jobs nearly three years ago. The one positive was the drop in the official unemployment rate from 7.7% to 7.6%, but that was driven entirely by declines in the participation rate (see "'Real' Unemployment Rises to 10%"). This was only the second time since 2011 that the data has dipped below the 'danger zone' of 100,000 monthly jobs added. Any failure to rebound from here in the next 1-2 months will be a huge red flag for the employment picture.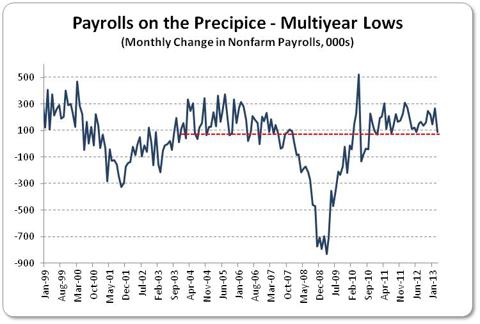 Click to enlarge
Additionally, after February's huge gain of over 260,000, this represents one of the worst month-over-month slowdowns of the last decade.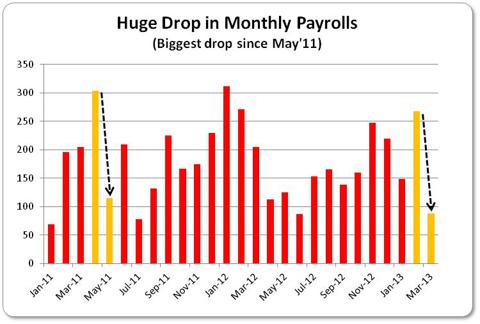 Click to enlarge
The last time we've seen this kind of 1-month meltdown was in May 2011. After gains of 200K in February and March and 300K in April, May 2011 came in nearly 200K lower. This was accompanied by a several month drop in ISM, led to a massive slowdown in GDP, and within months saw a 20% decline in equities. This time, in addition to the sharp slowdown in jobs, we've already seen GDP stumble significantly in 4Q12, and ISM indexes (manufacturing and non-manufacturing) have now started to roll over, with several of the sub-indices near multi-year lows. Imports and exports have been declining, which typically leads to weaker GDP growth. And with equity markets near all-time highs and valuations near the top of recent ranges, odds of another economic slowdown and yet another year of 'Sell in May' equity declines are now very high.
Source for Data: Bureau of Labor Statistics
Disclosure: I have no positions in any stocks mentioned, and no plans to initiate any positions within the next 72 hours. I wrote this article myself, and it expresses my own opinions. I am not receiving compensation for it (other than from Seeking Alpha). I have no business relationship with any company whose stock is mentioned in this article.