Introduction
It was announced Monday evening that J.C. Penney's (NYSE:JCP) Board of Directors has ousted CEO Ron Johnson after just 16 months at the helm of the failing retailer. As first reported by CNBC.com Monday:
JC Penney CEO Ron Johnson is out and Mike Ullman will rejoin the company as CEO, receiving an annual base salary of $1 million.

JC Penney stock wavered after-hours: Spiking 10 percent after the news of Johnson's departure, then sliding more than 10 percent.

Ullman was previously CEO at the retailer from Dec. 1, 2004, through Oct. 31, 2011, when Johnson was tapped to succeed him.

"We are fortunate to have someone with Mike's proven experience and leadership abilities to take the reins at the company at this important time," Thomas Engibous, chairman of the company's board, said in a statement. "He is well-positioned to quickly analyze the situation JC Penney faces and take steps to improve the company's performance."
Purpose of this Article
I'm going to sum up what my past arguments have been against J.C. Penney and Ron Johnson, and then I'm going to tell you why two wrongs don't make a right and why J.C. Penney is still screwed (possibly even more so now), with the new CEO switch.
My readers know that I have been bearish on J.C. Penney for months now, claiming it was going to go under as recently as March 23rd of this year in my article "The 8 Point Path to J.C. Penney's Obsolescence".
As I said in that article, Johnson's sub-store "no sale" solution is not enough to save this company. I wrote:
Ron Johnson's big move since he's come on has been to introduce brands; some already carried by Penney and some not, to have their own "store" within a store. There was a recent bump of positive news when Penney announced they were bringing the brand "Joe Fresh" on board.
New York Magazine recently wrote:

After the Toronto-based brand announced plans to take over 1,000 to 2,500 square feet of floor space (for the next four years) in J.C. Penney stores last year, more than 650 Joe Fresh shop-in-shops opened over the weekend. The good news, from WWD: Shares of "J.C. Penney Co. Inc. jumped as much as 10.9 percent" on Monday and its "stock closed up 6.2 percent to $16.44." Analyst Brian Nagel of Oppenheimer described the mini-Freshes as "open and airy and brightly lit. Merchandise looks compelling and well priced. Traffic is difficult to measure, but customers do seem to be reacting positively."


Aside from Joe Fresh and hip brand Sephora, Penney has also included a number of non-earth shattering "past their prime" 90's style perfunctory brand names such as Levi and Liz Claiborne.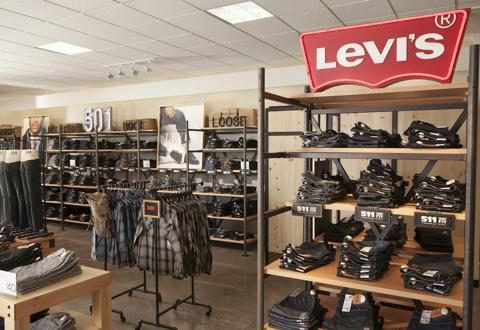 J.C. Penney's long-term hopes of success rely on Johnson's new plan to create sub-sections of the store in different departments. He's taking a huge risk in segmenting the stores by brand, giving major brands their own individual sections. Big risk sometimes pays off, and therein hangs the balance of the company's corporate strategy going forward.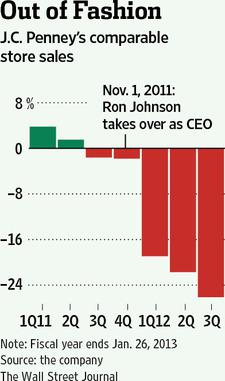 Since Johnson has been on, the company has done nothing but burn through cash and see sales decline significantly.
Why J.C. Penney is Still Dead in the Water
This analysis doesn't require technicals and it doesn't require charting. It doesn't require massive fundamental balance sheet analysis nor does it require intense quantitative analysis. All it requires is common sense.
So, what does common sense dictate here?
1. The Board of Directors is Scared
Like a crew trying to pale out buckets of water from a sinking ship, panic is starting to set in. While Johnson's plans didn't seem to be working, 16 months is hardly a length of stay in which to judge the transitional power of someone's new plan. This decision was made a bit too early, and it's a surefire sign that the Board of Directors is really starting to get nervous about insolvency.
The Board here knows where this company is heading, and they're making moves accordingly. This ousting of Johnson is a significant sign as to how things are going internally at J.C. Penney.
2. The New Old CEO is Taking $1 Million Salary
The point here is that if Ullman was in the right mindset and he was going to be the "white knight" that was going to save this company, he wouldn't be taking a $1 million salary.
I know it's technically not a lot, but there's a point here to make to shareholders. Although he's going to cost the company far less than Johnson, if he was about changing the company he'd be taking a substantially lower salary, especially because he's already made his money.
You can take $300k in cash and take the rest in stock options that will vest at $25 -- so shareholders know you're in the same mindset as they are; building value and money behind the stock while turning the company around.
This big executive thinking that goes behind a million dollar salary is the wrong mindset here; a mindset that J.C. Penney has been stuck in and is going to ultimately lead them to their demise.
3. Transition Takes More Time
Anyone that has ever worked as a senior level executive at a company understands that there is an implied amount of transition time when coming into a new company of at least 6 months. Johnson may have done some of his analysis before taking the job over, but until he is there, in the office (or on his private jet) and digging his heels in, you can't get a grip on operations and the people around you effectively.
Furthermore, you can't start to seriously implement your changes until after you are in and set up. In essence, when you're talking about execution time, 16 months really isn't a lot of time, even if I was one of the biggest outspoken disapprovers of Johnson's short tenure.
Now, even though Ullman is the former CEO and is familiar with the business, he's going to have to come into a new business model and start to implement his own changes. This is going to take even more time, and time is not something that J.C. Penney has on its side. The pressure cooker has officially kicked in here, as the company continues to burn cash.
The company cannot afford to burn through time and cash. At this point, the odds are stacked so far against J.C. Penney, it's becoming clearer and clearer that hope is lost.
4. Mike Ullman Was Part of the Original Problem, Remember?
Also, let us not forget that although the stock wasn't crushed, it was Ullman's tenure that led the company to the place where it was before Johnson came on, and the impending need to bring on a new CEO that was going to make changes. Nothing more here than what meets the eye: failing CEO gives way to new CEO who fails to make changes, then company brings back on original failing CEO. Right.
So, not only is the company backtracking and reinstating the old CEO, but they're doing so having burned through 16 months, tons of cash, and letting sales get dismal. The company is in exponentially worst shape with the wrong CEO in place -- again.
5. It's Now Too Late for The Big Paradigm Shifting Move The Company Needs
As I've contested, this company needs a massive paradigm shifting move to save it. As I said in my previous article:
J.C. Penney needs to take on something massive with its rebranding, and it simply hasn't. For all intents and purposes, the store styles are the same, most brands carried are still the same, the logo is barely different, and the changes made are not monumental and paradigm shifting enough to knock Penney out of the rut that the store's brand has inadvertently fallen into.
and
What J.C. Penney is doing with segmenting its stores is the same thing Kodak did with Advantix. Instead of completely letting go of the old and doing something totally paradigm shifting, they're trying to weld together the old failed model with some new ideas; in essence creating a hybrid mash of ideas that won't gel well together.
and
The company is stuck on a mezozoic era branding problem, and has failed to make massive, paradigm shifting changes to their business. They are not focusing enough on online sales and younger generations, all the while seriously burning through cash.
The suggestion I'd make for something completely paradigm shifting would be to scrap all of the stores and move the whole company online, like Amazon (NASDAQ:AMZN). Liquidate a ton of the assets, inject some cash into the company, keep the warehouses, change the name, and work on being the lowest priced brand name clothing seller online.
The company is not taking enough of a macro-view on how to change things and find success. Reinstating the former CEO is a paltry excuse for a "corporate strategy" decision, and this investor is convinced that the coming results will prove that.
Conclusion
The solution here does not lie in more small changes, just as it does not lie with this company continuing to throw away cash and spread themselves too thin.
The only possible saving grace for this company would be to trim a ton of the assets, get the company lean and clean with a brand new business model, and recreate themselves. Unfortunately, it's far too late for J.C. Penney, who remains dead in the water. I don't like seeing companies fail; nor do I like to see money wasted and jobs lost, but all roads in my head lead to J.C. Penney not making it but a couple more years.
If you're long here, why not pick up some 2015 puts as insurance? A premium is a small price to pay for some protection, and if the company can pull a rabbit out of their hat and survive, chances are the premium will be a long lost afterthought if the stock can grow from its current point.
As always, best of luck to all investors.
Disclosure: I have no positions in any stocks mentioned, and no plans to initiate any positions within the next 72 hours. I wrote this article myself, and it expresses my own opinions. I am not receiving compensation for it (other than from Seeking Alpha). I have no business relationship with any company whose stock is mentioned in this article.