On Monday, April 8th, Plains All American Pipeline, L.P. (NYSE:PAA) announced that it had "boosted its quarterly cash distribution by 2.2% Q/Q to 57.5 cents/unit, to be paid May 15 to unit holders of record as of May 3rd". In the wake of the company's positive dividend related news, I wanted to examine several catalysts behind my decision to establish a position in Plains All-American Pipeline, L.P.
Overview: Based in Houston, Texas, Plains All American Pipeline, L.P., "engages in the transportation, storage, and marketing of crude oil and refined products in the United States and Canada. The company operates in three segments: Transportation, Facilities, and Supply and Logistics". (Yahoo! Finance)
Shares of PAA, which currently possess a market cap of $18.90 billion, a P/E ratio of 23.43 and a PEG ratio of 3.32, settled at $56.23/share on Monday. One of the things to point out for growth investors is the fact that shares of PAA are actually 19.57% higher since January 1st of this year.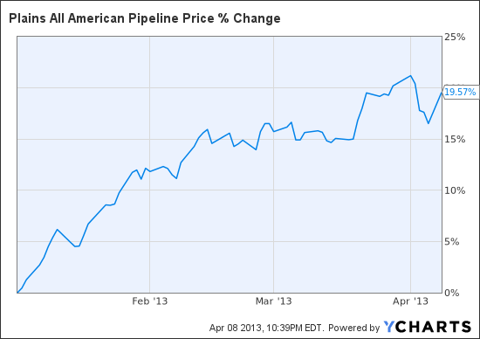 PAA data by YCharts
For those of you who may be considering a position in Plains All American Pipeline, L.P from an income perspective, shares of PAA currently possess a forward yield of 4.10%($2.30) and possess a very high payout ratio of 88.00%. According to a recent article written by my fellow SA colleague, Marshall Hargrave, "Plains All-American has increased its distribution every year since 2001, at an average compounded annual growth rate of 7%".
In my opinion, there are two long-term catalysts (both of which were announced in February 2013) to consider when it comes to Plains All-American Pipeline, L.P and they are the company's recent sale of a portion of its non-core refined pipeline assets valued at roughly $190 million to Magellan Midstream Partners (NYSE:MMP) and the company's announcement regarding its plans to expand the Mississippian Lime Pipeline.
Non-Core Asset Sale (Feb. 22nd): According to the press release issued by Plains All American Pipeline, L.P., the company noted it had:
" signed a definitive agreement to sell non-core refined product pipelines and related assets in the Rocky Mountain and New Mexico areas to Magellan Midstream Partners, L.P. for approximately $190 million. The assets to be sold include a pipeline system that delivers refined products throughout Wyoming, South Dakota and Colorado and associated tankage, as well as a pipeline system that delivers refined products from El Paso, Texas to Albuquerque, N.M. and Juarez, Mexico".
In my opinion, the company's sale of its non-core product pipelines to Magellan actually benefits both firms. Plains All-American adds $190 million in cash to its books, while Magellan acquires a key pipeline system which can utilized for the transportation of refined products between the U.S. and Mexico.
Mississippian Lime Expansion (Feb. 8th): In an effort to transport an additional 75,000 barrels of oil per day, Plains All American announced that it would be expanding the Mississippian Lime Pipeline which was first constructed in February of 2012. The company noted that it would be "expanding its existing Mississippian Lime Pipeline, stretching from Coldwater in Comanche County, Kansas to Byron in Alfalfa County, Oklahoma. This 55-mile pipeline project will enable Plains All American to transport roughly 75,000 barrels of oil per day (Bbls/d) and service the growing production occurring in the Mississippian Lime resource play of western Oklahoma and southwest Kansas".
Not only does the expansion of pipeline provide added capacity to its already growing production but I think it also will fulfill all three of the company's goals as noted in its most recent conference call. According to Dean Liollio (President of PNGS GP LLC and Director of PNGS GP LLC),
"Our 2013 goals are very straightforward and include the delivery of operating and financial results in line with or above guidance, the successful execution of our organic growth program and the continued pursuit of potential acquisitions and business development opportunities which are able to provide a strategic complement to our business".
By enhancing the pipeline's transportation capabilities by an additional 75,000 barrels of oil per day, Plains All American has the potential to not only enhance earnings growth over the next 12-24 months, but also highlight the importance of its organic growth initiatives through key projects such as the Mississippian Lime Pipeline that runs directly into its hub in Cushing, Oklahoma.
Conclusion: When it comes to those who may be looking to establish a long-term position in Plains All-American, I'd continue to keep a watchful eye on the company's efforts to shed its under-performing non-core assets and its efforts to pursue what it calls 'complimentary acquisitions' throughout 2013.
Disclosure: I am long PAA. I wrote this article myself, and it expresses my own opinions. I am not receiving compensation for it (other than from Seeking Alpha). I have no business relationship with any company whose stock is mentioned in this article.