Since the late November bottom in 2012, the stock market has been on an impressive tear higher, catapulting to new recovery highs with many indexes taking out all-time highs. In one way, the obsession with all-time highs is meaningless, because once inflation is taken into account, we remain well below all time highs. Yet, since the public and media remain infatuated with these levels, they remain a strong psychological marker, whether it is valid or not.
In this article, I want to point out to readers that while the primary indexes - S&P500, Dow Jones Industrial Average, and Nasdaq 100 - remain resilient, many of their high beta counterparts have begun to falter. ETFs for these indexes are the SPDR S&P 500 ETF Trust (NYSEARCA:SPY), SPDR Dow Jones Industrial Average ETF (NYSEARCA:DIA), and the Powershares QQQ Trust, Series 1 (NASDAQ:QQQ).
For the health of this bull market, it is important for these sectors' high beta counterparts resume leadership and outperformance. It is certainly possible that this divergence can continue for weeks, if not months. In that case, I think it will continue to be a challenging environment for bulls and bears.
When the indexes and high beta sectors are diverging, it is wise to focus more on managing risk with tighter stop losses and more conservative profit targets. Conversely, when they are in agreement, then traders should be more aggressive, and countertrend positions should not be considered at all.
Small Caps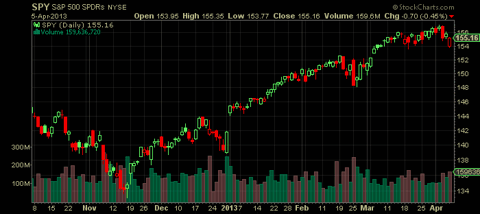 Click to enlarge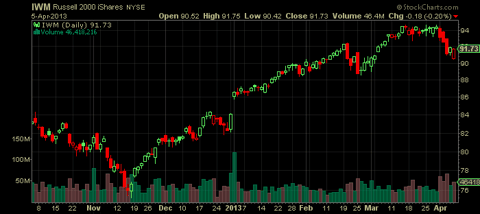 Click to enlarge
These two six month charts illustrate the divergence between the S&P 500 ETF and iShares Russell 2000 ETF (NYSEARCA:IWM). After leading the market higher from mid-November to late February, the small caps began to underperform.
In March, while the S&P500 was grinding its way to new highs, the small caps were moving sideways. And now what has been a mild selloff for the S&P 500 has been much more serious for the small caps.
Small caps are an important area to watch, as they are most leveraged to economic growth. Therefore, one way to assess the market's interpretation of the economy is by watching how these stocks perform.
Semis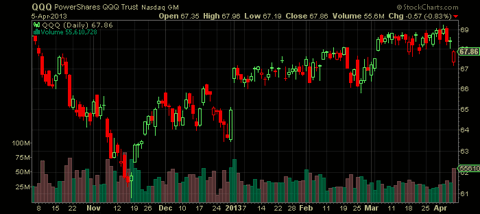 Click to enlarge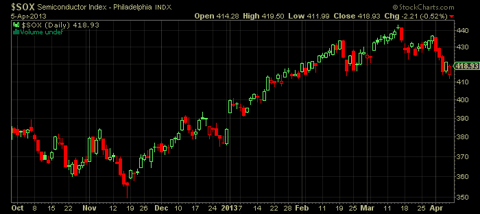 Click to enlarge
Due to weakness in stocks such as Apple (NASDAQ:AAPL) and Google (NASDAQ:GOOG), the Nasdaq 100 has been weaker than the Dow or S&P 500. However, the semiconductor sector has been even weaker, and its the only index examined that has made a lower low. The semiconductor index can be considered a leading indicator of demand for technology products.
Although I don't think this alone is a reason to fight the trend, I think it is a real threat to the continued viability of this bull market and should be watched closely. Another inherent weakness in this sector is that it is well below its 2011 highs, while the small caps and transports have exceeded their recovery and even all time highs.
Transports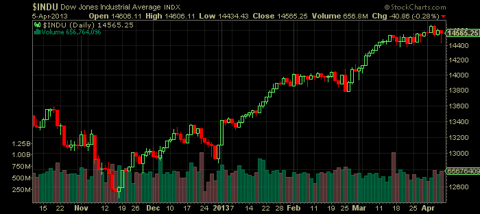 Click to enlarge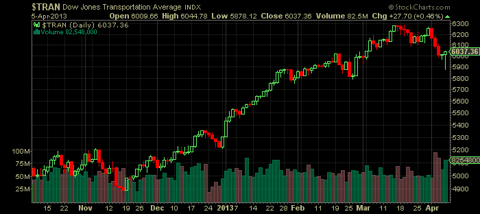 Click to enlarge
The transports have been one of the unheralded strong points in this rally, as transports took out all time highs very early. So far, transports have corrected about 5%, while the Dow is a couple of hundred points off its all-time high.
As of now, there is not much to worry about here, as a correction after such an impressive move higher is to be expected.
Conclusion
When these high beta sectors are leading, it creates a "risk-on" environment. This climate is the most advantageous for bulls. This coincides with a market where participation is wide and stocks all across the board are rising. The high beta sectors' outperformance reflects conditions in which participants are feeling optimistic about future economic prospects and liquidity is healthy. Both are necessary ingredients for a strong uptrend.
In today's environment, the market trend is up and stock market breadth remains robust, yet there are some concerns. The pattern of higher highs and higher lows in the primary indices remain intact, and until they are broken, fighting the trend is not prudent. For bulls, in deference to the signals given by the high beta indices, I believe stops should be kept tight. However, if signs of "risk on" begin to emerge via high beta outperformance, then more aggressive trading is appropriate.
Disclosure: I have no positions in any stocks mentioned, and no plans to initiate any positions within the next 72 hours. I wrote this article myself, and it expresses my own opinions. I am not receiving compensation for it (other than from Seeking Alpha). I have no business relationship with any company whose stock is mentioned in this article.