Following a quality control issue in Yoga pants and clear downtrend in the stock price since last September, investors may be wondering what to do with shares of Lululemon Athletica (NASDAQ:LULU). The company has been very transparent following the recent blunder and provided analysts with a great deal of clarity over the next few quarters. While we will certainly see negative impact during Q1 and Q2, it appears the problem is under control and the company's exceptional service should prove for few loyal customer losses. That being said, I believe the best course of action is to factor in the expected losses from the pants recall, and set your investment models accordingly with no substantial changes in expected long term growth.
There have been many detailed articles written regarding the Yoga pants recall, additionally the media is doing a great job blowing the severity of this out of proportion. Rather than focus solely on this dark cloud looming over the company, (which I believe is a small step back in Lululemon's growth story) this article will focus on what the current fiscal year may look like in addition to earnings and stock price estimates. I will also highlight my rationale as to why Lululemon appears to be on a trajectory of continued growth beginning in Q3 of the current fiscal year (Q3 is when management expects inventory to be fully written down and operations resume as normal).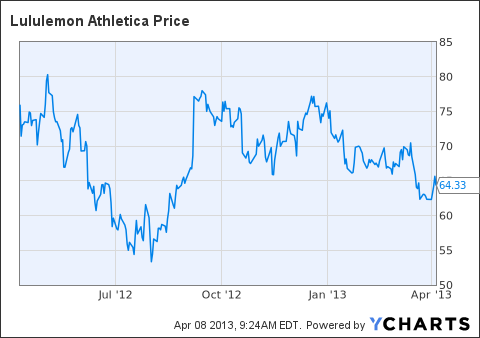 Revenue Estimate
In order to begin constructing revenue estimates for fiscal year 2013, I am going to focus on four areas: existing store revenue, new store revenue, eCommerce revenue, and expected losses from the pants recall. My estimates rely on historical price per square foot sales data which management expressed on the recent quarterly earnings call. Please note that the estimates below are not guaranteeing any of the results will be met. These estimates are strictly based upon management's guidance, the company's SEC filings, press releases, historical data, and my estimates.
Beginning with new store revenue, you can see in the table below that the current store count is 211. Dividing this by total square footage gives you an average square foot size of 2,853. Management stated on the recent earnings call, that average sales per square foot totaled $2,058. This metric alone is very impressive given that most retailers average roughly half this amount. Multiplying those three numbers together gives you revenue from existing stores. The company posted an incredible 16% increase in same store sales during FY12; my estimate for FY13 is much more conservative, coming in at 8%. Multiplying these two numbers gives us the estimated total revenue from existing stores of roughly $1,338 million.
| | | | | | |
| --- | --- | --- | --- | --- | --- |
| Current Store Count | AVG Square foot size | AVG Sales per square foot (existing stores) | Total Revenue from existing stores | Same Store Sales Increase | Total Revenue |
| 211 | 2,853 | $2,058 | $1,238,881,014 | 8% | $1,337,991,495 |
Source: Lululemon SEC Filings and my estimates
The company expects to open 43 new stores during the current year. Management has said that new stores average sales per square foot total $1,150. While I cannot directly estimate the rate at which new stores will be opened, my estimates assume the 43 new locations to be spread out equally over each quarter. Assuming they begin earning revenue immediately, the total revenue from new stores would be roughly $89.5 million.
| | | | | |
| --- | --- | --- | --- | --- |
| | New Stores Opened | AVG Square foot size | AVG Sales per square foot (new stores) | Total Revenue |
| Q1 | 11 | 2,853 | $1,150 | $36,090,450 |
| Q2 | 11 | 2,853 | $1,150 | $27,067,838 |
| Q3 | 11 | 2,853 | $1,150 | $18,045,225 |
| Q4 | 10 | 2,853 | $1,150 | $8,202,375 |
| | | | | $89,405,888 |
Source: Lululemon SEC Filings and my estimates
The next component of revenue, and one of the most promising moving forward, is eCommerce (or direct to consumer). Last year, Direct to consumer revenue increased 86% to $197.3 million, making up 14.4% of net revenue, up from 10.6% of net revenue in FY11. While I wouldn't anticipate growth rates to be this high in the coming year, assuming a more modest 40% growth year over year would lead us to roughly $276 million in revenue (roughly 16.9% of total revenue as we will see momentarily).
| | | |
| --- | --- | --- |
| eCommerce 2012 | Expected Growth in 2013 | Total Revenue from eCommerce |
| $197,300,000 | 40% | $276,220,000 |
Source: Lululemon SEC Filings and my estimates
The last estimate to factor in is lost revenue from the pants recall. Management is estimating anywhere between $57-$67 million will be lost. Assuming we take the high end estimate of $67 million and subtract it from the totals above, my estimated full year revenue would come in at $1,636,617,383 (see table below). It is worth noting that management appears to be taking a "worst case" position regarding the lost revenue. Their estimates of lost revenue assume that the product sales lost will not be replaced by other product sales. The company makes a few different pairs of pants, so any sales of other styles could move the "lost revenue" number in a favorable direction. Lululemon has provided full year guidance for sales to be in the range of $1.615 billion to $1.640 billion.
| | |
| --- | --- |
| Existing Stores | $1,337,991,495 |
| New Stores | $89,405,888 |
| eCommerce | $276,220,000 |
| Lost Revenue | $67,000,000 |
| Total | $1,636,617,383 |
Income Statement Estimates
Building upon the revenue estimates mentioned above, we can begin to build out the full year income statement. Again, Please note that the estimates below are not guaranteeing any of the results will be met. These estimates are strictly based upon management's guidance, the company's SEC filings, press releases, historical data, and my estimates. I will provide some bullet points which I believe to be relevant information in constructing each line item.
Cost of goods sold (cost of revenue) will increase substantially due to inventory (pants) being written down, additional costs due to managing the recall situation, and higher air freight. Management is expecting gross margins to be between 53%-54%, down from 55.67% in FY12. My estimate is for full year gross margins of 53.56%.
Selling, General, and Administrative costs will be slightly higher as a result of additional costs incurred from managing the pants recall situation
Effective full year tax rate of 30%
Management expected full year diluted EPS of $1.95 - $1.99 (this factors in the $0.25 - $0.27 of negative impact from the recall). My estimate is for diluted EPS of $1.99.
Diluted EPS is expected to be 146,600,000 (management guidance)
| | | | | | | |
| --- | --- | --- | --- | --- | --- | --- |
| | 2013 | | | 2014 | | |
| | Full Year Estimate | CS | YOY Growth | Full Year Estimate | CS | YOY Growth |
| Revenue | $1,636,617,383 | 100.00% | 19.43% | $2,029,405,554 | 100.00% | 24.00% |
| Cost of Revenue | $760,000,000 | 46.44% | 25.10% | $900,000,000 | 44.35% | 18.42% |
| Gross Profit | $876,617,383 | 53.56% | 14.92% | $1,129,405,554 | 55.65% | 28.84% |
| Selling, General and Admin Exp | $464,799,337 | 28.40% | 20.29% | $568,233,555 | 28.00% | 22.25% |
| Operating Income | $411,818,046 | 25.16% | 9.40% | $561,171,999 | 27.65% | 36.27% |
| Other Income (expense), net | $6,546,470 | 0.40% | 32.07% | $8,117,622 | 0.40% | 24.00% |
| Pretax Income | $418,364,515 | 25.56% | 9.69% | $553,054,377 | 27.25% | 32.19% |
| Provision for income taxes | $125,509,355 | 7.67% | 14.14% | $165,916,313 | 8.18% | 32.19% |
| Net Income | $292,855,161 | 17.89% | 7.89% | $387,138,064 | 19.08% | 32.19% |
| Net Income - noncontrolling interests | $875,000 | 0.05% | 0.00% | $875,000 | 0.04% | 0.00% |
| Net Income - Lululemon | $291,980,161 | 17.84% | 7.92% | $386,263,064 | 19.03% | 32.29% |
| | | | | | | |
| Basic Shares Outstanding | 145,000,000 | | | 146,000,000 | | |
| Basic EPS | $2.01 | | | $2.65 | | |
| Diluted Shares Outstanding | 146,600,000 | | | 147,500,000 | | |
| Diluted EPS | $1.99 | | | $2.62 | | |
Source: Lululemon's SEC Filings, Lululemon's Management Guidance, and my estimates based upon historical data and future expectations. Estimates given above are no guarantee of future results, please evaluate the company in greater detail before making investment decisions.
Valuation
Valuing high growth stocks can be challenging, as volatility and fickle investor emotions can make even the best analyst look wrong. Shares of LULU have traded as high as 80x trailing twelve month earnings, but have recently settled in the 30x-50x range. Given the tremendous earnings per share growth in the past few years, it appears these multiples are likely warranted. In my opinion the market is currently digesting the recent product recall and we may see multiples remain at the lower end of the P/E range, as more information is released regarding the magnitude of the recent situation.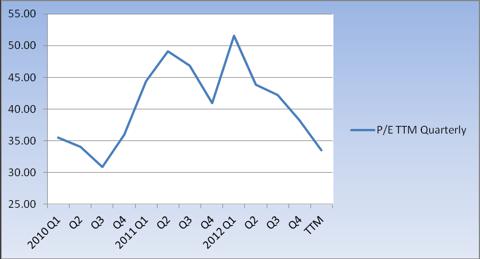 Source: Lululemon SEC Filings and Price History
Assuming a best case scenario and the market awards shares with a trailing twelve month price-to-earnings multiple of 40x, if the company earned $1.99 per diluted share at the end of FY13, shares would be trading at roughly $79, roughly 27% higher than current levels. Taking a base case scenario that shares trade at 30x trailing twelve month earnings at the end of FY13, and the company earns $1.99 per diluted share, the stock would be worth roughly $60, slightly below current market levels. Depending on the company's actual earnings and general market sentiment over the next few quarters will greatly affect this stocks trading pattern.
Another valuation tool to use is the discounted cash flow analysis. Please note that changing inputs even a small amount with this valuation tool can result in substantially different results. For my estimates, I assume free cash flow will grow 20% for the next four years and then grow at 6% annually thereafter. Using a discount rate of 10%, the current share price of this stock would be roughly $54.50, roughly 12% below current levels.
While my valuation estimates above may be somewhat conservative, they all lead to shares of Lululemon being fairly valued in the current market environment. Although my estimates do not guarantee any price objective in the stock will be met, it should help to assist in your analysis of finding good entry and exit points.
Catalyst for Growth
I still believe the underlying business model of this company remains intact and is the primary driver for growth. With high margin items and loyal affluent customers, the rapidly expanding consumer base appears to have staying power. The company is a big believer of putting customers first and delivering not just high quality Yoga apparel, but a complete lifestyle and experience as well. LULU is constantly putting together "launch events" through various communities to increase brand awareness.
That brand awareness is about to spread globally, as London and Hong Kong are expected to open new showrooms this year. Additionally, websites across the globe are being created to give customers in more remote locations access to Lululemon goods. While the company is competing with other major rivals like Nike (NYSE:NKE), Under Armour (NYSE:UA), and Adidas across the globe, the niche marketing has provided a competitive advantage. Additionally as CEO Christine Day pointed out during the latest earnings call:
We achieved these results in a very brand-appropriate way, and did not buy our comps through discounting, which ultimately would have harmed the brand.
Although not a catalyst for long term growth, a short squeeze could propel shares of LULU higher. Roughly 29% of the float is sold short (Source: Yahoo! Finance), any unexpected positive news could prove favorable for long biased stockholders. We witnessed this back in September when a rumor that a major hedge fund manager allegedly took a short position in the company (this proved to be false).
Conclusion
With a rough start to FY13, Lululemon will need to handle this recent recall appropriately in order for shareholders to regain confidence. My opinion remains that they will swiftly move past this problem and continue growing at a rapid pace. However given the current share price, investors may want to remain cautious before acquiring large blocks of LULU in their portfolios. Valuations suggest shares may be fairly priced at current levels.
Consider your investment goals and objectives before initiating a position in Lululemon Athletica, and please remember that the value of investments in equity securities, like LULU, will fluctuate in response to general economic conditions and to changes in the prospects of particular companies and/or sectors in the economy.
Note: All data reported and graphed is pulled directly from Lululemon's SEC Filings, press releases, earnings calls and investor presentations.
Disclosure: I have no positions in any stocks mentioned, and no plans to initiate any positions within the next 72 hours. I wrote this article myself, and it expresses my own opinions. I am not receiving compensation for it (other than from Seeking Alpha). I have no business relationship with any company whose stock is mentioned in this article.