For years now, the internet has been used to research holiday destinations and make bookings. The online travel industry (sometimes referred to as Travel 2.0) is now a multi-billion dollar industry. For many, websites like Wikitravel (a free Wikipedia-style website covering thousands of locations around the world) and Tripadvisor (where users can rate and review attractions) replace the need for guidebooks and traditional travel agents, as these websites are completely free and contain a wealth of information. Booking websites (for hotels, flights and tours) also make the process of preparing a holiday far easier.
The top 3 players in the online travel industry (based on current market cap) are Priceline (NASDAQ:PCLN), Expedia (NASDAQ:EXPE) and Tripadvisor (NASDAQ:TRIP). Each of these companies have market caps in the billions of dollars, are profitable, and are fairly well established. But while these companies may represent relatively safe investments, the potential for strong short-term growth is limited.
I believe that Orbitz Worldwide (NYSE:OWW) is worth looking into for risk-tolerant investors seeking a more speculative, potentially stronger stock in the coming months, as it has a relatively low market cap (well under $1B) and plenty of room for expansion. OWW has already more than doubled in price over the past couple of months and is currently trading at 52 week highs: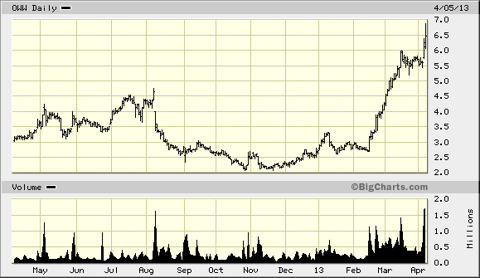 Overview
OWW was originally founded in 1999 with financial backing from major U.S. airlines including America Airlines, Continental Airlines, Delta Air Lines, Northwest Airlines and United Air Lines, with the main Orbitz.com website being launched in 2001. In 2004, OWW was acquired by Cendant, and took control of Cheap Tickets and Flairview Travel (which owns Rates To Go and Hotel Club). The stock first began trading in July 2007 at around $14, and dropped all the way to the low $1's throughout 2008 and into 2009 during the global financial crisis. However, in the years that followed (and especially in just the past two months) OWW has been able to recover to a respectable price.
As of April 2013, OWW controls 13 web properties. Travelers may recognize many of the brands below: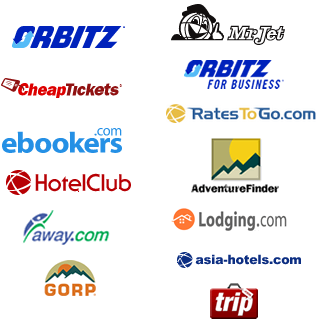 OWW's strongest website is Orbitz, where travelers can book flights, hotels, car hires, activities and cruises. According to Alexa (which gives a rough estimate of the traffic a website experiences), Orbitz.com is currently the 335th most trafficked website in the USA, which is very respectable (I would estimate that Orbitz.com probably receives tens of millions of visitors each month, the vast majority of which are repeat visits). While Orbitz.com still has strong traffic numbers, its traffic has generally been declining over the past two years (we can see that traffic tends to spike around the new year holiday period):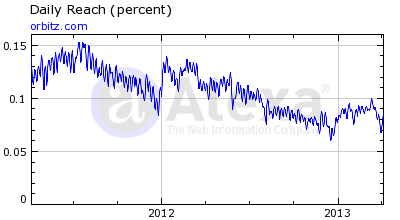 By comparison, the main websites of OWW's main competitors (such as Trip Advisor, Expedia and Priceline) currently have Alexa ranks in the USA of 101, 132 and 171 respectively, with Tripadvisor.com consistently showing more than twice as much traffic as Orbitz.com. For its current valuation (only 10% of EXPE and TRIP, and only around 2% of PCLN), I would consider OWW to have excellent traffic numbers. Some of OWW's most trafficked sites also include Cheap Tickets (another booking website), ebookers (for the UK market) and Away.com (a travel information website).
Speaking as a casual user of the website, Orbitz.com functions very similarly to other booking websites. For hotel booking, the user simply enters a location, their intended length of stay, and a list of hotels (together with user reviews) is given. Orbitz.com is able to make a small amount of revenue for each booking that takes place through its website, and through advertising. I am not aware of any major unique selling point that differentiates Orbitz.com from its numerous competitors. The site is able to attract traffic through heavy advertising, and word-of-mouth.
Recent Developments and Fundamentals
No major material developments have taken place that would explain OWW's strong recent moves. This article from over a month ago states that "Orbitz has rallied so much because it has been a loser for so long, and the popularity of the sector brought the stock up." However, the fact is that OWW has far outperformed other online travel stocks in the last few months. I doubt that interest in the online travel industry is the sole reason for OWW's performance, and if this was the case, I believe it would be foolish to invest in OWW at its current prices.
OWW first hit a surge in volume and began its strong run-up on 14th February 2013, when Q4 2012 earnings were announced. On that day OWW finished up around 15%, which strongly suggests that investors were pleased with OWW's Q4 2012 performance. OWW's Q4 2012 earnings release states the following:
Net revenue was $189.7 million for the fourth quarter 2012, up seven percent year over year. This increase was primarily driven by higher hotel volume, higher advertising revenue and an increase in net revenue per air and hotel transaction. Net revenue in the fourth quarter 2012 also benefited from the addition of an airline servicing revenue stream for one of the company's private label distribution partners. Lower air volume and lower net revenue from travel insurance partially offset these increases. Hotel net revenue, including hotels booked on a standalone basis and as part of a vacation package, represented 39 percent of the company's total net revenue for the year ended December 31, 2012, up 279 basis points from 36 percent for the year ended December 31, 2011.
OWW spent over $55 million in Q4 2012 on marketing, and has numerous other expenses involving customer service (over $15 million in Q4 2012) and wages and benefits (over $33 million in Q4 2012). The company currently faces challenges relating to cash reserves and cash flow, and is relying on loans to continue operating (interest expense was over $8 million in Q4 2012).
Hedge Fund Support and Insider Ownership
A look at OWW's SEC filings shows numerous recent trades in OWW from company insiders. The most significant is this Form 4 filing from 14th March 2013, which details some large sells from the OWW CEO Barney Harford. In two trading days Harford reduced his OWW position from 418,043 shares to 312,640 shares, with most shares being sold at an average price in the mid $5's. There are also a couple of other recent filings from officers who sold some shares (see here and here) in the $4's. See Harford's sells below: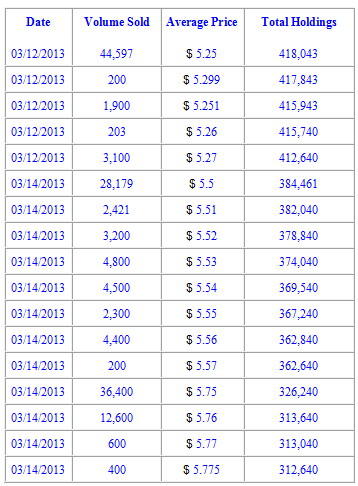 While I am not surprised the CEO chose to liquidate some of his position after OWW had roughly doubled in price in a short space of time, selling from insiders is always a bearish indicator, and leads me to wonder if OWW's recent moves upwards were excessive. Beyond insider sells, it is worth noting that as with other online travel stocks, numerous hedge funds have taken an interest in OWW in the past. These include PAR Capital Management, D E Shaw and Gotham Asset Management. A full list of notable holders in OWW can be found here (I assume this list is currently reasonably accurate).
Outlook and Final Thoughts
Those seeking a relatively-risk free, solid investment in the online travel industry should stick with the main industry players, especially PCLN. By comparison, OWW has problems involving its lack of profitability and cash reserves, and carries with it more risk. This is to be expected given its far lower market cap. But OWW still has significant assets, strong revenue and numerous heavily trafficked web properties that I believe will continue performing for years to come.
Clearly the time to buy OWW was shortly after its Q4 2012 earnings release, but I believe OWW may represent a reasonable investment opportunity if it retraces a reasonable amount, and I will be keeping an eye out for any news and catalysts in the future that could propel the stock further upward.
Disclosure: I have no positions in any stocks mentioned, and no plans to initiate any positions within the next 72 hours. I wrote this article myself, and it expresses my own opinions. I am not receiving compensation for it (other than from Seeking Alpha). I have no business relationship with any company whose stock is mentioned in this article.