TRI Pointe Homes (NYSE:TPH) is a 4-year old company based in Irvine, California that on January 31, 2013 became the first homebuilder to have its IPO since 2004. The Starwood Fund, managed by an affiliate of Starwood Capital Group, beneficially owns 37.9% of TPH common stock (as of March 7, 2013). The management team beneficially owns 5.9% of TPH common stock. Parts of TPH's management team founded the company and have worked together for 20 years. The company's start in the middle of the recession means that it has no "legacy issues" that burden the company with distressed properties or liabilities. TPH has thus been able to completely focus target its business in areas of economic recovery. (Information in this piece is pulled together from a combination of the latest earnings report, the 10K, and the earnings conference call).
The $155.6M in net proceeds from the IPO have helped the company fund land acquisitions (10M shares were sold for $17/share). A debt deal could also occur later this this year to fund further expansion. The company is mainly concentrated in California but owns or controls over 2,100 lots across major metropolitan areas in California and Colorado. This represents a 35% increase from the number of lots at the end of 2012. TPH spent $68.2M in the fourth quarter buying 312 lots: 196 in Southern California, 59 in Northern California, and 57 in Colorado (first purchased in December, 2012).
Some of TPH's purchases have involved Starwood:
In March 2011 and December 2012, we acquired 62 lots and 25 lots, respectfully, in the Rosedale master planned community located in Azusa, California for a purchase price of approximately $6.5 million and $3.5 million (plus a potential profit participation should a specific net margin be exceeded), respectively, from an entity in which the Starwood Capital Group owns a minority interest. In December 2012, we acquired 57 lots out of a total commitment of 149 lots located in Castle Rock, Colorado for a purchase price of approximately $3.2 million from an entity managed by an affiliate of the Starwood Capital Group. We used a portion of the net proceeds from our initial public offering to acquire the remaining 92 entitled lots in March 2013 for a purchase price of approximately $5.4 million. In March 2013, we acquired an additional 66 lots in the Rosedale master planned community located in Azusa, California for a purchase price of approximately $15.7 million (plus a potential profit participation should a specific net margin be exceeded) from an entity in which the Starwood Capital Group owns a minority interest. This acquisition was approved by our independent directors.
TPH is also examining the potential of "…other Southwestern states with improving local market conditions" (10K). TPH's strategy is to hold enough inventory for two to three years of building, the typical time it takes to build a home from the start of a sale. According to the latest 10K:
Our detached homes range in size from approximately 1,300 to 4,300 square feet, and our attached homes range in size from approximately 1,250 to 2,500 square feet. The prices of our homes also vary substantially. Base sales prices for our detached homes range from approximately $300,000 to $1,500,000 and base sales prices for our attached homes range from approximately $300,000 to $1,000,000.
TPH reported its first earnings report as a public company in late March. TPH showed particularly impressive margin growth. TPH reported 17.8% gross margin in 2012, a significant increase from the 10.7% recorded in the prior year. However, the stronger margins are not from pricing power and/or cost reductions. Instead, TPH cites: "Our homebuilding gross margin percentage increased primarily due to the unit mix and deliveries from our new communities, including the first deliveries in our Northern California projects which are generating higher homebuilding gross margins" (this and subsequent quotes are from the Seeking Alpha transcript of the conference call unless otherwise noted).
Going forward, TPH cautioned that it will experience seasonality in these margins with the lowest margins for the year already behind it. Thus, TPH's financial performance will be more heavily weighted after June of this year. The 10K describes the seasonality of the business this way:
We have experienced seasonal variations in our quarterly operating results and capital requirements. We typically take orders for more homes in the first half of the fiscal year than in the second half, which creates additional working capital requirements in the second and third quarters to build our inventories to satisfy the deliveries in the second half of the year. We expect this seasonal pattern to continue over the long-term, although it may be affected by volatility in the homebuilding industry.
Revenue from home sales have grown quickly: from $4.1M in 2010 to $13.5M in 2011 to $77.5M in 2012 ($55.2M of this was in the fourth quarter). Fee building revenues are now a very minor part of TPH's business, falling to $1.1M in 2012 from $5.8M in 2011. TPH did not provide direct guidance on revenues, but at this rate TPH could achieve a price-to-sales ratio comparable to Toll Brothers (NYSE:TOL) by the end of this year at the current stock price of $19.59. P/S is currently 7.88, 2.8x TOL at 2.82. Trailing P/E is a rich 248 on a base of $2.5M in net income, $6.4M in the fourth quarter. Assuming net income can grow at least 10x in 2013 over 2012, the trailing P/E comes down to earth, but overall, I would prefer to wait to buy the stock somewhere closer to the IPO price for better risk/reward (a common buying theme for homebuilders for many months now!).
TPH provided the following guidance in its earnings report:
In 2013, the Company expects to open nine new selling communities, six in Southern California, two in Northern California and one in Colorado. Based on strong demand to date in 2013, the Company expects to end the first quarter with six active selling communities, including the opening of one new community in Southern California and one in Northern California. In the first quarter, the Company expects to deliver approximately 65% of its 68 units in backlog as of December 31, 2012. The Company's backlog at the end of the first quarter 2013 is expected to be in excess of 130 homes.
Those 68 units in backlog are worth about $33.3M giving indirect revenue guidance of $21.6M in the first quarter. If the 130 homes in backlog at the end of the first quarter are approximately worth the 68 units in backlog at the end of 2012 and are delivered by year-end (the 130 includes the 24 homes left over from the fourth quarter backlog), then the approximate revenue for the year comes to about $73.5M. (TPH typically sells out of backlog within three to six months). Given this is roughly 2012′s revenue number, I am assuming TPH will be making brisk sales this year. The sales pace will be a key measure in the next earnings report. Net new home orders increased 386% in 2012 to 204.
TPH agrees with market "pundits" that California's housing markets should experience more rapid price appreciation of around 10% based on what is happening with coastal markets. TPH is well-positioned to participate in these gains with operations in Los Angeles, Orange, San Diego, Ventura and Riverside-San Bernardino counties in Southern California, and Santa Clara, San Mateo and Alameda counties in Northern California. TPH is targeting Douglas, Denver, Arapahoe and Jefferson counties in Colorado. TPH describes these markets as "…generally characterized by high job growth and increasing populations, creating strong demand for new housing…" Furthermore:
We select communities with convenient access to metropolitan areas that are generally characterized by diverse economic and employment bases and demographics that we believe will support long-term growth. Our Southern California assets are well located along key transportation corridors in major job centers in our submarkets. In Northern California, our assets are located within and around the Silicon Valley, a major employment center. Additionally, our planned project in Castle Rock, Colorado is conveniently located near the hub of the Denver Tech Center, a major employment center in Denver, with a concentration of larger technology and communications companies and excellent schools.
Overall, TPH looks like a great option for making a concentrated bet on the recovering California housing market, perhaps even better than Kb Home (NYSE:KBH). TPH is now on my radar, and, like all the homebuilders I identified as plays for 2013, I will be targeting significant dips for returning to these stocks. I am still waiting… (next up, I am long overdue for a review of homebuilder margins so far).
Finally, I have pasted below the IPO lock-up info for TPH. While I doubt expiration will deliver a significant dip in the share price, I think it is still worth keeping this info handy for reference just in case it becomes material. From the 10K:
In connection with our initial public offering, we, our officers and directors, the Starwood Fund and the third-party investor in TPH LLC have agreed that, and purchasers of our shares through the directed share program will agree that, for a period of 180 days from January 30, 2013, we and they will not, without the prior written consent of Citigroup Global Markets Inc., as representative of the several underwriters of our initial public offering dispose of or hedge any shares or any securities convertible into or exchangeable for our common stock, subject to certain exceptions. Citigroup Global Markets Inc. in its sole discretion may release any of the securities subject to these lock-up agreements at any time, which, in the case of officers and directors, shall be with notice…

Pursuant to his employment agreement, each member of our management team has agreed that, for a period of 36 months following the completion of our initial public offering, during any calendar quarter, he will not sell shares of our common stock in an amount exceeding the greater of (1) 10% of the shares of our common stock owned by him on the date of the completion of this offering and (2) the percentage of shares of our common stock that has been sold or otherwise disposed of by the Starwood Fund during such calendar quarter. Any sales of shares of our common stock made pursuant to the foregoing will be subject to the restrictions imposed by the lock-up agreements referenced above and by applicable law.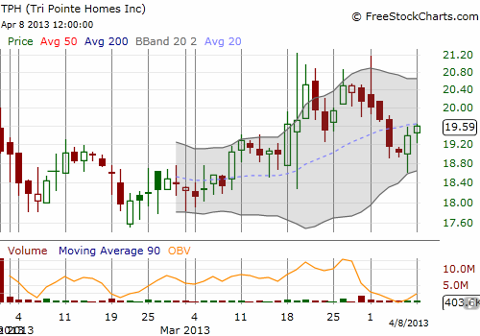 TPH has yet to gain upward momentum since its IPO earlier this year
Be careful out there!
Disclosure: I have no positions in any stocks mentioned, but may initiate a long position in TPH over the next 72 hours. I wrote this article myself, and it expresses my own opinions. I am not receiving compensation for it (other than from Seeking Alpha). I have no business relationship with any company whose stock is mentioned in this article.