The S&P 500 dividend yield is currently at a very low 2.01%, which has driven a lot of income-oriented investors to look for other opportunities. But where to go? The 10-year treasury rate of 1.72% has trouble just keeping up with inflation.
In their search for high yields, many investors turn to Verizon (NYSE:VZ) and AT&T (NYSE:T). Both yield well above their industry average, with Verizon paying shareholders an annual 4.2% and AT&T yielding an amazing 4.7% at current prices. In this article, I will compare these two companies.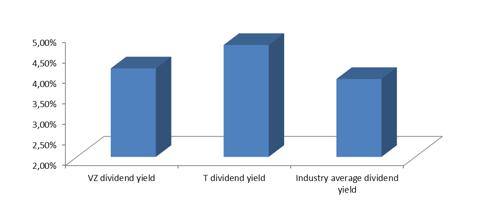 Click to enlarge
Analysts expect (source: Yahoo Finance) earnings per share to go up rapidly for both VZ and T, as can be seen in the graph below. For Verizon, EPS is expected to be at $3.14 in 2014. At today's prices, that would give VZ a price-to-earnings multiple of just 15.8. T's 2014 forward P/E stands at an even lower 14.1, if EPS estimates of $2.70 are correct.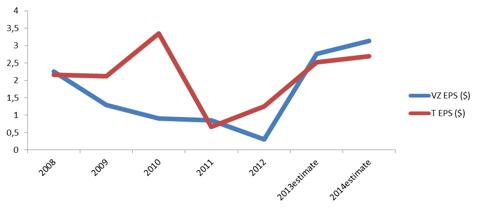 Click to enlarge
In the 2008-2012 period, VZ's dividend went from $1.78 to $2.03, giving it a slightly lower dividend growth rate than T, which has increased its dividend from $1.60 to $1.76 in the same time frame.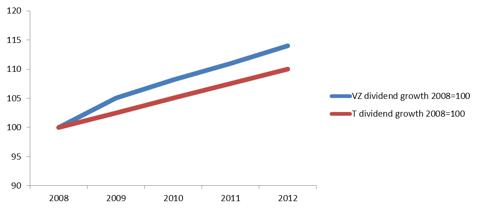 Click to enlarge
A look at the free cash flow for both companies shows us strong growth for AT&T over the last few years, beating Verizon in each year except 2010. However, this could all change in the next 2 years, as Verizon is expected to grow its sales at a much faster pace than AT&T. Analysts expect AT&T to reach $131.5 billion in sales by 2014, compared to $125 billion for Verizon, bringing the difference to only $6.5 billion. In 2012, AT&T had total sales of $127.4 billion, which is 10% higher than Verizon's $115.8 billion. Clearly, the gap is closing.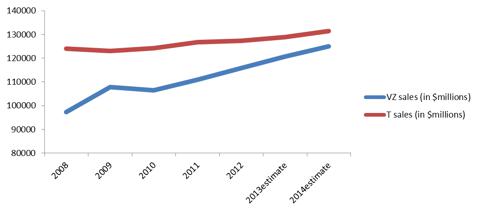 Click to enlarge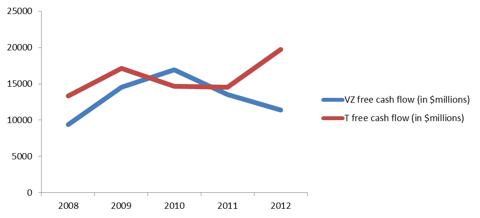 Click to enlarge
So, should we choose AT&T or Verizon? Let's list the positives and negatives for both companies.
| | |
| --- | --- |
| AT&T | Verizon |
| Very high dividend yield | Lower dividend than AT&T but still above industry average |
| EPS is expected to grow, but not as fast as Verizon | Great EPS forecasts |
| Dividend is still steadily growing but not as fast as Verizon's | Great dividend growth |
| Free cash flow has increased over the last few years | Free cash flow appears to be trending downward. |
Conclusion:
AT&T pays an amazing dividend, yielding 4.7% at current prices. However, Verizon's 4.2% is also very attractive, especially when we consider the fact its dividend is growing at a higher pace. Sales forecasts for both companies are nothing short of amazing. It might be wise not to choose one or the other, but instead just buy them both.
What's your view on AT&T and Verizon? Please feel free to comment below!
Disclosure: I have no positions in any stocks mentioned, but may initiate a long position in VZ, T over the next 72 hours. I wrote this article myself, and it expresses my own opinions. I am not receiving compensation for it (other than from Seeking Alpha). I have no business relationship with any company whose stock is mentioned in this article.