An equity raise combined with higher copper prices has erased much of the liquidity issues facing Equinox Minerals Ltd. (OTC:EQXMF), says UBS analyst Onno Rutten.
Mr. Rutten said in a note to clients:
We continue to believe that EQN can generate adequate cash flow from operations to cover debt repayments of C$138-million in 2009, provided that copper remains above C$1.50 per pound.

Proceeds from the equity offering and copper hedges (40% of production at C$2.60/lb) appear to provide ample assurance that debt repayments can be met.
Equinox, up more than 6% on Thursday, recently raised C$184-million from its equity offering which was priced at C$1.80 per share. Copper prices, meanwhile, are hovering around $2 per pound after a meteoric rise this year.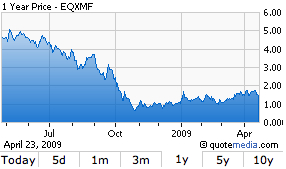 The analyst believes the proceeds will from the equity raise will be used to "strengthen Equinox's cash balance, to fund expansion studies and to extinguish the Phelps Dodge royalty for C$13-million."

He added that improved financial flexibility could help Equinox ramp up production following a rain-affected first quarter, through increased use of third-party contractors.
Mr. Rutten increased his price target from C$2.50 to c$2.75 on UBS' higher copper price estimate and maintained his "buy" rating. However he remains cautious on 2009 production, forecasting 137 kt, of copper output, compared with management guidance of 170 kt.