Ron Johnson is now out as CEO of J.C. Penney (NYSE:JCP) after the Board decided a change at the top was needed. In my view, his mistake wasn't the store within a store concept, cost cutting or employee firings. It was his Fair and Square pricing.
I recently wrote an article that graphically explained his mistake: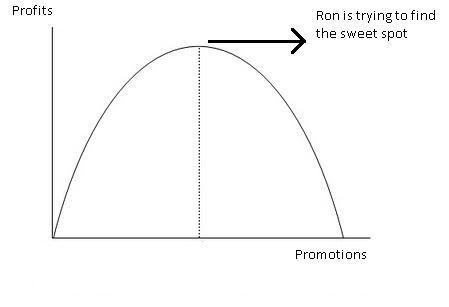 Fair and square pricing essentially went too far to the left of this chart, and the result of that was customer revolt, a large drop in sales and cash flow problems (after capex).
The big problem was that Johnson was never a pricing guy, his expertise was a customer experience, that's why he did so well at Apple (NASDAQ:AAPL). He revolutionized the store experience (with the Genius bar among others) and never faced pricing issues because Apple (during Jobs second tenure) became a premium brand that attracted clients looking for quality (durability, easy to use features, great customer support etc) NOT discounts, low prices or promotions.
Pricing was always a minor factor for Apple clients, they know they are paying more than other alternatives and have no problem with that. His long run as Apple retail chief may have led him to have a distorted view of how non-premium clients shop in the U.S. He underestimated how value oriented people are, and how quickly you can attract people looking for quality and experience. As a result he somehow thought that doing away with promotions and focusing on customer experience would cause some volatility (as opposed to massive volatility) in sales, but it would work out in the end.
Maybe it would, we will never know. But this failure is an important lesson in staying humble and not thinking you "know it all", because success can frequently blind people to external feedback until it's too late. Had he tested the changes before "going macro" he would have prevented a lot of volatility in the stock and he would be able to implement the store within a store concept as well as improve the customer experience. Fair and square was his huge mistake that prevented anything good that he did there from coming to the spotlight.
What about the new interim CEO? Well, there is no reason to be very excited about him given that his previous performance before the board sacked him wasn't too great. But I don't expect him to stay for the long-term, I believe the board is just trying to contain further damage and someone else will be appointed down the road. Johnson had already essentially ended Fair and Square pricing and started to implement a number of pricing "tricks" (as I explained in the pricing article) before he was fired, so I don't expect this new CEO to have to "save the day". I do worry that a new CEO will alienate the customer base further as this essentially says that the new stores aren't so great, this could have negative consequences for Joe Fresh and other stores.
I remain long with a reduced position, essentially because the bearishness around the company is so great and the liquidity is more than enough to handle 2013 (specially now that the new CEO might halt or slow down capex) that I'm confident that at some point a short squeeze will happen allowing me to sell stock into or if the operating performance improves, significantly increase my stake.
Disclosure: I am long JCP. I wrote this article myself, and it expresses my own opinions. I am not receiving compensation for it (other than from Seeking Alpha). I have no business relationship with any company whose stock is mentioned in this article.
Additional disclosure: This article does not constitute investment advice. I can't guarantee the accuracy of all the information in the article, this article is meant for informational purposes only and reflect my own views.