My son, who will be seven next month, is big into Star Wars right now. Like Jabba the Hutt big. He knows way more about the Star Wars trilogy I grew up with than I ever did and he can easily pull Jedi mind tricks on me with his knowledge of the prequel trilogy.
In an effort to foster his love of that timeless series and, more importantly, to help nurture the right side of his brain, my wife and I have bought him a number of Star Wars puzzles. Most are traditional puzzles, but the latest arrival is a really cool 3D puzzle set with eight different scenes spanning both trilogies.
He was eager to get going on the 3D set, but true to form for kids his age left to their own puzzle-making devices, he mixed up the puzzle pieces in his hurried quest to put each scene together. Now, the puzzle pieces aren't fitting like they should and some scenes sit incomplete waiting for the correct pieces to fall into place.
In considering the need to sort through the mixed-up puzzle pieces at home, I felt the force of a parallel idea for The Big Picture this week. Specifically, it struck me that the stock market is also trying to put a puzzle together - a big growth puzzle - only it is struggling to do so because the pieces are mixed up.
Mixed Messages
The S&P 500 surged 10% in the first quarter. That rally was reportedly predicated on the popularly-held belief that economic growth is going to accelerate in the second half of the year on the back of a resurgent housing market, improved hiring activity, and increased spending activity.
Better-than-expected earnings for the fourth quarter and the ongoing support of the Fed's easy-money policy were also viewed as important catalysts driving the advance.
In brief, it was a risk-on environment, or so the press reports said, as the major averages, excluding the Nasdaq, powered their way into record-high territory. The only problem is that the market action didn't fit neatly with the marketing message.
The countercyclical healthcare and consumer staples sectors scored the biggest gains
Talk of a great rotation out of bonds and into stocks was a great misrepresentation; and
Prices for base metals all slumped as inventories rose
Lest we be accused of flipping a one-sided coin, we will hasten to point out that:
Transports, a leading market indicator, were actually the strongest performers in the first quarter
The 4-week moving average for initial claims hit its lowest point in five years in the week ending March 15;
Volatility collapsed; and
The cyclical consumer discretionary, financial, energy, and industrial sectors all outperformed the market
Hopefully, you can see what we mean when we say that the pieces of the growth puzzle were mixed up in the first quarter. The pieces will eventually fall into place, yet it behooves us at this juncture to take a closer look at what we think is the biggest mixed-up piece of the growth puzzle: base metal prices.
Home Base
Regular readers know that we have been keeping a close eye on copper prices, calling attention to their underperformance in the midst of what is being advertised as a global growth rebound. That underperformance, which is an offshoot of rising inventories, is exposed in the six-month charts below, which also reveal weak price trends among other base metals.
(Note: iron ore, needed to make steel, is not included in the tables below, since we could not obtain daily pricing data. Spot prices of iron ore at the end of March were up 22% from the end of October on inventory restocking in China, but down 10% since the end of February).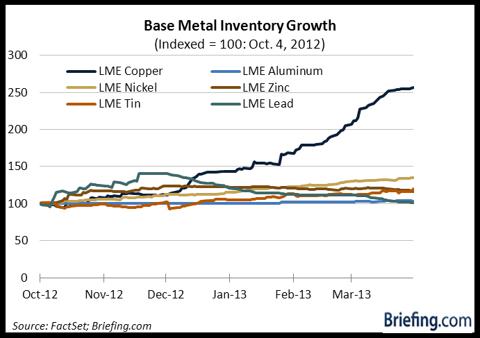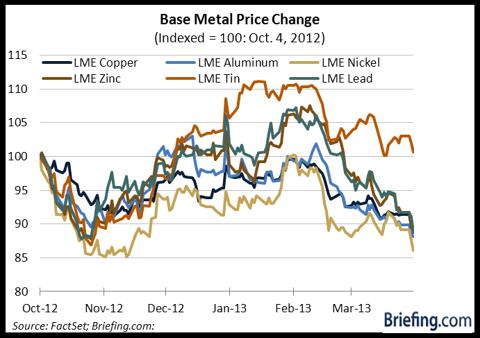 It is revealing that base metal prices rolled over simultaneously in February. Exchange rates, however, were not the cause of that weakness.
February was also the month when it became apparent that the budget sequestration was going to happen in the US, when Italy fell into a political vacuum, when weak fourth quarter GDP reports were seen the world over, when the Chinese new year was observed, and when China was heading for a leadership transition in the face of growing concerns about rising inflation, property speculation, and weaker-than-expected industrial production.
The confluence of these factors have clearly created demand concerns that have manifested themselves in falling prices for base metals, which we would add have yet to recover following the Chinese new year celebration.
Another View
Plenty of market observers will point to the outperformance of the countercyclical sectors as a sign that the market is anticipating weaker economic growth ahead. That connection typically fits together like Han Solo and Chewbacca. This time, however, it is possible that the outperformance of the countercyclical sectors could be providing a false signal.
Plenty of economically-sensitive groups have done just fine, too, notwithstanding some recent bumps which we will address shortly.
Also, it stands to reason that the countercyclical sectors would attract increased buying interest from sidelined investors getting back into the market and choosing a conservative pathway for doing so. To that point, the countercyclical sectors - health care, consumer staples, telecom services and utilities - are known to be less volatile and pay attractive dividends.
Low volatility and an income stream are prerequisites now for a lot of investors who might not have appreciated those investment attributes before the financial crisis.
Viewed independently then, the countercyclical sectors do not offer an undisputed read on things. That is why we lean more right now toward rising inventories and weakening prices for base metals as a better tell on the growth outlook.
Growth of a Different Kind
Base metals are the building blocks of industrial growth. You need iron ore to make steel, aluminum to make a plane, and copper to manufacture cars and to build houses.
In an environment of accelerating economic growth, it is not unusual to see inventories increase, since producers want to be ready to meet increased demand; however, when inventory growth is rising exponentially over projected demand growth, as it is now for some base metals, namely copper, it can rightfully be viewed as a warning signal about growth trends.
Aluminum and lead inventories are up just 3% and 1%, respectively, over the last six months, but copper inventories are up 156% while nickel, zinc, and tin inventories are up 35%, 17%, and 20% over the same period.
Capacity growth and an overhang of excess supply following relatively weak growth in 2012 have affected some commodity prices. In addition, ongoing weakness in Europe and reports of lower demand from China in general has been other issues weighing on prices.
Lower base metal prices aren't all bad, especially if they are supply-side driven, since lower prices will provide margin expansion potential for users of base metals like car makers, airplane manufacturers, and home builders.
If prices continue to drop, though, producers could aim to bolster prices and their own profit margins by cutting back on production and/or reducing their workforce.
What It All Means
There are a lot of moving parts in the base metal mix right now. Weaker-than-expected data points for the month of March coming out of the US have ignited concerns that economic growth in coming months will not live up to the heightened expectations that were germinated by better-than-expected data for January and February.
The soft data points, punctuated by the weak March nonfarm payrolls report on Friday, and geopolitical concerns fueled a 1.0% decline in the S&P 500 last week.
The cyclical sectors and the transport stocks were the weakest performers, whereas, the countercyclical health care, telecom services, and utilities sectors actually ended the week higher. In turn, the 10-year note rallied sharply in a defensive-minded trade that saw the yield on the benchmark instrument drop 15 basis points to 1.70%. There was no reprieve for base metal prices either, all of which ended the week lower than where they began it.
With growth concerns at the forefront, these were textbook moves.
There are some pieces of the growth puzzle that still need to fall into place. The continued weakness in base metal prices, however, combined with the relative strength of countercyclical sectors and the striking drop in Treasury yields has us concerned that the economic scene unfolding looks more like a phantom menace than a new hope.
Disclosure: I have no positions in any stocks mentioned, and no plans to initiate any positions within the next 72 hours. I wrote this article myself, and it expresses my own opinions. I am not receiving compensation for it. I have no business relationship with any company whose stock is mentioned in this article.