Yesterday's strength in shares of Marriott International (MAR) was unwarranted, in our opinion, and we would use the rally as a selling opportunity.

Shares of Marriott rose more than 12% yesterday after the company reported first-quarter results that exceeded Street expectations. The results were $0.11 above our estimate, and $0.10 above the Street consensus.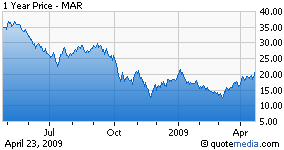 Despite these results, we have tempered our expectations for the remainder of the year, and have lowered our full-year earnings estimate.

The company expects that revenue per available room, or RevPAR, at North American system-wide hotels will decline between 17% and 20% in 2009, while RevPAR is expected to decline between 13% and 16% at system-wide hotels outside North America this year. While the company has taken steps to reduce expenses and maintain margins as much as possible, RevPAR declines of this magnitude have a significant impact on the ability of the company to generate improved returns.

The operating environment in the lodging sector has changed substantially in recent months, and the large lodging companies like Marriott and Starwood (HOT) are being impacted in every market segment.

We expect RevPAR to continue to decline in the near term, and we expect that conditions will remain challenging throughout 2009. Additionally, the company's timeshare segment is experiencing weakness, with sales down considerably.

Although we believe that Marriott is well positioned for the long-term, we expect that operating conditions will weaken further before improving.

Given our forecast for meaningfully lower earnings per share in 2009, along with the ongoing uncertainty regarding the state of the economy and its potential impact on Marriott's lodging and timeshare businesses, we recommend avoiding the shares at this time.
--Sean P. Smith