McDonald's Corporation (NYSE:MCD) recently announced that it will expand into Eastern Russia by adding 150 new stores there in the next three years. Russia, a sovereignty of nearly 140 million people, is one of the fastest developing countries for the fast food giant, which currently only has 357 McDonald's restaurants. Similarly, it will also add 300 stores in China alone this year, to take its tally to 2,000 by year's end. McDonald's has tremendous potential to grow in developing markets, where its penetration is only a fraction of what it is in the U.S. As the economy grows internationally, discretionary spending will rise and food is one area where consumers like to spend. Moreover, American fast food companies are considered a sign of quality and even a novelty in some cases. Thus, there is already a pent-up demand for American fast food.
Like any market, demographics play a crucial role in the growth of a company - especially McDonald's. Currently, there are more than 34,000 restaurants in 119 countries, with an average of 68 million customers being served every day. The sales of these restaurants vary vastly from region to region, as you can see in the figure below.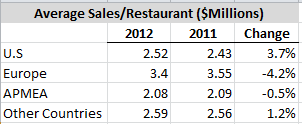 "APMEA," refers to Asia Pacific, Middle East and Africa. APMEA has the lowest average sales per restaurant, mainly due to individuals having lower incomes in these regions. The lower incomes results in cheaper menu prices. For example, a Big Mac, which costs around $4.20 in the U.S., costs only $2.44 in China, but $6.80 in Switzerland. The local purchasing power can, to a great extent, dictate the upper limit of the average sales of a restaurant. The most expensive country is Norway, while the cheapest is the United States
Click to enlarge
(Click to enlarge)
What Does It All Mean?
For the sake of brevity, my point is that McDonald's has plenty of room to grow. In 2011, McDonald's was able to post growth in almost every geographical region it operated in, even in countries with slowing economies such as France, U.K., and Germany. One advantage McDonald's does have is that even through recessionary periods, the company might post even stronger growth, as many people will not be able to afford more expensive alternatives.
Another growth outlet for McDonald's is offering breakfast service. In the U.S., most McDonald's locations already offer breakfast. In many countries, this is a new trend for the company. The company hopes to offer breakfast in every country it operates in by around 2015-2016.
McDonald's last released its earnings data on Wednesday, January 23rd. The company reported $1.38 EPS for the quarter, beating the Thomson Reuters consensus estimate of $1.33 by $0.05 and had revenue of $6.95 billion for the quarter, compared to the consensus estimate of $6.89 billion. Analysts expect that McDonald's will post $5.78 EPS for the current fiscal year.
What Should You Do
Thomson Reuters, MarketEdge and Smart Consensus all rate McDonald's as a buy, and I concur. Fundamentally, McDonald's has always been very solid. Shares of McDonald's traded up 0.96% during mid-day trading on Friday, hitting $99.48. McDonald's has a one-year low of $98.20 and a one-year high of $99.70. The stock's 50-day moving average is currently $98.7. The company has a market cap of $99.758 billion and a P/E ratio of 18.38

Click to enlarge
(Click to enlarge)
Conclusion
In short, McDonald's will continue its globalization efforts and maintain its notoriety for being the world's largest chain of hamburger fast food restaurants. Under the direction of Donald Thompson, I would not be surprised if McDonald's stock edged over $100/share in the coming weeks. Fundamentally, McDonald's is at the top of the industry and with strong growth initiatives in sight, this stock is a very good choice for any investor looking for a deal, and one you should certainly keep your eye on.
Disclosure: I have no positions in any stocks mentioned, and no plans to initiate any positions within the next 72 hours. I wrote this article myself, and it expresses my own opinions. I am not receiving compensation for it (other than from Seeking Alpha). I have no business relationship with any company whose stock is mentioned in this article.