Clean Energy Fuels Corp: (NASDAQ:CLNE) is a speculative position in our Future Trends Portfolio. Clean Energy sells natural gas as an alternative fuel for vehicle fleets. It designs, builds, operates and maintains fueling stations. The marketing tag line "Fueling Forward" explains where the company feel the energy business for transportation will be in the future. Currently most heavy-duty long distance trucks are diesel. Clean Energy has managed to build out its operations to over 150 fueling stations and 25000 vehicles daily that use its natural gas.
The basic plan of Clean Energy is to develop enough infrastructure in the form of fueling stations to reliably service commercial fleets and long-distance haulers in key markets across the nation. The use of both LNG and CNG is primarily an economic decision by fleet managers rather than the "green" movement motivation. The dollars and cents motivation is compelling in both cost per mile (up to $1.5 per gallon less) and long-term maintenance costs for engines converted to LNG or CNG.
I started this article by stating that Clean Energy is a speculative company for us. It is speculative for a number of reasons not the least of which is its small footprint compared with the existing diesel infrastructure and the necessary conversion decision by fleet managers. Although there are emotional and environmental components to a conversion decision the core of the success for this business depends on its ability to build out stations and operate on the merits of LNG or CNG.

Headwinds:
Price of natural gas. As pricing increases it becomes a less obvious decision as long as the delta between natural gas and diesel does not remain constant.
As federal government budgets contract there is a possibility that existing grants and subsidies for both station owners and fleet owners will evaporate or be diminished.
The economy stumbles back into a recession or long-term malaise resulting in fewer shipments.
Business could be poached by a major fuel retailer after Clean Energy builds the market
The technical review of Clean Energy paints a different picture, although to invest in CLNE it could be important to be motivated by the future of cleaner energy that is sourced from within North America. I would like to be able to state that our position was motivated by stellar financials and market segment expansion but the reality is the decision is based on a belief that over time that the natural gas story is simply to compelling to be dismissed. Its less expensive, it pollutes less and it's abundant. As an early adopter Clean Energy is poised to be the dominant player. If you lean toward clean, green and American, Clean Energy could be a speculative addition to your portfolio.
Below is a one-year chart that demonstrates what we believe to be a good entry point. The stock is down 39% over 52 weeks but up from its 52-week low of $10.90. Buying while CLNE is trading within its range of $12.33 to $13.20 offers possible upside. Realistically this is a three-to-six year position. There is a significant short interest of nearly 19.2%. Not everyone is thinking along the same lines that we are. With the RSI nearing oversold territory and the price up from its lows, but below the next line of resistance at $14.64 it appears a good time to jump in.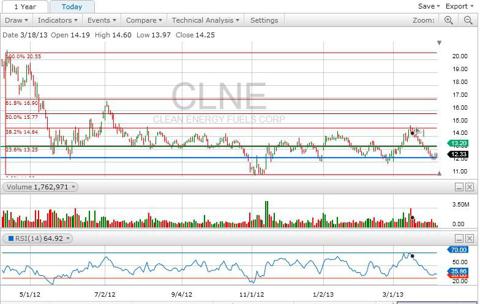 The two-year chart below demonstrates the price range over a longer period of time. As the chart reflects pricing now is within a historical range. The tremendous upswing from January 2012 to July 2012 has been erased and the RSI is near a floor.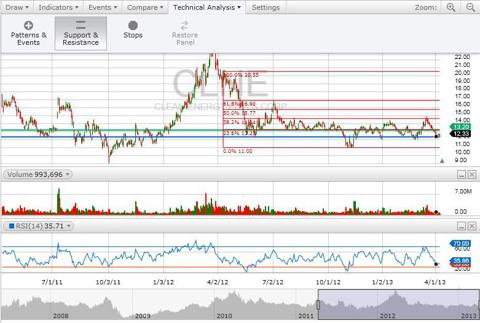 If you are not ready to jump into Clean Energy shares now options have proven to be a solid method to boost profitability. Selling a June 22 put at a $22 strike pays $.73, which would lower the entry price if assigned to $11.27, very near to the one-year low. We also use Covered Calls. The September 21st Strike $14 currently pays $.70.
To summarize, we feel that now is a good time to consider Clean Energy. Selling a put to open the position, and following closely with a covered call, on a portion of the new holding offers income on both the long-term holding and the entry position. Or if you are feeling green: buy now and use covered calls to add income while you wait for them to build their market.
Disclosure: I am long CLNE. I wrote this article myself, and it expresses my own opinions. I am not receiving compensation for it (other than from Seeking Alpha). I have no business relationship with any company whose stock is mentioned in this article.