This weekend, I was reading an article on Forbes by Peter Cohan who was somehow able to come up with four reasons "Why Google Will Slow Down." And I said to myself, "Really?" In order to figure out the future of this stock, I did some quick research deducing why there are more reasons to be bullish on Google (NASDAQ:GOOG). It is nowhere near that kind of rough patch, which some bears will call out for every now and then.
Google often loses out when it comes to dividend payments. The company has never paid or promised a regular stream of dividends, but it has still managed to remain a favorite among investors. Google has always rewarded its shareholders in terms of enhanced stock prices. Its stock even surpassed S&P 500 returns over the last year. Let's dig deeper into this stock and find out what are the catalysts for the next upside.
Click to enlarge image.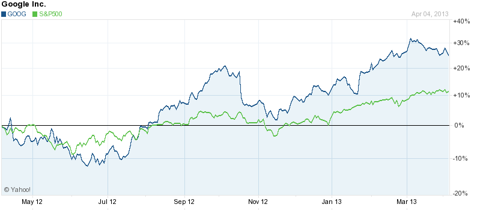 Source: Yahoo Finance.
Pillars of Future Growth
1. Product Listing Ads (PLAs): With its shift toward the paid shopping model, Google commercialized its shopping service in late 2012. Earlier, the paid model led to a round of controversy as this was the first time Google was eliminating free listings and switching to paid ones. However, the figures clearly depict that now PLAs are a big hit among consumers as well as advertisers. Since its launch, advertisers' search budget investments have increased by around 600% (from 0.36% to 2.5%) in the fourth quarter of 2012. Moreover, the search click-through of PLAs has also jumped by 210% in the last year.
Currently, the ROI from PLAs is higher as compared to the sponsored text links, mainly driven by higher click-through rates, lower cost per click (CPC), and higher conversion rates. Assuming Google holds around 80% of the U.S. retail paid search market, a 15% increase in paid search spending is expected as a result of PLAs. Considering these factors, I believe PLAs can drive around 5% of upside to the company's total search revenue in 2013.
One company that is definitely not happy with the success of Google's PLAs is Amazon.com (NASDAQ:AMZN), which ranks high in product searches. In 2011, Amazon product ads were around twice that of Google's product search. However, the situation turned around completely by the end of 2012, and now Google has almost double Amazon's product search. This is mainly because Google's traffic has increased many-fold, which has reduced Amazon's sales and search power. On the brighter side for Amazon, it is still ahead of Google in terms of conversions. Amazon is always considered as the most trusted company, with the best conversion rate among all the major shopping engines. I feel this is an area Amazon can capitalize on in the future to save its spot from Google.
2. The Mobile Opportunity: According to a recent report by eMarketer, the U.S. ad mobile spending is expected to jump by around 77% to $7.3 billion in 2013. eMarketer also believes that more than 50% of the ad revenue will flow in to Google in 2013, continuing its supremacy in mobile advertising. Ramping up its mobile monetization efforts, the company even launched PLAs on smartphones. And looking at the already-achieved success of PLAs, I believe this will further enhance its profitability in the mobile space.
3. YouTube: The strength and stability of YouTube is another reason to be bullish about Google's stock. Lately, Google disclosed that the monthly visits to YouTube have reached a figure of around 1 billion. Along with this, it generates more than $1 billion annually via video ads, banner ads, and millions more in search. In 2012, the top 100 advertisers had increased their ad-spend by around 50%. As a result, I expect YouTube to generate about $4 billion of revenue in 2013. With the rising audience growth, YouTube will be another multi-billion dollar ad generating segment for the company.
In order to put up a tough fight against Google, Yahoo (NASDAQ:YHOO) is in talks to acquire Dailymotion, which is a smaller competitor of YouTube, for approx $300 million. Yahoo is eyeing at 75% of stake in Dailymotion, which strengthens its position against YouTube. There are mainly two areas where Yahoo will feel the benefit of this acquisition in the short term - namely, market share and top-line growth. Obviously, this move by Yahoo could not pose a serious threat to the dominance of YouTube. But this acquisition will surely enhance Yahoo's presence in the international market, which is currently one of its biggest challenges.
Investor's Delight
Google has strong, profit-generating products in the market, which will keep shareholder's returns safe and secure in the future as well. I believe PLAs, YouTube, and mobile monetization are positive growth drivers for this stock. Considering these factors, the stock is modestly undervalued at current levels, and this can be a good entry point for investors to cash in.
Disclosure: I have no positions in any stocks mentioned, and no plans to initiate any positions within the next 72 hours. I wrote this article myself, and it expresses my own opinions. I am not receiving compensation for it (other than from Seeking Alpha). I have no business relationship with any company whose stock is mentioned in this article.