This is what General Electric (NYSE:GE) Oil & Gas' President and CEO, Daniel C. Heintzelman, has to say about the recent acquisition of Lufkin Industries Inc., a leading manufacturer and provider of artificial lift technologies and industrial gears for the oil and gas industry, for approximately $3.3 billion.
"Advanced technologies, combined with new drilling practices, are revolutionizing the oil and gas industry," said Daniel C. Heintzelman, president and CEO, GE Oil & Gas. "The artificial lift segment is at the heart of critical changes that are helping producers maximize well potential-which translates into increased output at lower operational cost. Lufkin's world-class people, equipment and services fit perfectly in our portfolio and will enable us to offer a wide range of artificial lift solutions to our customers in this fast-growing artificial lift sector. In turbo machinery, Lufkin is already one of our suppliers for turbo gearing and specialty bearings products, and this acquisition allows us to further utilize their technologies and expertise for our customers."
Since the last few months, it was speculated that GE would probably buy Weatherford International (NYSE:WFT). Now that the stock price of Weatherford has risen around 5% in one day on this recent development (not to mention the investigation under the Foreign Corrupt Practices Act), GE might have just left the idea of buying Weatherford for now.
On a broader note, GE's current CEO Jeff Immelt is in the process of transforming GE from a sprawling conglomerate to a more tightly focused business on providing services and equipment to industrial customers. Along with selling its stake in NBC Universal to Comcast (NASDAQ:CMCSA) and partially shrinking its banking operations, GE is looking to restructure its business by acquiring mid-size companies that fit well into the company's portfolio. GE makes aircraft engines, natural gas-fired turbines and generators, wind turbines, medical devices and locomotives.
And with the acquisition of Lufkin, GE looks to capitalize on the imminent boom in the oil and energy sector. Smart capital investments as such beforehand will position the company as a leader in the world of extracting oil from difficult places, such as deep offshore, shale formations under several U.S. states, or older depleting oil fields. GE bought Wellstream, a maker of flexible pipes for gathering oil undersea, in 2010, and a division of the John Wood Group, a maker of pumps and control systems, in 2011. Needless to say, with over $125 billion of cash and only $101 billion in current debt, the company can indulge in some medium-sized acquisitions.
But is GE alone in its active pursuit of oil and energy assets? No. OAO Lukoil (OTCPK:LUKOY) recently agreed with Hess Corp. (NYSE:HES)to acquire 100% of Hess's Russian subsidiary, Samara-Nafta, for $2.05 billion. Penn Virginia Corp. (PVA) entered into a definitive agreement with Magnum Hunter Resources Corp. (MHR) in April this year to acquire producing properties and undeveloped leasehold interests in the Eagle Ford Shale play for approximately $400 million. Houston, Texas-based Midstates Petroleum Co. Inc. (NYSE:MPO) announced its intent to purchase Anadarko Basin assets in Texas and Oklahoma from Panther Energy for $620 million, while Gastar Exploration Ltd. (NYSEMKT:GST) decided to acquire about 157,000 net acres in Oklahoma, repurchase nearly 6.8 million shares of common stock, and settle litigation with Oklahoma City-based Chesapeake Energy Corp. (NYSE:CHK) in an $85 million deal. While the global artificial lift sector is expected to approach $13 billion in 2013 due to higher energy investment and production, according to Spears & Associates, it is safe to say that more or less every energy company is busy preparing.
And with a proven record of acquiring, integrating and growing businesses, as demonstrated by $11 billion in acquisitions since 2007, fetching around 10% of the total revenue, including the recent addition of Wellstream Holdings, Dresser Inc., and Well Support (artificial lift), GE is probably taking the right step.
However, the question comes to whether Lufkin was the right choice, and more importantly, if the offer of $3.3 billion was too much. The $88.50 per share offer from GE represents a 38.4% premium over Lufkin's last Friday $63.93 closing price. In other words, the offer price of $3.3 billion 13.5 times of Lufkin's 2013 estimated earnings before interest, taxes, depreciation and amortization (EBITDA). In short, GE would probably make a return of investment in the coming 14 years. While that might be a long time to look at, it is more important to note that GE would add around $81.9 million in net income (as was last year), its third consecutive year of growth, atop $1.3 billion in revenue (a 37% growth rate!). Moreover, new business bookings in 2012 surged 38% companywide to $1.3 billion YoY, driven by a 47% increase in the artificial lift business. In other words, promising artificial lift revenue growth, sprinkled with a little bit of synergy, might make push up the bottom line of GE. With the last year's drop of net income to 13.6 billion from $14.2 the year before, a little addition to the net margin will not do any harm for GE.
One thing to note about GE is that although its asset utilization score has significantly improved for GE in the last year, it is still not up to the required level. With asset turnover ratio of 0.2, compared to industry average of 0.4, GE still has a lot to do when it comes to synergizing the acquisitions. Once done, it can affect the bottom line positively, further improving in shareholders' returns. Right now, the heavy capital expenditure and poor asset management is taking its toll on the company's profitability margins.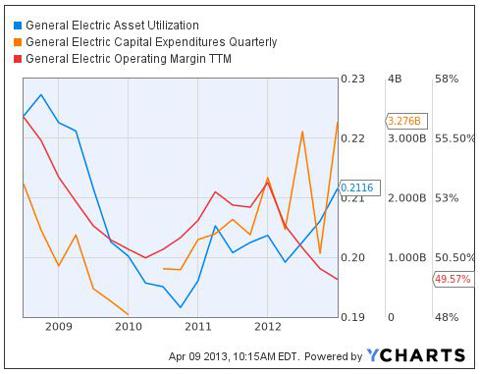 Click to enlarge
(Click to enlarge)
To sum it up, while the acquisition of Lufkin at $3.3 billion sounds reasonable to me, the real question here is how efficiently GE is integrating and implementing the new additions to its business. The transition to a fixed line of business might take some time but too much delay can create liquidity crunch affecting the shareholders' returns. While the long-term potential looks promising to me, it still depends on active and efficient company management.
Disclosure: I have no positions in any stocks mentioned, and no plans to initiate any positions within the next 72 hours. I wrote this article myself, and it expresses my own opinions. I am not receiving compensation for it (other than from Seeking Alpha). I have no business relationship with any company whose stock is mentioned in this article.
Additional disclosure: Numerical data vary according to sources, and are not to be taken at their face value.