This is the third part of my "superperformance" stocks articles. The first part was about fundamental traits needed for a stock to achieve superperformance status, meaning a rise of at least 200% in two years. The second part is focused on the stock performance after the "superperformance" move is over. In the last part of the trilogy, I will focus on potential new superperformers.
This cyclical bull market is now quite old, and many stocks have run their course, which makes it harder to find new stocks with superperformance potential. Nonetheless, there are always new opportunities in the market.
As a reminder, stocks that have a chance to become superperformance stocks share some of these characteristics:
1. Large increases of earnings, especially if the large increase comes as a surprise.
2. Mergers and acquisitions.
3. New management.
4. New products.
Now, let us take a look at some companies that have the potential to become the next superperformance stocks.
3D Systems Corp. (NYSE:DDD)
Although 3D Systems was featured in the first part, and already had two superperformance moves in the last two years, that does not mean it is done with providing shareholders with more sizable gains. I wrote extensively about 3D Systems and its bright future recently. The company certainly has what it takes to grow further: new products and growth initiatives, triple digit earnings growth in two latest quarters on an adjusted basis, and 50% average revenue growth in the last 8 quarters. The stock is in the midst of a consolidation after prior gains, and might be setting up for a new move higher.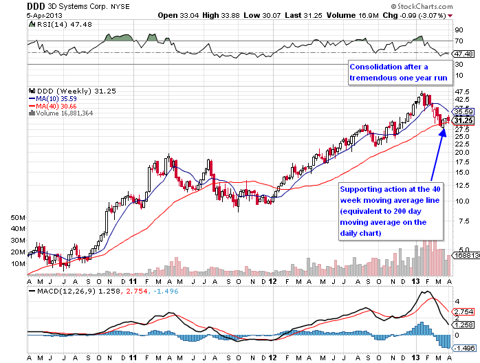 Click to enlarge
Source: Stockcharts
Proto Labs, Inc. (NYSE:PRLB)
Proto Labs is often associated with 3D printing companies, but the company provides tech-enabled manufacturing of custom parts for prototyping and short-run production. It does not use 3D printers. It only uses injection molding and CNC machining. The company reported accelerating earnings and sales in the last three quarters, which is one of the traits superperformance stocks have. Earnings growth in the last three quarters was 17%, 18% and 233% respectively, and sales growth was 24%, 20% and 31%, respectively, in the last three quarters.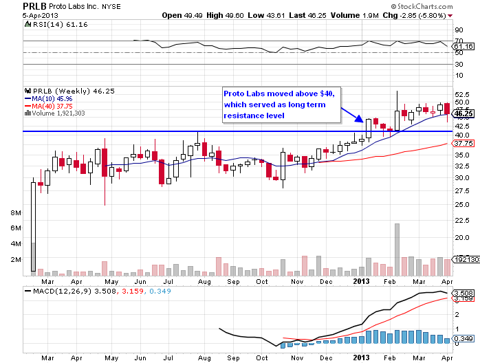 Click to enlarge
Source: Stockcharts
Tesla Motors (NASDAQ:TSLA)
Tesla Motors is on the forefront of the all-electric car technology. The company is yet to become profitable, after years of reporting losses. That is about to change, with the earnings pre-announcement for a first profitable quarter in early April. Tesla has grown revenues 103% in 2012, and analysts expect a 367% rise this year to almost $2 billion, and EPS is expected to be 14 cents, which would bring the company the first year of profit after many losing years. 2014 estimates call for a 900% rise in earnings to $1.41, with a 32% increase in sales. The share price has managed to cross $40, which has been a long-term resistance level, also providing a technical catalyst for the stock.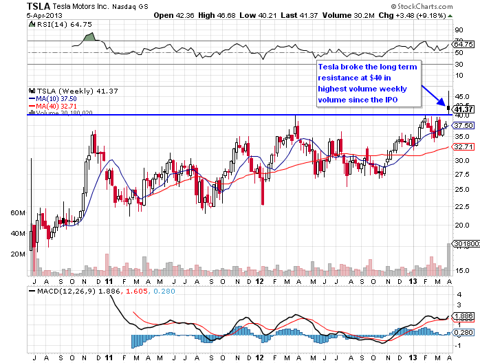 Click to enlarge
Source: Stockcharts
Santarus, Inc. (NASDAQ:SNTS)
Santarus has already awarded its shareholders with tremendous gains, and is already a superperformance stock, rising more than 400% in little over a year. The company has grown earnings and sales 286% and 83%, respectively, in 2012. The triple digit earnings growth is expected to continue this year, with a 163% projected EPS rise. Revenue is expected to grow 50%. With forward P/E of 14, and great growth levels, the stock certainly has more room to go higher.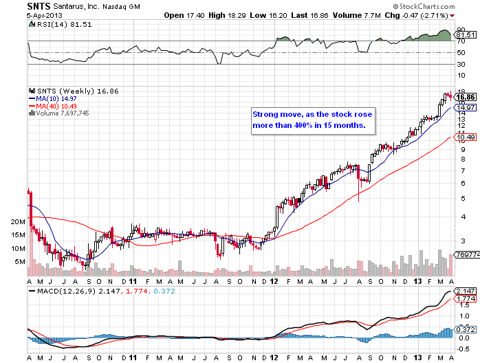 Click to enlarge
Source: Stockcharts
Conclusion
There is no sure thing in the stock market. Although these stocks have potential to become new superperformance stocks, there is no guarantee that it will happen. Their stock price will be much dependent on their ability to deliver fundamental performance above expectations. And the general market environment must be positive, as stocks seldom move 200% or higher in less than two years in a bear market.
Disclosure: I have no positions in any stocks mentioned, and no plans to initiate any positions within the next 72 hours. I wrote this article myself, and it expresses my own opinions. I am not receiving compensation for it (other than from Seeking Alpha). I have no business relationship with any company whose stock is mentioned in this article.