While copper is out of favor this year, copper companies have seen a decline in their share prices. Both Southern Copper (NYSE:SCCO) and Freeport-McMoRan (NYSE:FCX) are trading 5% below the price they had at the beginning of the year. In a recent article, I explained why I believe that Freeport-McMoRan is a buy. Now it is time to investigate its competition, Southern Copper.
Both companies have similar market capitalization of around $30 bln. At the moment, the market is giving roughly equal value to both companies. Is it fair?
SCCO has a trailing P/E of 15.46 (data sourced from Yahoo Finance), while FCX has a trailing P/E of 10.16, so FCX is cheaper than SCCO according to this metric. SCCO has a Price/Sales of 4.51, while FCX has a P/S of 1.69. The Price/Book ratio paints the same picture. SCCO's P/B is 6.31, FCX scores a P/B of 1.74. On the first take, Freeport-McMoRan looks much cheaper and more attractive then Southern Copper.
However, let's dig dipper. SCCO rose more than 23% in a year, when FCX dropped 15%. One must try to investigate this issue. In December, Freeport-McMoRan shares were hit more than 15% when the company announced that it will acquire Plains Exploration & Production (NYSE:PXP) and McMoRan Exploration (NYSE:MMR). This is the amount of the yearly drop. However, it does not explain the total difference in performance, because Southern Copper enjoyed a healthy rise.
If you ask for one thing that can plague a company the most, my answer would be debt. I believe that excessive debt seriously endangers the future of any company. I will explore the debt side of our story through the debt to total assets ratio, which shows how much of the company's assets are financed by debt.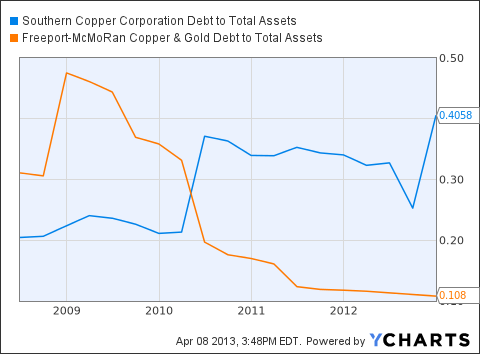 SCCO Debt to Total Assets data by YCharts
As you can see, Freeport-McMoRan is low on debt, while Southern Copper has higher levels of debt. This means that FCX would be more stable than SCCO if copper prices continue their decline.
Southern Copper doesn't lose on each part of the comparison. When it comes to effectiveness and profitability measures, SCCO wins over FCX. Southern Copper has a 29.01% profit margin, while Freeport-McMoRan has a 16.89% profit margin. SCCO has a 23.21% return on assets, FCX gives a 10.66% return on assets.
There is one more important thing to say about SCCO. The stock has an insider ownership of 81.3%. These shares are owned by Grupo Mexico, as is stated in the company's annual report. When there is a big insider ownership, one can think about "stock friendly" moves from the management.
Can it justify the difference in performance between FCX and SCCO? I do not think so. Southern Copper has its pluses, but Freeport-McMoRan looks cheaper to me. As an answer to the article's title, I would state the following. I don't think that SCCO is overvalued, but I find FCX more attractive. If you are bullish on copper, I would recommend to have both stocks in your portfolio with a bigger percentage of FCX shares.
Disclosure: I have no positions in any stocks mentioned, and no plans to initiate any positions within the next 72 hours. I wrote this article myself, and it expresses my own opinions. I am not receiving compensation for it (other than from Seeking Alpha). I have no business relationship with any company whose stock is mentioned in this article.