Prior to a major catalyst, a stock moves on the strength of the market's fear or greed. This year we saw BlackBerry (NASDAQ:BBRY) moving up 56% in the month before launching a new phone. Novartis (NYSE:NVS) moved up 4.7% prior to expected news from the FDA and Europe. MagicJack (NASDAQ:CALL) was late filing earnings, but rose 15% as the new date approached. The same pattern occurred with Arena (NASDAQ:ARNA) in January when shareholders predicted an early and positive recommendation for the anti-obesity drug, Belviq, by Europe's medical advisory committee (OTCQB:CHMP). When nothing came, Arena fell 25% from its $10.81 mid-January high.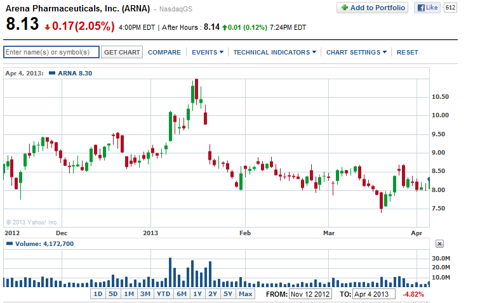 Three months later, the stars have again converged as Arena shareholders hope the CHMP rules on Belviq at their next meeting (April 22-25), and the Drug Enforcement Agency (NYSE:DEA) issues a final schedule and will allow sales to begin immediately. Contrary to the general pattern, Arena shares have oscillated at increasingly lower values between $7.40 and $8.70 whereas the S&P has risen. Shorts have taken this time to increase their share of the float and require 10-days to cover.
In the alternate universe of Arena, last week shareholders suffered terribly good news that would have sparked significant rallies in any other company. News of phase 1 trials that may ultimately pit Arena against Novartis' multiple sclerosis drug Gilenya ($500 million in 2012 sales despite many side effects) took the Arena down 2%! An application to sell Belviq in Mexico, where obesity rates are higher than the USA, resulted in a $500,000 milestone payment to Arena, but dropped shares 2.4%!
I have also shown that there are significant differences between Arena and Vivus (NASDAQ:VVUS) that should keep them from trading in tandem. Poor sales by Vivus' anti-obesity drug Qsymia is hindered by numerous factors that will not affect market penetration or doctor-patient perception of Belviq. Yet, Arena is not trading like a company about to launch a new product that will tap a new market: those wanting an anti-obesity drug minimal side effects.
Dancing With the Government
Perhaps everyone is spaced-out about the government's role in getting a new drug to market. Drugs approved by the Food and Drug Administration are sent to the DEA with a proposed classification (schedule "I," a.k.a."C-I" being unsafe and having the greatest abuse potential and "V," a.k.a. "C-V," being the safest). The DEA's job is to regulate controlled drugs manufactured, sold, distributed, or imported in the USA. In scheduling a drug, the DEA takes the FDA analysis and adds additional considerations, but it will not reconsider the FDA's scientific or medical analyses. The DEA publishes the planned schedule and gives the public 30 days to comment before finalizing the schedule. The length of time between the comment period and the final schedule is not guided by statute. A 2010 study found the DEA took about 42 days to schedule a new drug. The schedules become effective after 30 days, but can be extended or eliminated if a party requires time to comply with regulations or if there is a compelling reason to immediately begin sales.
Arena's Investors Dance with FUD (Fear, Uncertainty and Doubt)
Arena's longs hoped the DEA would issue a final schedule within 30 to 45 days of public comments. That April 8th is the 79th day has everyone spinning instead of snapping up shares with increasing ferocity as the wait decays to a final schedule. Instead, of swings reflecting swelled or dispelled hopes, the stock generally flat-lines for hours or walks. Apparently everyone picked their side, bought or sold their shares, and feel confident that their orders will reach Wall Street faster than anyone else when the news arrives.
Choose Your Justification to Buy, Hold, or Sell
If the message boards reflect society (and I hope not based on many comments), investors have bet on one of six scenarios in the table below. How probable are they and should you use any in guiding your investment decisions?
| | |
| --- | --- |
| | Possible Reasons For The DEA Taking More Than The Average Time In Scheduling Belviq |
| 1 | The DEA somehow has the power overrule or send Belviq back to the FDA for further review because the DEA thinks it is ineffective, prone to abuse, harmful, or improperly or insufficiently researched. |
| 2 | The DEA is considering registering Belviq as a C-III because the DEA thinks it is prone to abuse or harmful. |
| 3 | The high number of public comments made by Arena supporters and bashers, relative to previously scheduled drugs, has delayed the process. |
| 4 | Someone requested a hearing which the DEA will soon announce. |
| 5 | Hedge funds infiltrated the FDA and DEA, or DEA workers are lazy, uncaring, or a conspiracy. |
| 6 | The DEA is considering a better schedule for Belviq (C-V). |
| 7 | The public comments to the DEA alleging fraud and manipulation of FDA process or stock price could have initiated investigations to delay the process. |
Possibility 1 (sending Belviq back to the FDA or overruling the FDA) is unlikely. I have not found anything suggesting the DEA can send drugs back to the FDA, or overrule FDA approval. The FDA conclusions are binding and cannot be reviewed by the DEA unless the FDA used "data gathered by [non-medical] sources [that] were primarily statistical, and not medical" in nature. Companies, including Arena, have since tested a drug's abuse potential using approved scientific procedures to avoid hearings at the request of a hostile party.
When delays occur, they tend to be business friendly. The DEA wanted to regulate the unscheduled propofol under C-IV after it killed Michael Jackson. Yet, three years later, it is still marketed and unscheduled (or tentatively scheduled) until research on its risks are completed. Public outcry initiated the process against propofol, but people were unable to increase regulations or interfere with its marketing even after several deaths. Without any cases or evidence of Belviq being abused or a "poster child" to base their claims, anti-Belviq forces are unlikely to affect the process to harm Arena's and the public's interest in new anti-obesity drugs.
Possibility 2 (placing Belviq in C-III) is unlikely. The DEA wanted Belviq in C-IV, and it appears there are no cases in this millennium in which the final scheduling for a proposed C-IV drug was changed after public comment. A Robert S. Mansbach submitted a long critique on Belviq's mood altering potential, arguing that there is a 1990s precedent to change a drug's schedule, but concedes that C-IV is not an "overly onerous restriction." An apparently hoped-for anonymous comment by Vivus' Wesley Day (VP Clinical Development) backfired when his name was found on the document properties. (Download here.) He requested a C-II classification on similar arguments. Regardless if it was Day or an imposter, taking corporate warfare to this level may haunt Vivus for years.
Shorts betting on these arguments are gamblers since the scientific arguments were debated before the FDA and are not the DEA's realm. Also, the precedent cited for changing the schedule is off-point. In that case, the DEA relaxed the already marketed synthetic marijuana's schedule from C-II to C-III when society feared marijuana far more than today.
I believe it is unlikely that the DEA will set a precedent requiring strict scheduling until completion of post-market studies when lab research shows little abuse potential. If the DEA places Belviq into C-III, they will have to do the same with every new drug. Instead, these cases suggest the DEA is business-friendly and will reduce oversight if possible.
Possibility 3 (the amount of comments slows the DEA) is highly likely. Belviq had many more comments than other new drugs. The DEA received 69 comments, one mailed and not posted, 32 positive, 26 negative, five indiscernible, and two derogatory to the DEA. Pro-Belviq comments added little and some hurt by bashing the process or alleging conspiracies. After an analyst mocked the excesses of some pro-Belviq comments, 76% turned negative, but the DEA should easily summarize most since they were dominated by the theme that Belviq is LSD-like, or combined with other drugs for "wild-rides" or with phentermine to become the next Fhen-Phen.
Responding to the 60+ pages of comments will take time. The DEA summarizes each comment, summarizes all of the arguments, and responds to each argument. I predict these summaries and responses will be longer than the rest of the final schedule and slowly written to avoid any scrutiny.
Possibility 4 (the DEA will hold a hearing) is unlikely. A brief, last-minute, comment by the anonymous "R" requesting a hearing could delay sales had it been from a legitimate request by a party of interest with non-FDA issues.
This century's only public hearing for a C-IV drug occurred when a party with an undisputed interest challenged the registration of the unscheduled drug it manufactured. The DEA was only concerned about one issue: the hardship to existing patients, which the FDA did not consider. The company thus met the two elements for a hearing: a request by a party with a real interest in the matter and factors outside of FDA's purview. The anti-Belviq anonymous request met neither.
Possibility 5 (conspiracy, illegality) is unlikely. The DEA is part of the Department of Justice (DOJ). They are law enforcement officers and since I am unaware of anyone ever tarnishing the DOJ's image during drug scheduling I am loath to tarnish it on speculation.
Possibility 6 (placing Belviq in C-V) is unlikely. Yet, if the regulatory burden of schedule V is less than C-IV, the DEA may consider it in order to reduce spending and corporate burdens in these financially difficult times.
Possibility 7 (comments initiated or supplemented an existing investigation of stock manipulation) is unlikely. However, the DEA was involved in the convicting numerous people charged with conspiracy to commit securities fraud, including nine people between since 2011. The DOJ has a major frauds section prosecuting securities fraud and works with the SEC in cases involving stock manipulation. But there are plenty of fish to fry on Wall Street. Are Arena's enemies are being targeted? Comments about Arena appear too vague and insubstantial to result in an investigation or convictions, but subsequent communications may have.
Conclusion
Weighing these possibilities may help you decide whether to risk investing in Arena before final scheduling. Regardless of the slow scheduling at the DEA, or whether Belviq will be sold in Europe, it is only a matter of time before Belviq is sold in the USA, since it is FDA approved, and it may be sold immediately upon scheduling since there are few arguments not to do so. At that point we can begin the debate about what the obese patient on Belviq is singing.
If you have insight into the DEA process or experienced it, please help us understand. Also, if you have a plausible reason for the delay, please post them in the comment section below while trying to keep posts concerning the same scenario together. Of course, I am also interested in your opinion on Arena's trading pattern or have a story about similarly catalyzing events, such as the Phase 1 trial, resulting in disappointment or glee.
Disclosure: I am long ARNA. I wrote this article myself, and it expresses my own opinions. I am not receiving compensation for it (other than from Seeking Alpha). I have no business relationship with any company whose stock is mentioned in this article.
Additional disclosure: I am not a registered investment advisor and do not provide specific investment advice. The information contained herein is for informational purposes only. Nothing in this article should be taken as a solicitation to purchase or sell securities. Before buying or selling any stock you should do your own research and reach your own conclusion. It is up to investors to make the correct decision after necessary research. Investing includes risks, including loss of principal.