Dr. Copper, as it is affectionately known, has been a longstanding barometer of economic growth and historically has shown a high positive correlation to the S&P 500 (NYSEARCA:SPY). However, over the past several quarters there has been an increasingly large disconnect between the performance of major indices (NYSEARCA:DIA) and the price of copper (NYSEARCA:JJC). Below is a 3 year chart of the SPX and copper.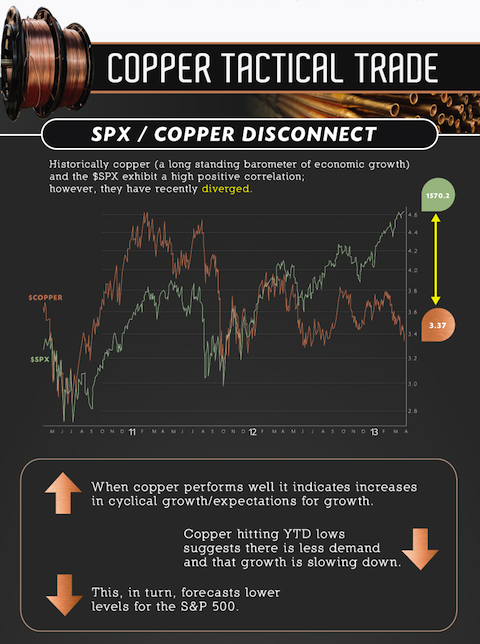 5 year LME warehouse supply levels have rocketed to highs in a matter of months, which illustrates a slowing demand on a macroeconomic basis at current prices.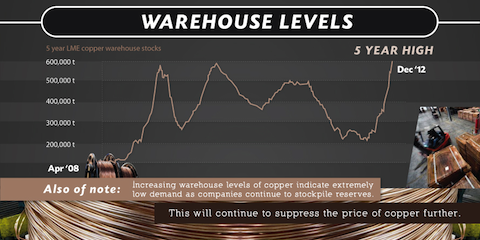 To further demonstrate the bearishness in the copper sector we point to the CME CFTC reports to indicate high levels of managed money short positions and low accumulation levels of futures contracts by the producer / merchants.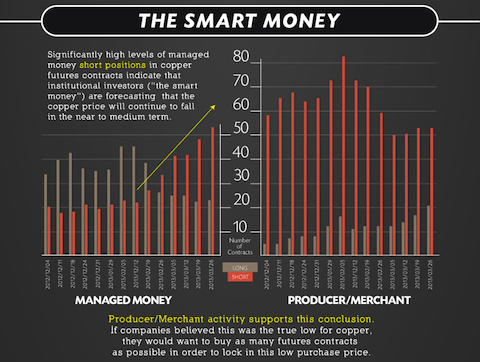 Precious metals miners and producers currently face adverse economic conditions in the form of higher production costs and tougher financing requirements. Similarly, copper miners and producers face this uphill battle. On a YTD basis, the COPX has outperformed when compared to the GDX and SIL. On a 3 year weekly chart the next support for the COPX is 9% away at $10.00.
For those that believe the housing market has bottomed, we would look to the manufacturers of copper products such as Encore Wire (NASDAQ:WIRE) instead of the miners of the metal such as Southern Copper (NYSE:SCCO) and Freeport McMoRan Copper & Gold (NYSE:FCX). The miners are a cyclical play and there is no reason to believe in initiating a purchase other than to be underwater in the position for the short to medium term.
Copper has been trading in a range of higher lows and lower highs for roughly 5 quarters; this wedge formation (see graphic below) has a mid-point of 3.60. One can draw a smaller wedge that shows a technical break of 3.50 to the downside with an initial target of $3.00. Covering the position between the October 2011 low ($3.00) and June 2010 low (2.72) nets a return of roughly 15%.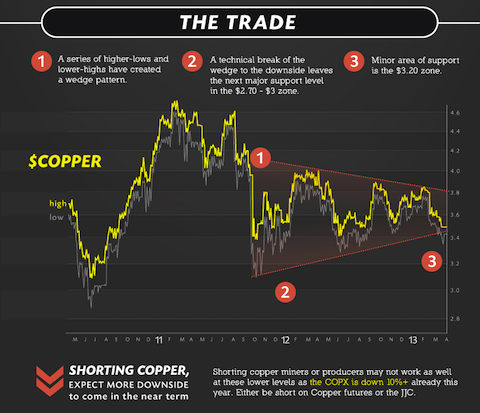 Bottom line: Copper is an industrial metal that is an excellent indicator of the current macroeconomic climate. We highlight the low demand via LME warehouse levels and high levels of managed money short positions in addition to the technical setup to provide an entry to forecast that copper prices will proceed lower over the short to medium term. Use copper futures or the ETF.
Disclosure: I have no positions in any stocks mentioned, and no plans to initiate any positions within the next 72 hours. I wrote this article myself, and it expresses my own opinions. I am not receiving compensation for it. I have no business relationship with any company whose stock is mentioned in this article.