The S&P 500 has rallied 9.44% to all-time high levels. However, several of its components have underperformed the market YTD. For example, the basic materials sector ETF (NYSEARCA:IYM) has declined 1% year-to-date. However, as global economies seem to stabilize, oil prices have surged 3% and natural gas prices have increased 27% on a year-to-date basis. Among oil and natural gas companies, dividend-seeking investors have favored Enerplus Corporation (NYSE:ERF) for its juicy 7% monthly dividend. The Canadian-based company has rallied 9% YTD. However, I believe the dividend safety may be in jeopardy for reasons herein presented. If the company decides to further cut dividend offers, it will drive the stock's price-per-share downward since investors do not show mercy to companies who cut their dividend payments.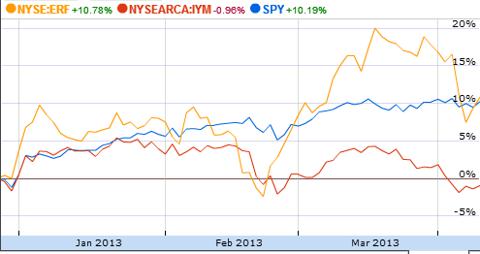 Figure 1. Performance of SPY (blue), IYM (red), ERF (yellow) on a year-to-date basis.
Reasons to believe dividend is in jeopardy
From a fundamental point of view, this company is trading with a negative P/E, and a forward P/E of 20.73. Also, its price-to-cash ratio is 533.33. The company may have problems paying this quarterly dividend since its cash-per-share is 0.03, while its monthly dividend is close to $0.06. Further, it has a negative return on equity, with a ROE of 4.92%.
According to its most recent annual earnings report, the company's oil and gas sales did not change in 2012 with respect to 2011. Its sales totaled $1.36 billion. However, the payable royalties increased from $245 million in 2011 to $268 million in 2012. The net revenue increased from $1.09 billion in 2011 to $1.18 billion in 2012. However, its net income decreased by $250 million from $109 million in 2011 to a net loss of $150 million in 2012. Overall, its diluted EPS decreased from a gain of $0.61 in 2011 to a loss of $0.80 in 2012. Further, its diluted number of shares standing increased from 180,000 in 2011 to 195,000 in 2012.
In addition, the company finished the year with only $5 million in cash. Therefore, the company's growth is close to impossible. The company is not investing in new projects. Its capital expenditures decreased from $876 million in 2011 to $864 million in 2012. This could lead to lower net sales in the interim.
The prices received for its crude oil and natural gas production directly impacted its net earnings. While the average benchmark price for the West Texas per barrel was 94.21 in 2012, the company received 78.19 per barrel, an 18% discount (Figure 2). Since the price of a crude oil barrel has ranged from $90 to $96 YTD, I do not expect a significant change in oil sales. On the other hand, the price of natural gas has significantly increased YTD. The rising natural gas prices may be the company's last hope to boost its cash in the near term and prevent a dividend cut.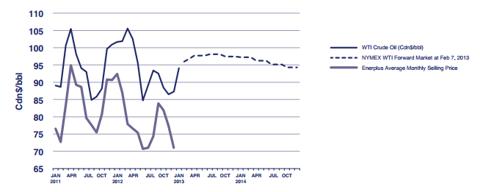 Figure 2. Relationship between the price of WTI Crude oil and Enerplus Monthly selling price. Extracted from the 2012 Financial Summary, p. 10.
As of February 7th, 2013, the company has hedged 11% of its 2013 natural gas production by purchasing Put contracts with a strike of $3.17/Mcf. Although this strategy sets a floor in the selling price of the commodity, the contracts have lost most of their premium since current natural gas prices are trading at $4.10/Mcf.
Although the company seems to be well-hedged in case natural gas prices decline, natural gas sales accounted for 20% of the revenue in 2012. Based on these facts, I do not expect a significant increase in its net income for 2013, even as natural prices rise.
As a result of poor management, the dividend payment was reduced 30% from $388 million in 2011 to $277 million in 2012.
Conclusion
In brief, the company is trading with a negative P/E ratio, and a high forward P/E ratio. Its balance sheet carries a minimal amount of cash, which prevents the company from starting new projects. Further, the company sells its oil at a 20% discount to the West Texas price. In 2012, the company finished with a net income loss of $150 million. I believe the dividend is in jeopardy, and investors should not park their money in this stock. Further dividend cuts will put significant pressure in this stock, as the company is mostly preferred by dividend-seeking investors.
Disclosure: I am short ERF. I wrote this article myself, and it expresses my own opinions. I am not receiving compensation for it (other than from Seeking Alpha). I have no business relationship with any company whose stock is mentioned in this article.