By: Brendan Gilmartin, VP Content & Research
JPMorgan Chase (NYSE:JPM) is scheduled to report 1Q 2013 earnings before the bell on Friday, April 12. The results are typically released at 7:00 a.m. EST with a conference call slated to follow at 8:30 a.m. JPMorgan Chase is the first among the major U.S. financial institutions to report quarterly results. Therefore, the numbers could have a significant impact in the trading of other names in the financial sector, as well as U.S. index futures and other broad market securities.

Outliers & Strategy
JPMorgan Chase is expected to earn $1.39 per share (range is $1.15 - $1.65) on revenue of $25.94 bln, down 5.4% from the prior-year period. (Source: Yahoo! Finance).
At a recent $48.62, JPMorgan Chase is now trading at a mere 9.34x trailing earnings, well below the 5-year average. The shares are also trading at a slight discount to book value of $51.27 (as of 12/31/2012).
Recent News
04/09: Evercore Partners upgraded JPMorgan Chase to Overweight from Equal-weight and boosted the price target from $44 to $55, according to a post on StreetInsider.com. The firm also sees JPMorgan reporting 1Q EPS of $1.43. The positive view is based on solid fundamentals, valuation, strong loan growth, and healthy deposit flows
03/27: Standard & Poor's revised its outlook on JPMorgan Chase to Stable from Negative, citing actions taken to address the Chief Investment Office losses.
03/14: JPMorgan Chase reported it intends to increase the quarterly dividend to $0.38 per share, effective in the second quarter, and plans to repurchase an additional $6 billion of common equity between April 1, 2013 and March 31, 2014.
02/27: Morgan Stanley raised the price target on JPMorgan Chase from $56.00 to $58.00 in response to an upbeat Investor Day, according to an update on Benzinga.com. The firm also reiterated an Overweight rating, citing increased market share and handling of new market regulations.
02/25: ISI Group raised its price target on JPMorgan Chase to $55, according to Benzinga.com, based on market share gains, share buyback activity, increased loan growth, and a positive view on the capital markets.
Technical Review
JPMorgan Chase shares recently eclipsed the $50-level, a multi-year high. Following last week's broader market decline, the shares tested and held key support near $47.00 - a level going back to late January. Should earnings surprise to the upside (>$1.50), the shares could reclaim the recent highs. Conversely, the first area of support is the aforementioned $47.00-level, with potential downside risk to $44.00 in the event of a weaker-than expected release. (Chart courtesy of StockCharts.com)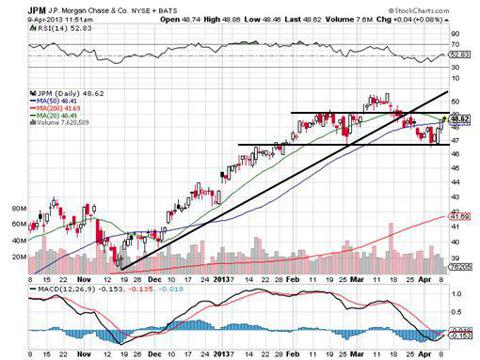 Summary
JPMorgan Chase shares are at a multi-year high, benefiting from an improving lending backdrop, share repurchases, strengthening economic conditions in North America, stronger credit quality, and a fortress balance sheet. Given the recent strength and the positive sentiment surrounding JPMorgan, the bar is set quite high this earnings period. In order to push the shares beyond the closely-watched $50-level, look for earnings closer above $1.50 per share (consensus is $1.39) with a solid revenue figure. Conversely, a disappointing EPS result is likely to spark a pullback in the shares given the elevated expectations.
Disclaimer: By using this report, you acknowledge that Selerity, Inc. is in no way liable for losses or gains arising out of commentary, analysis, and or data in this report. Your investment decisions and recommendations are made entirely at your discretion. Selerity does not own securities in companies that they write about, is not an investment adviser, and the content contained herein is not an endorsement to buy or sell any securities. No content published as part of this report constitutes a recommendation that any particular investment, security, portfolio of securities, transaction or investment strategy is suitable for any specific person.
Disclosure: I have no positions in any stocks mentioned, and no plans to initiate any positions within the next 72 hours. I wrote this article myself, and it expresses my own opinions. I am not receiving compensation for it (other than from Seeking Alpha). I have no business relationship with any company whose stock is mentioned in this article.