The share price of Coca-Cola (NYSE:KO) has returned 9% over the past 12 months and just reached its 52-week high at $40.90. The stock represents a solid long-term investment given the company's healthy fundamentals and wide moat. However, in my view, the current price level does not warrant a buy based on the following five reasons:
1. Coca-Cola shares appear to be fully priced based on the firm's financial performance relative to that of PepsiCo (NYSE:PEP), the company's closest peer. According to the chart shown below, Coca-Cola's two-year consensus revenue, EBITDA, and EPS growth estimates are below PepsiCo's figures. But the firm's five-year EPS growth estimate is slightly above PepsiCo's level. On the profit side, however, Coca-Cola demonstrates a better performance as the firm's various profit margins are above the peer benchmarks. Both companies' ROE and ROIC metrics are fairly comparable. In terms of debt and liquidity, both firm's leverage level are more or less similar. PepsiCo has a slightly higher free cash flow margin, but Coca-Cola's interest coverage ratio is notably higher due to the firm's stronger profitability. Again, Coca-Cola's and PepsiCo's current and quick ratios are quite consistent.

Click to enlarge
Coca-Cola's current price multiples at 13.8x forward EBITDA and 18.7x forward EPS (next 12 months) are on average 15% higher than the same multiples of PepsiCo, completely reflecting Coca-Cola's superior profitability performance (see chart above). However, I believe the fair premium should be slightly lower given Coca-Cola's relatively weaker near-term growth potential.
2. Coca-Cola's forward P/E multiple is currently trading at a 28% premium over the same multiple of S&P 500 Index, which stands at 14.6x now. This relative valuation level does not look cheap provided that Coca-Cola's long-term earnings growth rate at 9.0% is not far above the average estimate of 8.2% for the S&P 500 companies and the stock's 2.8% dividend yield is also just slightly above the average of 2.5% for the S&P 500 Index. In addition, even accounting for the long-term EPS growth estimate, Coca-Cola's PEG ratio at 2.1x is still 17% above the average of 1.8x (14.6x forward P/E and 8.2% long-term EPS growth estimate), again evidencing a somewhat pricey valuation.
3. The share price has risen substantially by 13% year to date. Nevertheless, the market's consensus revenue, EBITDA, and EPS estimates for 2013 and 2014 have all experienced notable downward revisions over the period, suggesting the shares have become increasingly expensive (see charts below).
Click to enlarge

Click to enlarge

Click to enlarge
4. The U.S. Dollar Index has experienced a material appreciation between February and March 2013 (see chart below).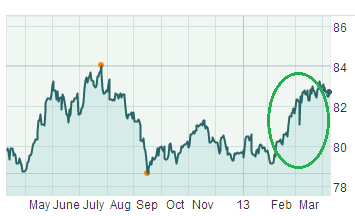 Given the fact that more than 50% of Coca-Cola's total revenue is derived from oversea markets, the company's Q1 earnings should be more or less impacted by the stronger dollar. However, this negativity does not seem to be reflected in Coca-Cola's rising valuation (see chart below).

Click to enlarge
5. Of the 19 analyst ratings compiled by Thomson One, there are six strong buy and seven buy ratings. However, their average one-year price target of $42 is only 3% above the current share price. Even considering the 2.8% dividend income, the risk/reward bet does not look attractive, especially if you believe there is a pending market correction.
Bottom line, as Coca-Cola's shares become pricier without any positive fundamental developments, investors should wait for a pullback instead of buying now.
All charts are created by the author except for the consensus estimate tables and USD Index chart, which are sourced from S&P Capital IQ and Marketwatch.com, respectively, and all financial data used in the charts and the article is sourced from S&P Capital IQ unless otherwise specified.
Disclosure: I am long KO. I wrote this article myself, and it expresses my own opinions. I am not receiving compensation for it (other than from Seeking Alpha). I have no business relationship with any company whose stock is mentioned in this article.