Industry Outlook
Economic uncertainties including uneven growth in China, European Union policy, and the future fiscal environment in the US are growing; easy central bank monetary policy is set to impact world oil prices. Lost production in Iran and Syria, while risk of an event-driven Iranian supply disruption (as opposed to already announced sanctions by the US and Europe) will remain key factors in the oil markets over the succeeding months. The oil market will be volatile but within a relatively tight range of between $90 to $120/barrel through the next couple of years.
Natural gas has been the standout commodity in the U.S. and Europe, up by an average 67% over the past twelve months. Gas and power companies in the U.S. have outperformed S&P 500 by an average 5 percentage points. However, the best-performing equity sector has been U.S. refiners, which have almost doubled in price since last year. Further outperformance of this sector is expected to continue. Oil prices, though stable, have edged down from the relative highs last year, and this has had clear consequences for performance across debt and equity markets.
European Energy Equity Price Performance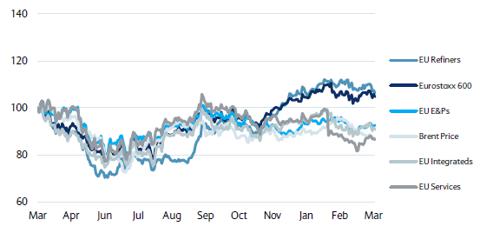 Source: Barclays
Crude prices will remain below-GDP demand growth levels, balanced by declining non-OPEC output. This has been the trend over the past few years and should continue. The rise in U.S. onshore oil production, which has totaled 1.5 thousand barrels per day over the past three years, has been beneficial for the U.S. energy price competitiveness and oil product margins.
Crude Oil and Natural Gas Price Performance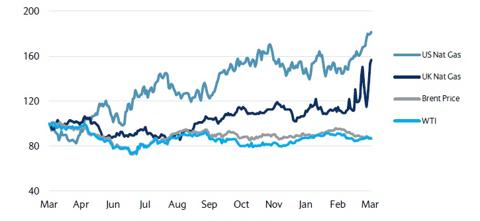 Source: Barclays
Supermajors, the world's top oil companies, will be challenged over the next 12 months due to the lack of growth and high capex spend. Chevron (NYSE:CVX) declined by 2.4%, while Exxon Mobil (NYSE:XOM) declined by 5.9% in 2012. Supermajors could be interesting to follow going into 2014 and 2015, as the balance of power among the IOCs and NOCs shifts towards the IOCs' favor, partially driven by the rise in domestic shale plays and outlook of a flat oil price environment over the next several years.
U.S. Energy Equity Price Performance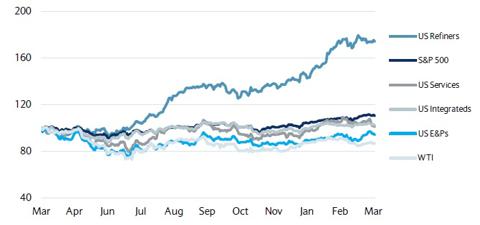 Source: Barclays
The Canadian integrated oil companies are more favorable than the Supermajors over the next 12 months. Crude differentials will likely stay wider than expected. Winning oil companies must possess good risk/reward, strong production growth, positive free cash generation and inexpensive valuations.
Valuation Premium
XOM still generates best-in class stock returns with a superb balance sheet, despite recent struggles with volume delivery, project delays and cost over-runs. The company was able to maintain strong defensive attributes that have favored investors well over decades and have driven up its premium valuation compared to its peers. The stock is up almost 6% this year. Earnings are forecasted to rebound after three quarters of declines. Given the company's low P/E ratio relative to the S&P 500 and steady growth, this oil giant is poised to sustain favorable valuations.
Comparative Peers' 1-Yr Share Price Returns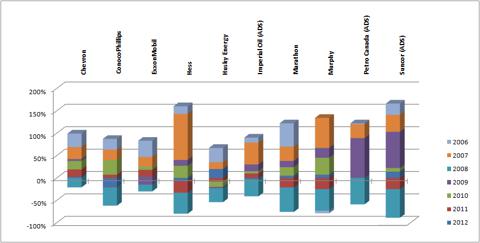 Source: BCR via Company Reports
Because of this, XOM regained its No. 1 rank as the "world's most valuable company" at $417.5 billion. Apple (NASDAQ:AAPL) took over the No. 1 spot in 2011 and at one point, had a market cap that reached $650 billion. Investors are now willing to invest more in Exxon Mobil's value proposition. XOM's earnings momentum drove its valuation premium higher than Apple's, to levels not seen in 12 years.
XOM is trading at 11.7X its earnings, versus Apple's P/E multiple of less than 10X during such time. XOM's market cap is forecasted to reach $434 billion, based on an average share price forecast of $95.17 a share, from data compiled by Bloomberg.
XOM is rather expensive relative to other Supermajors, currently trading at 12.5X compared to Chevron at 10.5X P/E. Historically, XOM has constantly commanded an estimated 1.5X to 2.0X multiple point premium over Chevron. This appears to no longer be justified given XOM's seemingly deteriorating stock price compared to Chevron (readers are encouraged to read our full article on Chevron here.
Comparative Peers' Stock Price, Annual % Change since December 31 Base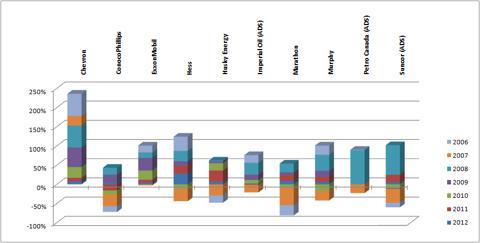 Source: BCR via Company Reports
Declining Cash Position
Total cash for XOM stood at $9.9 billion compared to $13.3 billion in 3Q12 and $13.1 billion in 4Q11. Net debt was $1.7 billion compared to net cash of $0.9 billion in 3Q12 and net cash of $3.8 billion in 4Q11. During 3Q12, share buyback was $5 billion. This 1Q13 saw share repurchases remaining at the $5 billion level, net of anti-dilution purchase. XOM recently closed its Denbury transaction, increasing its Bakken holdings by 50%.
Conclusion
Oil producers globally face the challenge of a declining production base, and the year 2013 doesn't look like a good year for reserves replacement for the largest oil companies. Analysts' forecasts revealed global majors need more than $125/barrel to cover their capex and dividends, well above the prevailing Brent price.
The challenging capex versus the dynamics of shareholder returns make investors cautious on the global integrated oil firms like XOM. Thus, Barclays gave an "Equal Weight" rating with a positive industry view together with the other large-cap oil equities in Europe and the U.S.
Exxon Mobil Ratings Chart with Barclays Price Targets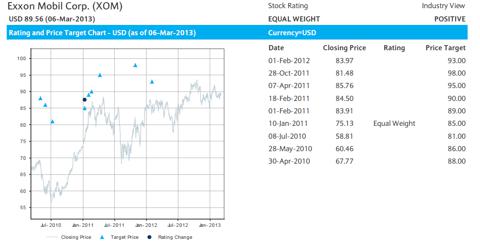 Source: Barclays Research Estimates
Barclays is also considering shares of some growth-oriented "integrateds" attractive: Suncor (NYSE:SU), Chevron (CVX), LuKoil and BP. The bank also recommends holding large-cap diversified equities such as Baker Hughes (NYSE:BHI), Halliburton (NYSE:HAL), Schlumberger (NYSE:SLB) and Weatherford (NYSE:WFT). In Europe, Barclays recommends Technip shares, and in Asia Keppel Corp, which should benefit from its ongoing global rig build-out.
However, XOM received a significant downgrade from JPMorgan (NYSE:JPM). JPM said it cut its rating from "Neutral" to "Underweight," noting the move as a valuation call.
Enterprise Value to EBITDA (Earnings Bef. Interest, Depreciation & Amortization)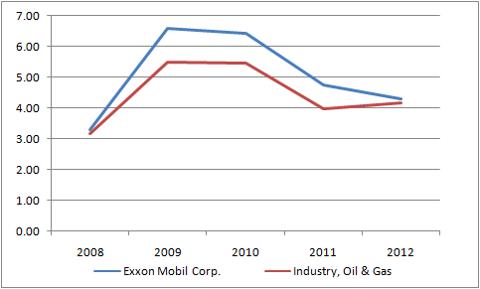 Source: BCR via Company Reports
Disclosure: I have no positions in any stocks mentioned, and no plans to initiate any positions within the next 72 hours.
Business relationship disclosure: Black Coral Research is a team of writers who provide unique perspective to help inspire investors. This article was written Hans Centena, one of our Senior Analysts. We did not receive compensation for this article (other than from Seeking Alpha), and we have no business relationship with any company whose stock is mentioned in this article.
Additional disclosure: Black Coral Research is not a registered investment advisor or broker/dealer. Readers are advised that the material contained herein should be used solely for informational purposes. Investing involves risk, including the loss of principal. Readers are solely responsible for their own investment decisions.