The Pitch
J.C. Penney Co.(NYSE:JCP) announced the ousting of CEO Ron Johnson on Monday and appointed Myron "Mike" Ullman to replace him. Ullman previously ran the company as chairman and CEO until November 2011. I cannot say I am surprised to see Johnson gone after his less than stellar year running the company further into the ground, however, the boards decision to bring back Ullman is a signal that the problems are way beyond executive talent and given the current state of the company, I would recommend a short position as there appears to be no end in sight for the downfall of this once profitable retailer.
Thesis
In my opinion, the decision by the company's board clearly shows they are as much to blame for the troubles facing the retailer. My thesis is that under J.C. Penney's current regime, the company simply cannot function properly. In contrast, I do believe it still has some viability in the marketplace. However, fundamental issues plaguing the company make it nearly impossible to function as is. It will take a major rescaling and goal shift to ever turn a profit. Having said that, I do not believe that can be achieved without outside help such as private equity or a leveraged buyout.
Taking all this into account, I recommend a short position based on two catalysts. Number one, the valuation that could be fetched by the time any sort of private equity stepped in, combined with the company's long-term debt obligations is a sign that even in a buyout situation, a price much lower than current levels would be offered to common shareholders. Number two, I believe the decision to replace Johnson as CEO with anyone attached to the company in the last five years is a mistake by the board that will only drive this stock lower. I don't believe anything positive will come of this. Not only did Ullman contribute to the company's current state, but he's now returning after Johnson left it in worse shape than before. So how does this all play out? First let's breakdown a valuation.
What Valuation?
As previously stated, I believe the only way J.C. Penney can ever get out of the slump is via outside help. In my opinion, a true leader that controls his board and not the other way around is needed. With the current set up, it looks like that won't happen and I would assume another year of upcoming record losses. While a buyout or taking the company private could be good, additional equity, most likely private, would be needed and there is no way a premium for the shares could be demanded as they currently exist. The result, common shareholders are most likely to suffer and I believe this will drive the stock lower from current levels. So what's the stock worth, realistically?
Combining street estimates and multiple valuation models, fair value comes in at anywhere from $14.50 - $27.00 / share. But these numbers are flawed. They all assume growth in 2014 and beyond. They also don't take into account the most important fact of any investment, can they turn a profit and return value to shareholders. The models are built around projections of growth that are extremely skewed by recent drastic declines. See the earnings table below.
In other words, the models assume the worst is over (mistake one) and assume investors are still interested based on growth out of the bottom (mistake two) and all factor intrinsic value, such as the ability to monetize Real Estate holdings (mistake three). No intelligent or successful entity with enough buying power to commit would offer a comparable price based on these numbers.
Time for a reality check. Looking at the facts, first and foremost, they generate revenue through retail sales, which are declining.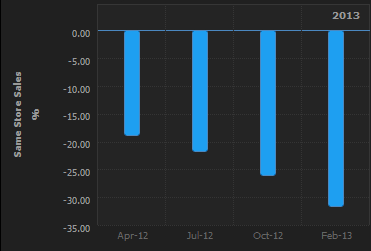 Product Margins are in a constant decline as they face pressure from competition in an already tough industry as well as online shopping alternatives.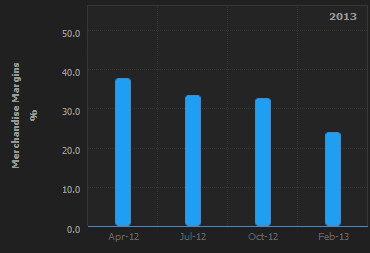 It is making no headway internally to stem losses as net margins are on the decline right along side sales.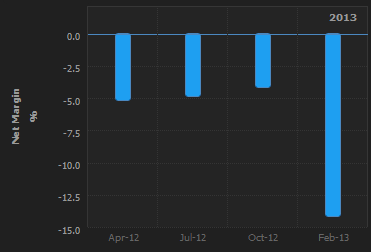 More important than any of these facts is the continued decline of ROE (return on equity), ROA (return on assets), and ROFA (return on fixed assets / i.e. real estate).
This suggests that continuing operations are making it extremely difficult if not impossible for J.C. Penney to control expenditures and/or execute on its pricing strategies. This is an indication of management's effectiveness / lack thereof and signals for every dollar the company or a shareholder invests, significant losses are being generated. This is a bad sign on its own, but even more so for a company that carries so many debt obligations.
J.C. Penney's current net debt obligations make up more than 35% of its total estimated enterprise valuation with more than $2.8 billion in outstanding obligations due as far out as 2097 and close to $1 billion due in the next five years.
J.C. Penney only carried $930 million in cash & equivalents according to the last report. With an inability to generate positive cash flow, those debt obligations could come a lot quicker than management is expecting and it's another indication alternative liquidity sources will be needed in the not to distant future.
As a result, I believe street estimates of fair valuation are way off. In fact, the companies only real value lies in it's fixed assets and real estate holdings as there's no value in core operation from it's inability to generate a profit. A realistic value for the common shares in my opinion would come in around $9.69 per share or 35% below current price levels. This assumes a flat value for the retail business since all current cash is needed for operations and no positive cash flows are generated. It assumes a Real Estate and Equipment value of $5 billion adjusted from last report based on the rate of store closings relative to the length a potential buyout may take discounted 10% as a flood of similar properties are coming on the market with many peers such as Macy's (NYSE:M), Nordstrom (NYSE:JWN), Saks (NYSE:SKS), and Kohl's (NYSE:KSS) also closing existing stores. While this isn't an exact science, it's certainly more realistic than the idea that bringing on Ullman will have any positive effect. The bottom line, J.C. Penney is simply not sustainable as a public company at this point and I seriously doubt any buyout or offers to take them private would be a positive catalyst for the stock since any respectable suitors are not likely to pay a premium.
Management
The return of Mike Ullman to the helm signals only trouble at a time when J.C. Penney just can't afford it. While problems go deeper than management, the company needs a fresh perspective and someone who can re-energize the organization with fresh ideas. I would say it's a less than 1% chance Ullman could accomplish that and he's already giving us reasons to doubt him. In a market wire report earlier today Ullman noted that he intends to bring retail department store and former J.C. Penney talent back to the company. Really? Incase its not obvious, that's part of the problem. They have failed to adapt their model and practices as the world moves forward. Ullman's rolodex is not going to help the situation and it's just another waste of the company's already constrained resources.
In addition, Ullman, while not solely responsible, still contributed to the company's decline.
Looking at historical earnings just before his first exit, we can deduce two things. Number one, he was barely effective in maintaining profitability and number two, the chain of positive suspires just before the extreme downturn tells me it was possibly sandbagging on guidance and knew all along this was the end game. Taking all that into consideration, I would assume the return of Ullman will only take the stock lower. Evidence of that is already taking shape as reactions from the street has the stock down over 6% today.
There's other potentially unforeseen risks involved such as the large stake held by activist investor Bill Ackman whose short bet on a major MLM company has nearly 10% of his hedge fund's capital tied up in a coin toss. Ackman has an 18% stake in shares of J.C. Penney and has already lost nearly $300 million from his bet at todays price. Ackman publicly acknowledged mistakes made last Friday. With other major shareholders like Vornado (NYSE:VNO) jumping ship, an investor with a significant stake like this could be forced to take the loss and follow suit which would be disastrous for the stock and encourage others to flee as well.
Variant View
The outlook for J.C. Penney is bearish overall and I recommend a short position for risk appropriate portfolios. There is one potential contradiction to this argument. That being the stock's already extremely high short interest and higher than average beta. With a stock like this in the spotlight, speculation and rumors can always attribute to falsely justified run ups. With recent increases in short interest, now over 30%, a jump on speculation could squeeze some shorts out and provide additional buying support for the stock. But taking into consideration what's covered in this article, I do not see to many scenarios that would push it high enough. But for what its worth, hear is a view of current short interest.
Conclusion
My outlook on J.C. Penney's future is bearish overall with no sign of near, mid, or long-term improvements. I recommend a sell or short position on the stock for investors with appropriate risk tolerance. Current levels suggest a good entry point, although there's no harm in waiting for an upside correction. I would look to initiate a short anywhere above $13.70 with a target price below $10.00 as my fair value estimate comes in around $9.69 / share. Initially a good stop would be $15.70, but should the stock break below $10.00, I would move the stop to lock in profits. Due to the volatility, options may be a better route for some as capital commitments up front are lower but as always, time factors must be considered. Support for the recommendation is based on the companies overall poor performance, lack of management foresight, and a broken business model that is failing to produce any ROA/ROE.
A technical signal confirmed on March 1st (Bearish Flag) indicates price movements toward the $10 range over the next 15-20 weeks giving confirmation that the overall trend is in fact bearish.
In summary, this company has been making promises of "a turnaround" for quite some time now with every quarter showing worse results than the prior. A troubled board and management team along with a failing business model indicated only bleak outcomes. The current analyst projections are generous at best. Whether a buyout will come to light or they end up in bankruptcy, common shareholders seeking value are in for a serious wake up call as downside risk will continue to weigh heavy.
Disclosure: I have no positions in any stocks mentioned, but may initiate a short position in JCP over the next 72 hours. I wrote this article myself, and it expresses my own opinions. I am not receiving compensation for it (other than from Seeking Alpha). I have no business relationship with any company whose stock is mentioned in this article.