The healthcare plans industry has been on a tear lately, with the majority of healthcare companies reporting solid numbers. Add to this the recent news on Medicare reimbursement rates, boosting overall investor optimism.
But is this optimism justified, or are investors too quick to forget about the regulatory risk faced by the industry?
The Bullish Case
First of all, the industry received a big piece of positive news over recent days.
Stocks like Aetna (NYSE:AET), Cigna (NYSE:CI) and Humana (NYSE:HUM) all jumped higher after the Center for Medicare and Medicaid services announced a 3.3% increase in reimbursement rates for healthcare-plan providers to its Medicare Advantage.
This is a huge piece of news, especially for a company like Humana, which derives about two-thirds of its revenue from the Medicare Advantage business.
Financial media outlets have also reacted positively to the news.
Based on a sentiment analysis of recent industry press, positive headlines outnumber negative headlines by more than 2:1, with neutral headlines making up almost 50% of the sample.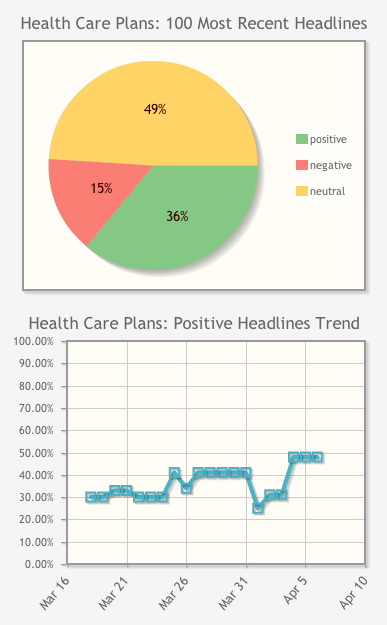 We also scanned news headlines on specific healthcare companies, and performed the same type of sentiment analysis. Not surprisingly, media sentiment for the big health insurers are also overwhelmingly positive:
Aetna Media Sentiment: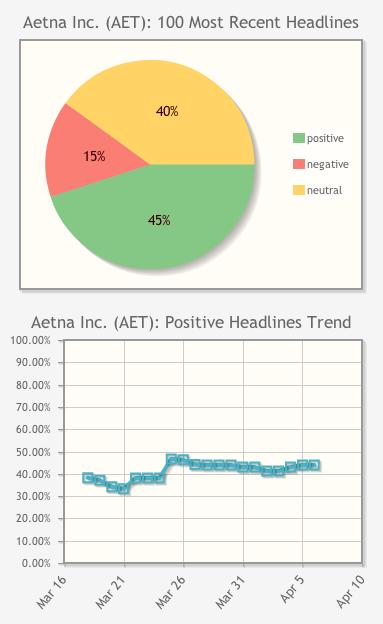 Cigna Media Sentiment: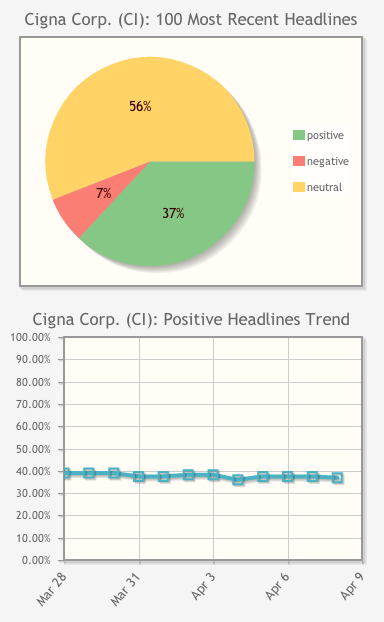 Humana Media Sentiment: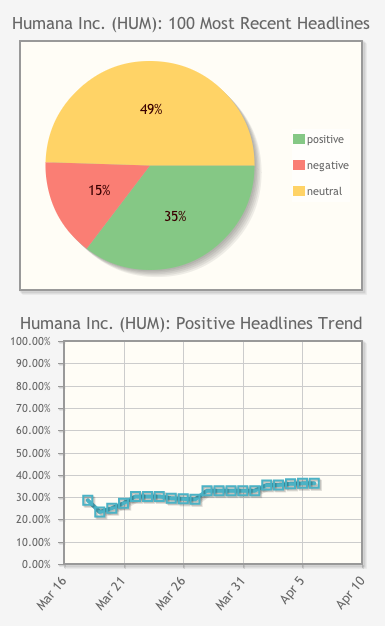 But should this be enough in driving investors to purchase healthcare stocks? Or is the sector going to undergo radical changes in the near future?
Bearish Case
Investors must look at the broader picture, however, and read through the lines.
There is a specter of uncertainty lingering in the concrete final form of the Medicaid document. The most ambitious project in the American history of healthcare still casts a shadow of uncertainty on the entire sector.
Also, investors must consider the fact that while most healthcare companies have performed very well on a short-term basis, their medium term performance is somewhat shaky.
What do you think about coming changes within this sector and how will they affect investor sentiment? Please let us know in the comment section below.
Disclosure: I have no positions in any stocks mentioned, and no plans to initiate any positions within the next 72 hours. I wrote this article myself, and it expresses my own opinions. I am not receiving compensation for it (other than from Seeking Alpha). I have no business relationship with any company whose stock is mentioned in this article.