Ford (NYSE:F) has been a great turnaround story, and I was bullish on the stock back when it was trading at lower levels. However, the stock is well off the 2012 lows, and for a few reasons this stock appears to be a strong sell now. Ford shares are showing signs of weakness and as the chart below shows, it has broken below recent support levels. There are a few reasons why investors should consider selling Ford now as it could be poised to trade down to $11, which is near the 200-day moving average. Below are a few issues that could push Ford shares back down to $11: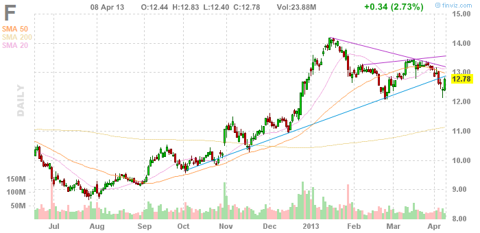 1) Europe remains a problem for many automakers, including Ford. Europe is experiencing very high levels of unemployment and as the recent banking crisis in Cyprus shows, the economic woes appear likely to last for quite awhile. People without jobs or job security are much less inclined to buy a new car. Auto sales in the region have dropped to a 17-year low in 2012 and are expected to fall further in 2013. A big decline in auto sales means that there is overcapacity in the industry and this has led to plant closures and major sales incentives. Both of these are taking a toll on profit margins and Ford recently increased its 2013 European loss forecast in January from $1.5 billion to $2 billion.
2) Japan is a new problem for Ford and other companies like General Motors (NYSE:GM). Japan's new Prime Minister, Shinzo Abe, has taken aggressive monetary and fiscal policies that have recently led to a major 8% drop in the value of the yen. This will hurt U.S. and other automakers because it makes Japanese cars less expensive around the world. Whether you are a buyer who lives in Europe, Asia, or the U.S., if you were considering a Ford or a Toyota that were similarly priced a few months ago, that same Toyota could be offered for about 8% less now because the yen has depreciated so much. A move of this size in the yen is giving Japanese automakers a huge advantage and many expect the yen to continue dropping, which will only exacerbate currency problems for Ford, and GM.
3) Ford has recently experienced some quality control issues that have led to a recall campaign. Ford said it would recall about 3,500 Taurus, Explorer and Lincoln MKS vehicles in order to repair fuel tanks equipped with an improperly molded seam. There have been several reports that these tanks can leak after a major accident.
4) Ford is trading at a premium to General Motors. Ford trades for over 9 times earnings while GM trades at about 8 times earnings. As I pointed out in a recent article, GM appears to be a much better value now and it has more potential upside catalysts such as the end of government ownership by early 2014. When the government is out of GM, that could lead to a reinstatement of a dividend.
Here are some key points for F:
Current share price: $12.65
The 52-week range is $8.82 to $14.30
Earnings estimates for 2013: $1.39 per share
Earnings estimates for 2014: $1.67 per share
Annual dividend: 40 cents per share, which yields about 3%
Here are some key points for GM:
Current share price: $27.50
The 52-week range is $18.72 to $30.68
Earnings estimates for 2013: $3.40 per share
Earnings estimates for 2014: $4.36 per share
Annual dividend: none
Data sourced from Yahoo Finance. No guarantees or representations are made.
Disclosure: I have no positions in any stocks mentioned, and no plans to initiate any positions within the next 72 hours. I wrote this article myself, and it expresses my own opinions. I am not receiving compensation for it (other than from Seeking Alpha). I have no business relationship with any company whose stock is mentioned in this article.
Disclaimer: Hawkinvest is not a registered investment advisor and does not provide specific investment advice. The information is for informational purposes only. You should always consult a financial advisor