With the NCAA tournament over, money managers and analysts are finally ready to trade in their college uniforms and sports apparel of their favorite teams to the shirt and tie more typically associated with the financial markets. With that comes great responsibility to comb through thousands of analyst reports and SEC filings to figure out which stock, out of the many in the marketplace, should they add to their holdings. Unlike the NCAA Tournament, which features one clear-cut winner, picking stocks is more difficult and sometimes impossible to figure out which one stock is the best out of the field. For those who read my daily recap articles and in honor of March Madness, I have done some of the grunt work and present the four stocks that have made it to my Final Four in the Basic Materials space.
Apache (NYSE:APA), an independent energy company, explores for, develops, and produces natural gas, crude oil, and natural gas liquids. It holds interests in asset base of 12.3 million gross acres located in Central United States, the Permian Basin, and the Gulf Coast onshore and offshore areas of the United States; in an area of 7 million gross acres in the provinces of British Columbia, Alberta, and Saskatchewan; and in an area of 9.7 million gross acres located in Western Desert, Egypt. The company also has interests in 30 exploration permits, 17 production licenses, and 13 retention leases that cover a total area of 7.9 million gross acres located in offshore Western Australia; 32 concessions, exploration permits, and other interests covering an area of 4.4 million gross acres located in four hydrocarbon basins in Argentina; and has interests in various properties located in the United Kingdom North Sea.
Many investors seem to be seeing the same opportunity in Apache that I am seeing with Apache being mentioned as undervalued in a number of occasions. A recent Motley Fool article had the following to say on the stock, "Apache remains very undervalued at 3.4 times operating cash flow. That's a cheap price to pay for this top-notch global energy company." I am not sure if I could put it any better. The timing also seems to be in favor of an investment in the stock as four insiders purchased shares on the open market over the past two months at prices similar to what Apache is trading at now. Insider buying is commonly associated with stock outperformance.
Click to enlarge images.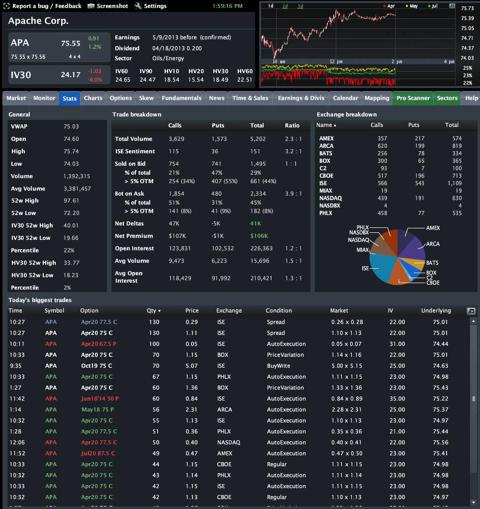 Source: LiveVol.
Goff Corp.'s (OTCPK:GOFF) subsidiary, Golden Glory Resources, is engaged in mineral exploration, namely gold and other precious metals. The company's primary project is the La Frontera Gold Project located in the Aguadas Department, in Caldas, Colombia. Golden Glory acquired its leases on the La Frontera through a transaction with a Colombian company and now holds a 100% percent working interest in the property.
Tuesday morning, the company announced a positive development in one of its newly-acquired properties. The announcement said that Golden Glory Resources has obtained previous drilling data on its Gavia Gold Project in Marmato, Colombia, which it is using to determine gold/silver targets on the highly prospective leases. The data, which was gathered from public reports of extensive drilling on the property, indicated the potential for 20 million ounces of contained gold. According to the reports, the Gavia zone alone could contain in excess of 200 million tonnes to a depth of 250 meters possibly grading 3 g/t gold or potentially 20 million ounces of contained gold. The basis of the 250 meters depth is based largely on the elevation difference of the property in which gold mineralization is known to occur. The company's President sounded upbeat in his comments and said that there is "massive" gold potential on the leases.
Cliff Natural Resources (NYSE:CLF) is an international mining and natural resources company. A member of the S&P 500, the company is a major global iron ore producer and a significant producer of high- and low-volatile metallurgical coal. The company is organized through a global commercial group responsible for sales and delivery of Cliffs' products and a global operations group responsible for the production of the minerals the company markets. Cliffs operates iron ore and coal mines in North America and an iron ore mining complex in Western Australia. In addition, Cliffs has a major chromite project, in the feasibility stage of development, located in Ontario, Canada.
Cliff's stock has been absolutely in the dumps in the past 52 weeks, down from highs of over $70 a share to its current price of $20. The magnitude of the sell-off gives me indication that it is overdone with many, including Barron's, coming to a similar conclusion. There is no question that iron-ore prices have slumped, but the company has an asset in its Bloom Lake mining project that should serve as the future of the company and help it recover some of the shareholder value lost over the past 52 weeks. In addition, there is also the bonus that the world macroeconomic conditions continue to slowly but surely improve, and demand for natural resources usually goes up in tandem with economic activity.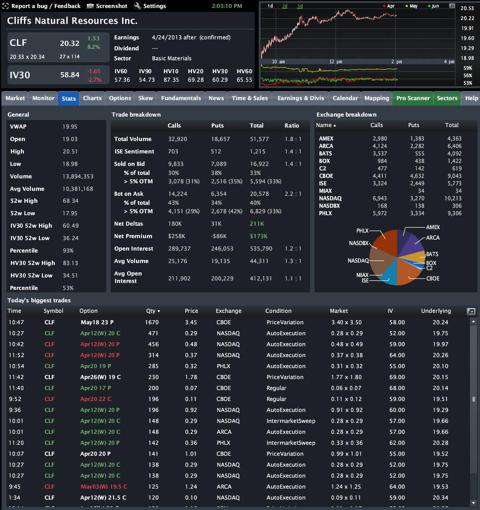 Source: LiveVol.
Rio Tinto (NYSE:RIO) engages in finding, mining, and processing mineral resources worldwide. The company is involved in the mining and production of aluminum products, including bauxite, alumina, and aluminum; copper, gold, silver, and molybdenum; diamonds, borates, salt, and titanium dioxide feedstocks, as well as purity iron, metal powders, zircon, and rutile; thermal and coking coal, and uranium; and iron ore. It primarily operates in China, Japan, Asia, the United States, the United Kingdom, Europe, Canada, and Australia.
Rio Tinto is one of my favorite of the bunch because of its status as a world-class miner and overall size. Rio Tinto is undervalued by a number of metrics starting from P/E ratio and what analysts think of the shares. On a forward P/E basis, the stock trades for a multiple of 8, which is low on absolute and relative cases. That multiple deserves another look and it is very low in this case. Compare that to close competitor BHP Billiton (NYSE:BHP), which is trading at a forward multiple of 19, and you get the idea on the magnitude of the undervaluation. Analysts have a target on the stock of $73. The stock is now trading in the $48-$49 range.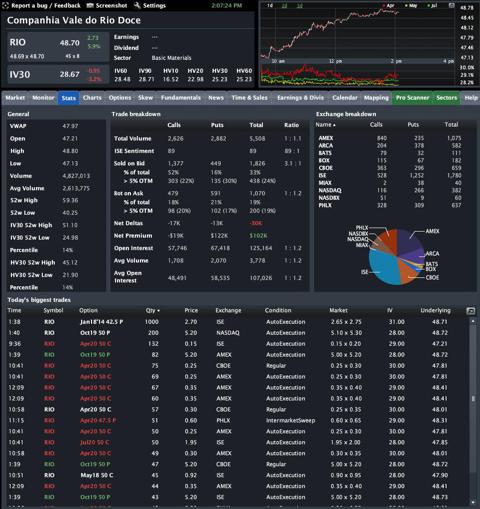 Source: LiveVol.
Conclusion
Metal stocks have taken a beating of late even as the market continues to rip higher. This sets up an interesting play for these stocks from the long side in my opinion. In my sonar report just last Thursday, I highlighted a large Gold ETF (NYSEARCA:GLD) straddle costing the trader more than 20M in premium. This bet is not only a bet the price of metals and gold will move but volatility will also increase in the future. I 100% agree with this trader believing metals volatility will more than likely increase. Therefore for those investors willing to stomach the large gains and losses these four names setup for a very interesting risk reward going forward.
Disclosure: I am long AGNC, BA, BAX, CBB, CIM, CONE, DNDN, DRYS, HEK, IOC, JCP, LNG, NBR, NQ, TLM, and I am short ASH, EMR, LULU, and SPY.
Disclaimer: The opinions in this document are for informational and educational purposes only and should not be construed as a recommendation to buy or sell the stocks mentioned or to solicit transactions or clients. Past performance of the companies discussed may not continue and the companies may not achieve the earnings growth as predicted. The information in this document is believed to be accurate, but under no circumstances should a person act upon the information contained within. I do not recommend that anyone act upon any investment information without first consulting an investment professional as to the suitability of such investments for his or her specific situation.