I plan to write articles regularly in this forum to communicate quantitative investment ideas for the individual investor. Such quant investment ideas are different from the fundamental investment and different from the technical investment ideas that you may see on other parts of this website.
To start with, we will assemble a portfolio consisting of long-short stock trades that have a track record of providing an annualized return in the range of 15-20% with super-low draw-downs of less than 8% and low annualized volatility of about 6%. The buy and sell short signals for the matched paired trades are generated from my quantitative investment system. Individual investors need to open a margin account with their brokerage and be approved to sell short stocks on the margin. When a trade signal is given here, you would buy one stock while simultaneously selling short another with the goal of seeing the spread between the two trades converge over time. The time taken for the spread to converge can be one to two weeks. This trading system has been tested for many years, and is an ideal way for individual investors to earn returns better than cash, without having to figure out the direction of company, sector, or stock market movements as you have to do with fundamental or technical ways of investing.
These ABSOLUTELY FREE trade signals are meant to bring the power of quantitative investing to the masses of individual investors. These signals are immune from being gamed by Wall Street, but are still susceptible to random noise.
For this long-short stock portfolio, I plan on posting trades on pairs of stocks on a daily basis. My first paired trade was suggested after market close on April 6,2013 and has been recorded in my InstaBlog on this website.
This trade suggestion was to:
Sell short 200 shares of PRINCIPAL FINANCIAL GROUP (NYSE:PFG)
Buy 257 shares of LINCOLN NATIONAL CORP. (NYSE:LNC)
At time of trade initiation, the spread looked as follows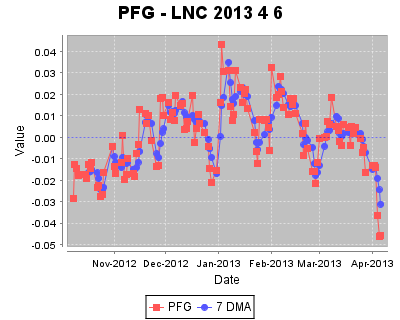 The picture below shows that this trade has already converged in one day and is in now showing a slight profit. You may continue to hold onto this trade or if not yet opened, based on my system, it is still attractive for you to open this long-short paired trade as there is a lot of potential for it to converge over two weeks.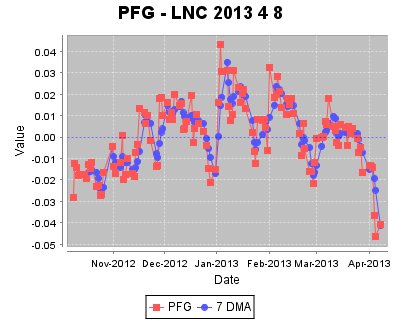 Disclosure: I have no positions in any stocks mentioned, and no plans to initiate any positions within the next 72 hours. I wrote this article myself, and it expresses my own opinions. I am not receiving compensation for it (other than from Seeking Alpha). I have no business relationship with any company whose stock is mentioned in this article.