First Solar (NASDAQ:FSLR) shares are soaring today as a result of upbeat guidance provided during the company's analyst day. After closing yesterday at about $27 a share, the stock today traded as high as $41 a share for over a 50% gain at one point in time. Without providing any more information, you might assume that the company had been acquired, invented a revolutionary solar technology, or gave guidance that was significantly better than market expectations. Alas, it is mainly the earnings guidance that is driving what at one point in time was a $1.4B increase in market capitalization in a period of about 60 minutes today. Admittedly, the company did provide guidance that far surpasses what analysts had been expecting for FY2013, but the market reaction is well overdone. This is what happens when over 30% of the stock float is sold short, and those short 18M shares were panic-based on a headline that should not change the core thesis of why they were short the stock in the first place.
Earnings Guidance
The company provided the following guidance for 2013 with regards to revenue and earnings per share, compared to the consensus estimate per Yahoo! Finance:
There is no arguing that the guidance significantly outpaces the consensus estimates for 2013. However, in the press release the company notes that it will begin revenue recognition in 2013 for a significant solar project that clearly most analyst estimates did not assume to be a 2013 event.
The company also gave guidance for 2014 and 2015 as seen below: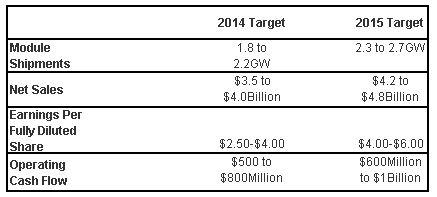 Here is where the astronomical jump in the companies share price begins to lack a basis in reality. The range of earnings per share for 2014 is LARGE. The same can be said for 2015 and for the operating cash flow figures provided. In fact, the consensus analyst EPS estimates for 2014 stands at $3.27, which is essentially the midpoint of the guidance given by the company. Even more telling, the revenue guidance provided by the company for 2014 exceeds the consensus estimates from the analysts of $3.4B. The important takeaway from this is that you will probably see some analysts revise their price targets downward as a result of this guidance. The company is essentially guiding to be less profitable than the analysts were expecting from a gross margin and operating margin standpoint. The gross margin piece of this puzzle was confirmed by the company in its updated guidance where it notes expected gross margins to be between 20% and 22% for FY2013. When the Q42012 earnings were released in late February, the company guided for gross margins in Q1 2013 to be in the 25% to 27% range. There are two ways to interpret this change in guidance. The large solar project delivering in 2013 is at significantly lower gross margins than the rest of the company's business. The other interpretation is that the overall gross margin percentage outlook has deteriorated further in less than 2 months. I believe it is probably a combination of the two.
Another negative item in the guidance that is being overlooked is that working capital is expected to decline between $50M and $200M from 2012 to 2013. If the company anticipates on the high end generating $1B in operating cash flow this year, and using $400M of cash for capital expenditures, why is working capital declining? The bullish answer would be because inventory is going to be increasing. The bearish answer would be that inventory has already increased for this large project delivering in 2013 and the operating cash flow is a result of that inventory balance being reduced as revenue is recognized.
The final positive item that is most likely aiding in the share rally is that the company projected that it would decrease its manufacturing cost per watt by 40% by 2017. If this became reality, it would be a positive for the company. However, reducing your manufacturing costs is only a positive if those reductions can outpace the significant pricing pressure seen in the solar industry. Time will tell, but for manufacturing efficiencies to be obtained 4 years in the future with no outlook on pricing is essentially worthless.
Investment Conclusion
We are witnessing a short squeeze and nothing else. I feel confident that after digesting this guidance, there will be analysts that are more than willing to come out and rain on the parade for First Solar. While it is hard to tell when a short covering rally will run out of steam, it is highly unlikely that the price action in First Solar today is indicative of what is to come.
Disclosure: I have no positions in any stocks mentioned, and no plans to initiate any positions within the next 72 hours. I wrote this article myself, and it expresses my own opinions. I am not receiving compensation for it (other than from Seeking Alpha). I have no business relationship with any company whose stock is mentioned in this article.