When looking at long-term investment returns, a wise investor knows that you cannot simply look at return alone. Lowering taxes and expenses are your first priority in order to preserve and grow wealth.
When I first began researching the major differences between Mutual Funds and Exchange Traded Funds (ETFs), I found that many ETFs can offer similar holdings of mutual funds with greater tax efficiency, a lower expense, and often times a higher return. Another advantage is transparency! Recently ETFs have been a more popular choice, in fact, 2012 was a record year for ETF inflows at 191 billion dollars.
I first created this portfolio by taking popular high expensed mutual funds and finding cheaper alternatives that invested in mostly the same securities. Below is a list of the ETFs I chose along with the total portfolio suggested weight for a passive investment management that will give you some diversification, low expenses, and a solid return without taking on too much risk.
Below is a picture from my excel spreadsheet, keep in mind not all calculations are shown for the sake of simplicity. This model portfolio is based off of a $250,000 investment and a time frame beyond ten years.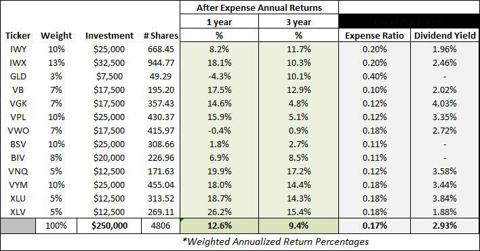 iShares Russell Top 200 Growth Index (IWY) 10%
This first fund is a way to own some of the top growth stocks at an expense ratio of only .20%. The top holdings by weight are: Apple Inc (NASDAQ:AAPL), International Business Machines Corp (NYSE:IBM), Microsoft Corporation (NASDAQ:MSFT), Google Inc (NASDAQ:GOOG), and Coca-Cola (NYSE:KO). These 5 companies are all doing well with the exception of Apple Inc's recent developments. Even so, I think Apple Inc is a good investment at a P/E of under 10 and a track record of success. The top sector weighting of this fund is technology at 30% and the price to prospective earnings or PP/E (PP/E - made up acronym not to be confused with property, plant, and equipment) is 16.
iShares Russell Top 200 Value Index (IWX) 13%
This fund takes on the value approach by investing in giant value companies with another low expense ratio of only .20%. The top holdings include: Exxon Mobil (NYSE:XOM), General Electric (NYSE:GE), Chevron (NYSE:CVX), Pfizer (NYSE:PFE), AT&T (NYSE:T). Top sector is Financial services at 25% and PP/E is 13. If you are seeking alpha -excess returns without taking on excess risks - I feel this ETF is a great pick. The high weighting of this fund reinforces my confidence in this fund's ability to achieve solid returns and reward patient investors.
SPDR Gold Shares (NYSEARCA:GLD) 3%
While this expense ratio is the highest in the group at .40%, this is my personal choice for protection against inflation, the US dollar, and also deflation. GLD invests 100% in physical gold bullions and some argue that this expense is cheaper than buying gold bullions yourself and worrying about the transfer, storage, and other associated costs.
Vanguard Small Cap ETF (VB) 7%
This small cap ETF invests in 98% US small cap stocks at an expense ratio of .10%. The top holdings are: NCR Corporation (NYSE:NCR), Mednax Inc (NYSE:MD), Apartment Investment & Management (NYSE:AIV), BRE Properties Inc (NYSE:BRE), American Capital Ltd. (NASDAQ:ACAS). The top sector weighting of this fund is industrials at roughly 20% and the PP/E is 15. Remember that small caps tend to outperform large and mid cap funds in the long run.
Vanguard FTSE Europe ETF (VGK) 7%
This fund, in my mind, is the best way to invest in Europe from a risk and return perspective. The expense ratio is only .12% and you can own quality companies in Europe. The top five companies in this ETF are: Nestle SA, HSBC Holdings PLC (HBC), Novartis AG (NYSE:NVS), Roche Holding AG, and BP PLC (NYSE:BP). The financial sector is the largest in this ETF at 20% and the rest of the sector weightings are essentially even. While there are many red flags in Europe including 12% unemployment in the Eurozone, keep in mind comparing Spain and Germany is like comparing apples to oranges. While Spain's unemployment is rougly 26%, Germany has a healthy unemployment rate of 5.4%. The whole region is not suffering, only certain areas, and these struggling areas will be spinning their tires for a while. The current PP/E of this ETF is 11 which should pay off investors who bear the risk now in years to come. The United Kingdom accounts for 35% of this ETF and Developed Europe covers the remaining 65%.
Vanguard FTSE Pacific ETF (VPL) 10%
Japan represents 59% of this fund, Australia 27%, and 14% in developed Asia. The top funds are Toyota (NYSE:TM), BHP Billiton Ltd (NYSE:BHP), Commonwealth Bank of Australia, Westpac Banking Corp (NYSE:WBK), and Australia and New Zealand Banking Group Limited. The expense ratio is .12%, financial services make up 23% of the sector weighting, and the PP/E is 14. The Japanese and Chinese economy are places where all investors should have some exposure.
Vanguard FTSE Emerging Markets ETF (NYSEARCA:VWO) 7%
The market cap of this ETF is primarily giant and the top sector is financial services. The emerging markets in this fund are roughly 20% Latin America, 10% Europe, 9% Africa and Middle East, 25% Asia Developed, and 36% Asia Emerging. Thus, roughly 25% of this fund is still investing in developed markets while the other 75% invests in emerging. The PP/E is 11 and emerging markets should deliver a higher return going forward when developed economic growth slows.
Vanguard Short-Term Bond ETF (NYSEARCA:BSV) 10%
With interest rates extremely low due to the Federal Reserve, my belief is that short-term and intermediate-term bonds are a better choice than owning long-term bonds right now. Thus, this bond fund invests in 74% AAA rating, mainly government bonds with an average maturity of 2.8 years. This is a very safe bond fund with a low expense and decent return. Depending on your time horizon, if you have fewer years to retirement or are currently in retirement you may want to allocate a higher percentage to this fund. As interest rates rise I would most likely add another suggestion for a long-term bond fund such as Vanguard Total Bond market (NYSEARCA:BND). I know I choose a lot of Vanguard funds but that is simply because my investment philosophy aligns with low fees and Vanguard seems to have consistently low expense ratios.
Vanguard Intermediate-Term Bond ETF (NYSEARCA:BIV) 8%
Slightly less risk-adverse than the short-term bond fund, this fund invests 53% AAA rating, 20% A, and 22% BBB. Government bonds account for 56% of the fund and corporate bonds account for over 42%. The average effective maturity is 7.3 years and this fund is much more interest-rate sensitive than the short-term bond fund.
Vanguard REIT Index ETF (NYSEARCA:VNQ) 5%
Many investors do not realize that REITs (Real Estate Investment Trusts) are actually quite risky. When interest rates increase REITs will not be able to loan at such low rates and this may affect their income. REITs have had quite a run in the past few years primarily due to actions by the Fed placing investors into higher risk categories. The return potential is great here but re-consider owning this fund in a period of rising interest rates. This is a US REIT index fund with a PP/E of 40 and 10% (the highest weight) of this fund is invested in Simon Property Group (NYSE:SPG).
Vanguard High Dividend Yield Index ETF (NYSEARCA:VYM) 10%
While the name "high dividend" might imply "high risk," this is actually not the case with this ETF. The reason this fund is weighted at 10% of the total portfolio is because of the safety and above market yield of the fund over long time periods. By owning this fund the portfolio is double-dipping into quality stocks such as Microsoft MSFT, Exxon Mobil XOM, General Electric GE, and Chevron CVX. If stable dividend stocks are what you value, I couldn't think of a better fund. The PP/E of this dividend fund is 13.
Utilities Select Sector SPDR (NYSEARCA:XLU) 5%
The hidden treasure in utilities is that competition is often limited depending on geographic region and company earnings and estimates are not as volatile as other sectors. Predictability and consistent demand is great with utilities and this fund has shown stable growth in the last three years. With a PP/E of 16 this fund isn't too overpriced and this could also serve as an energy play in your portfolio. The top five stocks by weight in this ETF are: Duke Energy Corporation (NYSE:DUK) 9%, Southern Co (NYSE:SO) 8%, Dominion Resources Inc (NYSE:D) 7%, NextEra Energy Inc (NYSE:NEE) 7%, Exelon Corp (NYSE:EXC) 6%.
Healthcare Select Sector SPDR (NYSEARCA:XLV) 5%
Healthcare is an industry that I only see growing in the next 20 years. Demographically speaking, more US citizens will be older and in greater need of healthcare services. Additionally, in sector rotation, as the economy starts begins a downturn healthcare typically picks up and outperforms the market. This ETF heals the portfolio with downside protection against a weak economy. Regardless of how the market has rallied this year, I do not see the current US economy as a strong one. Johnson & Johnson (NYSE:JNJ), Pfizer , Merck & Co Inc (NYSE:MRK), Amgen Inc (NASDAQ:AMGN), Gilead Sciences Inc (NASDAQ:GILD) all account for the largest weight in this sector ETF. At a PP/E of 17 this fund is valued right about where the market is but I believe there is more opportunity for long-term growth.
Keep in mind that most people have different time horizons, risk tolerances, and investment objectives. This portfolio was not meant to be a "one size fits all" portfolio, rather, a tactical investment portfolio focused on low expenses, tax efficiency, and proper global diversification.
A few tips when owning ETFs:
1) Only own funds that are highly liquid - remember the higher the liquidity the lower the risk!
2) Lower your commission fees by selecting a good broker - shop around and make sure that you're not paying too high of expense. Remember that owning the index is still a lot cheaper than buying each individual stock!
3) Avoid leveraged ETFs! These are only meant to be held for a few days at most and are not for long-term oriented investors.
4) Diversify your ETF holdings.
5) Use transparency to your advantage - I use websites like morningstar to look up each ETF and what it is invested in. This should help you sleep at night.
6) Remember that in the long run most actively managed funds do not beat the indexes they follow. You might as well just own the index fund and pay a lower expense.
7) Keep in mind there are still some great mutual funds out there and there are many advantages to active management. Do your own research and decide what works best with your lifestyle and your investment philosophy.
Good luck reaching your investment goals!
Disclosure: I have no positions in any stocks mentioned, and no plans to initiate any positions within the next 72 hours. I wrote this article myself, and it expresses my own opinions. I am not receiving compensation for it (other than from Seeking Alpha). I have no business relationship with any company whose stock is mentioned in this article.