VIX - Market Sentiment:
Tuesday the S&P continued to move back towards the highs of the range right back to the 1574 level we have been reporting on for two weeks. Interestingly the market has actually recovered all of the losses from Friday's selloff and actually has added to the gains. The SPX in rare form has moved from the bottom of the Bollinger band to the top in just 2 short trading sessions. Keep in mind the Fed minutes are released tomorrow so keep some powder dry as another failure to break through the 1574 level could trigger more automated selling.
Volatility and the CBOE VIX, however, do not in the least signal this selloff coming anytime soon. As reported yesterday in the sonar (here), the Volatility ETF (NYSEARCA:VXX) again saw put buying to the tune of 1M in net premium. Sure enough VXX and 2x ETF (NYSEARCA:UVXY) continued to get slapped lower as front month futures continue the downward spiral lower. The spot VIX today did move as high as 13.68 before getting beaten down below the 13.00 level yet again. VXX and VIX options both continue to bet on volatility erosion in the near term with puts continuing to overall be bought but not in the quantities of the previous 3 days. We have seen 2M on Friday and 1M yesterday followed by 348K in put premium again bought today in VXX. Option activity was abysmal again today trading only 13.8M contracts with dividend steals accounting for roughly 10% of volume. Apparently the HFT's trading were not powered on today as the volume was just terrible.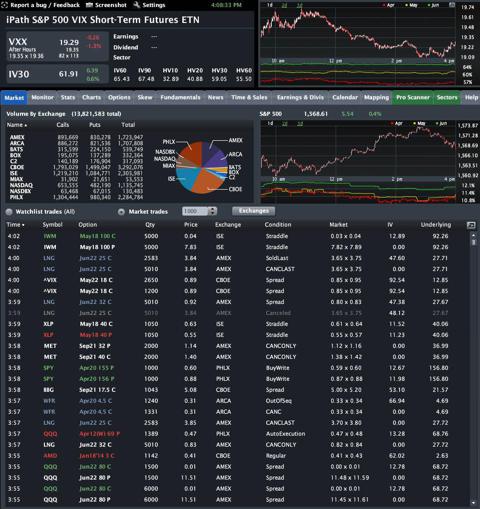 Statistics and Screenshot Provided By LiveVol
VIX futures are listed below.
Yesterday
· April VIX futures 13.70
· May VIX futures 15.05
· June VIX Futures 16.99
Today
· April VIX futures 13.55
· May VIX futures 14.90
· June VIX Futures 15.85
Options Paper:
Back in February I wrote an article (here) highlighting the possibility of Herbalife (NYSE:HLF) possibly getting ready for a very large move. Sure enough today HLF was halted pending the news release as KPMG resigned as auditor for HLF. This of course got the bears back on board battling against Mr. Icahn again as HLF whipped from almost a 39 handle to just over 36.00 in just 2 short hours. This along with options activity caused volatility to spike on the day as put buyers again came into this name hot and heavy. Today more than 150% average puts traded with 46% being bought on the offer. Even more interesting the put premium was bought to the tune of 710K against calls being overall net sold, almost 300K worth. This activity is clearly bearish after some bulls were betting on a rebound and appear to be giving up. Options activity overall was almost 125% average daily volume with puts outnumbering calls 1.6 to 1. Technically this stock appears broken and the continued negative news may just prove Mr. Bill Ackman right in the long run.
Statistics and Screenshot Provided By LiveVol
Family Dollar (NYSE:FDO) is not a name which sees a ton of options activity but today traded 10x average daily volume. Specifically heavy call and put selling across the board as calls were sold 53% of the time on the bid against puts sold 44% of the time. FDO reports before the bell tomorrow, with estimates of 1.22 it appears bulls and bears are waiting for the results to press either their shorts or longs. Heavy front month call and put selling across the board other than 1 large block trade buying the April 60-62.50 1:2 ratio spread where the trader paid just .17 to get long the stock above 60.00. Overall net premium was sold on the call side 173K and puts also saw selling to the tune of 54K of net premium. Keep your eye on this tomorrow if it does pop as the trader doing the 1:2 spread is betting FDO has a cap near 62.50 prior to April expiration next Friday.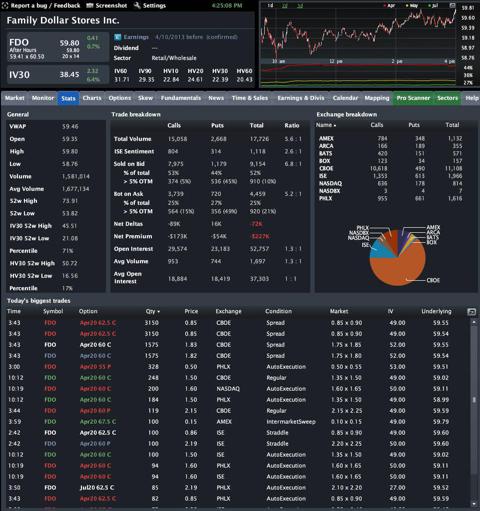 Statistics and Screenshot Provided By LiveVol
Popular ETFs and equity names with bullish / bearish paper:
Bullish Option Flows - ISE and % OTM calls bought on offer
Marriott (NYSE:MAR) - 91% of OTM calls bought on offer
TASER International (NASDAQ:TASR) - 88% of OTM calls bought on offer
Hologic (NASDAQ:HOLX) - 78% of OTM calls bought on offer
Bearish Option Flows - ISE and % OTM puts bought on offer
Tenet (NYSE:THC) 94% - of OTM puts bought on offer
Harley-Davidson (NYSE:HOG) 90% - of OTM puts bought on offer
Synovus (NYSE:SNV) 87% - of OTM puts bought on offer
LDK Solar (NYSE:LDK) 77% - of OTM puts bought on offer
As always happy trading and stay hedged.
Remember equity insurance always looks expensive until you need it!
Disclosure: I am long AGNC, BA, BAX, CBB, CIM, CONE, DNDN, DRYS, HEK, IOC, LNG, NQ, TLM, and I am short ASH, BBBY, EMR, HPQ, LULU, SPY
Trades Today: Bought SDS calls (Tripled Position from Yesterday), Added to EMR short, Short BBBY, Trimmed BA and CIM longs
Disclaimer: The opinions in this document are for informational and educational purposes only and should not be construed as a recommendation to buy or sell the stocks mentioned or to solicit transactions or clients. Past performance of the companies discussed may not continue and the companies may not achieve the earnings growth as predicted. The information in this document is believed to be accurate, but under no circumstances should a person act upon the information contained within. I do not recommend that anyone act upon any investment information without first consulting an investment professional as to the suitability of such investments for his or her specific situation.
Disclosure: I have no positions in any stocks mentioned, and no plans to initiate any positions within the next 72 hours. I wrote this article myself, and it expresses my own opinions. I am not receiving compensation for it (other than from Seeking Alpha). I have no business relationship with any company whose stock is mentioned in this article.