Citigroup (NYSE:C) is set to release its 1st quarter results on April 15th at 8:00 am. Below is an update of the quarter as well as what to keep an eye on.
Profile
Citigroup has a market cap of $132.5 billion and currently trades for $43.56 per share. Shares are up 10.14% this year, 9.10% off of their 52-week high. Analysts have a mean target price of $50.57 and a median target price of $51.30 on the shares. 27 analysts have an average earnings per share estimate of $1.18 for the 1st quarter of 2013 on average estimated revenues of $20.15 billion.
Fundamentals
P/E of 17.8, P/B of 0.7 and D/E of 1.3 are all below the industry averages 18.7, 0.8, and 2.1 respectfully.
Dividend Yield of 0.09%.
Earnings in all company segments have been growing steadily over the past 5 quarters.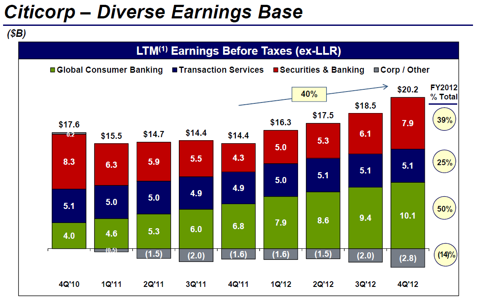 Net credit losses have been declining over the past 5 quarters.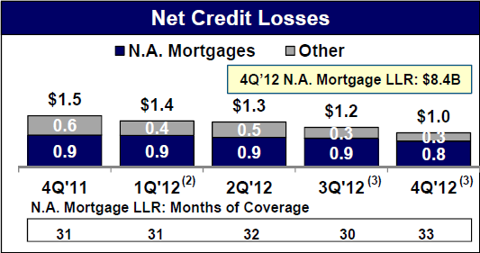 Most importantly, the net interest margin has been picking up over the last three quarters.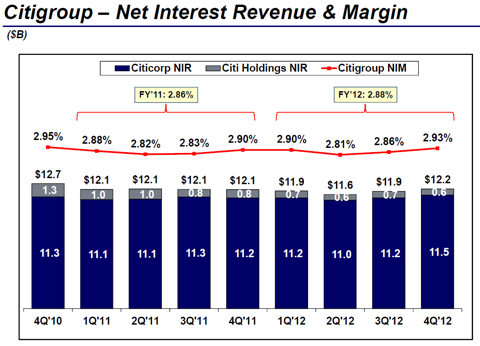 Recent News
After the Comprehensive Capital Analysis and Review (CCAR), the Federal Reserve Board approved Citi's $1.2 billion buyback plan and had no objections for the maintenance of its current $0.01 dividend. Board authorization for the buybacks is still pending.
Also in conjunction with CCAR and in an effort to strengthen its financial position, Citi announced recently a $3 billion redemption of its trust preferred securities.
On March 18th Citi settled its Bond Class Action Suit for $730 million.
Bottom Line
While Citi is moving forward and strengthening its balance sheet, liabilities like the recent $730 million settlement mentioned above will weigh heavily on upcoming earnings. Continued focus on decreasing debt and any uptick in the treasury yield curve are the keys to success. Citi is currently valued, like most other banks, near historic lows and offers a great way to play a rebounding capital market. However, I feel banks like JPMorgan (NYSE:JPM) and Wells Fargo (NYSE:WFC), which are further along in the process of strengthening their balances and future revenue streams, provide a better play in the current market. Watch out for any overwhelming earnings surprises, as they would be reasons to reconsider this current outlook.
Disclosure: I am long WFC. I wrote this article myself, and it expresses my own opinions. I am not receiving compensation for it (other than from Seeking Alpha). I have no business relationship with any company whose stock is mentioned in this article.