Central banks around the world - USA, Europe, Japan and UK included - have pumped so much money into the financial system in the hope of stoking a gradual and sustainable global recovery.
Consider the top four:
1) USA - The Federal Reserve has committed to buy USD85 billion worth of US Treasuries and mortgage-backed securities every single month until unemployment drops below 6.5 percent. This has swelled its balance sheet to over USD3.2 trillion.
2) Europe - Although the ECB's balance sheet has dropped from a high of 3.1 trillion euros in June last year to 2.65 trillion euros last month, a few nations are still not out of the woods. Cyprus has officially received a bailout and Spanish and Italian banks are still borrowing cash. In February, Spanish and Italian banks borrowed 272 billion euros and 281 billion euros from the ECB, respectively.
3) Japan - The Bank of Japan intends to double the size of Japan's monetary base from 135 trillion yen to 270 trillion yen by March 2015. The pace of quantitative easing is stunning, as the balance sheet of the BOJ will expand by 1% of the nation's gross domestic product (GDP) each month in 2013 and 1.1% in 2014.
4) UK - The current QE program stands at 375 billion pounds, although Governor Mervyn King was one of 3 members who recently voted for the program to be increased to 400 billion pounds.
The question has to be asked - what are the inherent risks with all this money sloshing around the financial system?
The biggest risk at this stage would be that a rise in inflation could pop potential bubbles in the asset and equity markets when hot money exits.
Danish central bank Governor Lars Rohde has already sounded a warning.
"The developed world's record-low interest rates are giving a false sense of affordability to projects and businesses that would probably fail in a more normal monetary climate. The risk is that we'll have companies that are only able to survive because interest rates are extremely low. But these are companies that ought to have gone down. We're seeing projects going through that wouldn't be sustainable at higher interest rates. We're seeing zombie companies and zombie economies because of the extremely low interest rates." he said.
I do agree with Governor Rohde.
After all, crisis policies deployed by central banks since 2008 have had limited success in generating any lasting recovery. The European Commission recently stated that the 17-nation euro area will contract 0.3 percent this year after shrinking 0.6 percent in 2012, and that both the US and Japan will expand less than 2 percent this year.
Top News This Week
Australia: Employment Change. Thursday, 11th April, 9.30am.
I expect figures to come in below 2K, (previous figure was 71.5K).
Trade Call
Short AUD/USD at 1.0346
On the hourly chart, AUD/USD has just broken through the support level at 1.0396. It is currently moving in a wave of lower lows and lower highs. I expect the positive momentum of China's numbers to subside and Australia's impending "bad" employment numbers to kick in soon.
An entry is taken at 1.0346, a few pips below the lowest price achieved on 8th April. A stop loss of 45 pips is placed above the previous high. We will have two targets on this trade, exiting the first position at 1.0301 and the second position at 1.0256.
Entry Price = 1.0346
Stop Loss = 1.0391
1st Profit = 1.0301
2nd Profit = 1.0256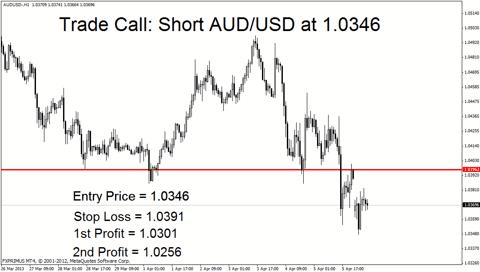 Disclosure: I have no positions in any stocks mentioned, and no plans to initiate any positions within the next 72 hours. I wrote this article myself, and it expresses my own opinions. I am not receiving compensation for it. I have no business relationship with any company whose stock is mentioned in this article.