Investors should avoid J.C. Penney (NYSE:JCP) and profit on Ron Johnson's failures. Ron Johnson's hire as CEO was during June 2011. Investors have suffered a 33.49% annualized loss believing in Ron Johnson's Apple (NASDAQ:AAPL) pedigree. In my opinion, it is time to short J.C. Penney shares. I believe Macy's (NYSE:M), and the retail competition, will continue to take J.C. Penney market share. J.C. Penney investors have an opportunity to profit on the management's blunders. The first step is selling the J.C. Penney shares.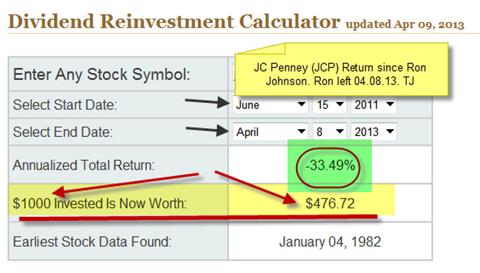 Ron Johnson Leaves J.C. Penney
On Monday, April 8, 2013, J.C. Penney announced that its former CEO, Myron (Mike) E. Ullman, had rejoined the company as CEO effective immediately and was replacing exiting CEO Ron Johnson. But the real story here was less about Mike re-joining but more about Ron leaving.
Ron Johnson was hired in late 2011, straight out of Apple where he successfully spearheaded their retail operations and introduced Apple stores' much-loved Genius Bar. Before Apple, Ron was Vice President of Merchandising at Target (NYSE:TGT) and was credited with turning things around there through innovative deal making. So when he was picked to head JC Penney as CEO, expectations were high that he could work his magic at stodgy-old JC Penney that was hanging in there but sorely lagging peers such as Macy's , The TJX Companies, Inc. (NYSE:TJX), and Kohl's (NYSE:KSS).
Debt Problems
J.C. Penney bonds are trading in the mid 70% of par value. Debt holders have priced in a potential debt default. J.C. Penney bonds reflect concerns about default. Bonds have priority over common stock in bankruptcy filings.
How to Profit on JC Penney's Woes
Step 1
In my opinion, J.C. Penney investors should sell their shares. Management has failed and a retail turnaround is not a quick process. The J.C. Penney board of directors failed to select and hire an effective management team.
Step 2
I have decided to establish equity positions in Macy's, Kohl's, and The TJX Companies. I believe these retailers are likely to benefit from J.C. Penney's failures.

Step 3
I believe investors should short J.C. Penney shares if shares are available. Shares may be difficult to borrow to short: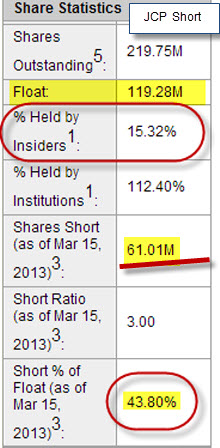 Investors have shorted 43.8% of the J.C. Penney float. J.C. Penney investors, with a short position, have benefited by the declining J.C. Penney share price. Investors can profit on owning shares in J.C. Penney competitors. They are taking away J.C. Penney market share.
Bear Call Spread
I have established bearish call spread to profit on, in my opinion, perception of further share price weakness: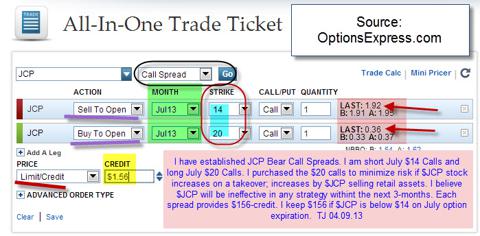 Why Hire Ron Johnson?
Ron Johnson's hiring was championed by activist investor and board member, William Ackman. Wall Street cheered and J.C. Penney stock moved up to $43 by late January 2012 when Johnson shared his vision for J.C. Penney with Wall Street.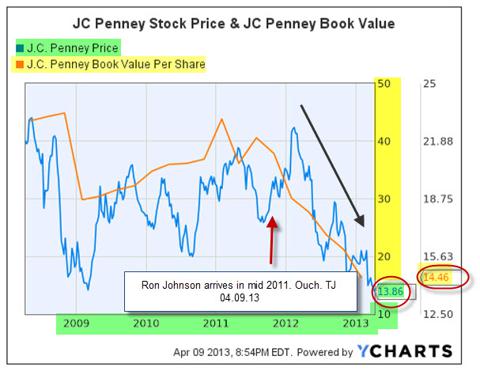 In the 16 months that Ron was at J.C. Penney, he introduced innovative concepts and made bold changes without pilot testing them first. For example, he did away with coupons and sales events, and focused instead on Wal-Mart (NYSE:WMT) style everyday low prices while also bringing in hipper designers to attract wealthier, trendier and younger shoppers.
But perhaps Johnson did too much too soon and, it appears, alienated old J.C. Penney shoppers well before the trendier crowd brought in more shopping dollars. As a result, revenue tanked, store revamp expenses ran high, losses were deep and its stock tanked. In fiscal 2012 (ended February 2, 2013), the company's revenue fell 25% and it reported a net loss of $985 million, down from a loss of $152 million in FY 2011. Q4 2012 was also grim with a loss of $552 million compared to a loss of $87 million in Q4 2011.
Johnson's most ardent supporters now thought he was bad news, as did Wall Street. Vornado Realty Trust (NYSE:VNO), one of J.C. Penney's largest shareholders, sold over 40% of its stake in March 2013.
When word of Ron Johnson's departure got out, J.C. Penney shares rose in after hours trading. This rise was due, in part, to short covering. The stock gave up those gains when the Street was flummoxed by J.C. Penney's re-hiring of their former CEO. This was the very man Ron Johnson was brought in to replace. Some thought Ron Johnson wasn't given enough time to execute his turnaround strategy and cited improving foot falls at Johnson's newer concepts at J.C. Penney. Some thought that the board had lost it when they chose to rehire Mike Ullman, the very guy they had earlier fired for non-performance, and called for the ouster of J.C. Penney's entire board. Others viewed Ullman's return as a good thing that would bring back stability and stanch losses while the company tested new recovery strategies.
The bottom line suggests board-level incompetence through Ron Johnson's tenure. I believe this incompetence continued in Johnson's firing and Ullman's rehiring. Perhaps Ron Johnson was given freer rein than he should have been. The board should have exerted more influence on Ron. The board should have monitored key metrics to recognize Johnson's efforts failed on an ongoing basis. J.C. Penney would not thrive, without sales and coupons, in a fundamentally weak U.S. economy.
Today, J.C. Penney has a lower credit rating (this happened when Johnson was bleeding the company dry with store remodeling and marketing expenses), a weaker balance sheet and higher debt - in what continues to be a feeble economic recovery at best.
Under such circumstances, investors should stay away from uncertainty. Don't assume that Ron Johnson's ouster and Mike Ullman's rehiring bodes well for the stock because Ullman now inherits a far weaker J.C. Penney than the one he handed to Johnson.
So while shorting J.C. Penney may make sense, investors may want to consider a short-long strategy where they short J.C. Penney and buy Macy's in equal measure. So let's compare the two. The table below shows, over the past year, a 61% drop in J.C. Penney's market capitalization, a 48% drop in its Enterprise Value and a P/E ratio that is not meaningful because of J.C. Penney's negative earnings. Contrast that with Macy's 22% gain in market cap, 16% gain in Enterprise Value and healthy P/E ratio.

Much of this is driven by J.C. Penney's poor income statement with revenues less than half of Macy's, gross profit less by 60% and deep losses at J.C. Penney relative to strong profits at Macy's. Moreover, as mentioned above, J.C. Penney saw revenues shrink by 25% while Macy's sales were up a respectable 4.8%. Likewise, J.C. Penney's operating cash flow was dismal compared to Macy's. And J.C. Penney burnt through $820 million in cash while Macy's generated $1.56 billion.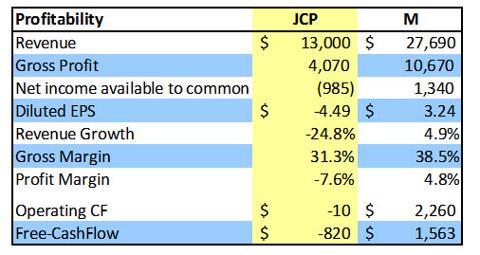 Moreover, on key valuation metrics, J.C. Penney is well behind Macy's, as the table below shows.

And while Macy's shares have gained 14% over the past year and are near 52-week highs, J.C. Penney shares are at annual lows and down 52%. Macy's stock trades at $43.67. Their 52-week high is $44.24.
JC Penney also discontinued its quarterly dividend while Macy's continues to pay dividends, up 100% to $0.20 in 4Q12 versus $0.10 in 4Q11.
Martha Stewart Merchandise Lawsuit
And, to top it all, Macy's has sued J.C. Penney for violating a court order prohibiting JC Penney from selling certain Martha Stewart merchandise. If Macy's wins this lawsuit, as all indications suggest it should, J.C. Penney will lose money, but more importantly, it will lose face with its supply chain and customers for basically losing its grip on the business.
Summary
None of this bodes well for J.C. Penney. All of this appears to favor Macy's. Moreover, many large hedge funds and institutional investors have likely started selling shares and cutting their losses on J.C. Penney, with shares sliding over 12% the day after the Ron Johnson ouster. Moreover, portfolio balancing across the retail sector will favor Macy's and could boost shares even more over the coming year. J.C. Penney must deal with lower institutional ownership, a weakened balance sheet, a demoralized employee base, disenchanted customers, and a weaker credit rating. This could lead J.C. Penney into a bankruptcy at worst and perhaps a private equity (NYSE:PE) bailout at best. Even prospective PE investors would likely want shares to drop substantially before they buy the company out. Investors could potentially have a win-win by shorting J.C. Penney in favor of Macy's and retail competitors.
I have invested to benefit on J.C. Penney's failures and the competition's successes. In a tough economy, I expect to profit.
Disclosure: I am long M, KSS, TJX, WMT. I wrote this article myself, and it expresses my own opinions. I am not receiving compensation for it (other than from Seeking Alpha). I have no business relationship with any company whose stock is mentioned in this article.
Additional disclosure: I have bearish call spreads on JC Penney. I will make money on these positions if JC Penney's stock price declines. TJ 04.09.13