Tuesday was another day of fairly light economic news. The S&P 500 opened a bit higher, as pre-market futures indicated, but it bobbled directionless for the first two hours, dipping in and out of the red. By late morning a positive trend developed and took the index above its April 2nd closing high for a couple of hours during the afternoon, which included an intraday all-time high of 1573.89, up 0.69%. But the trend reversed about 10 minutes before the final hour, and the index closed the day up 0.35%, giving up about half its gain and about 0.1% shy of setting a new all-time closing high.
Here is a 5-minute look at the week so far.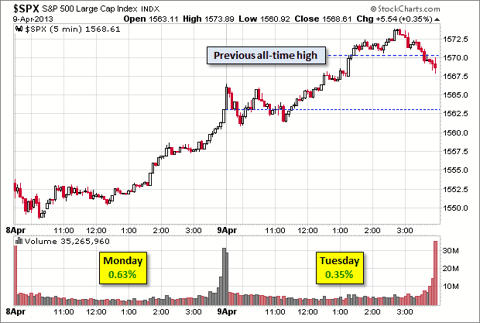 Click to enlarge
Here is a 15-minute look at the month of April. We see that the vicinity of 1574, the intraday high on April 2nd matched yesterday's intraday high. The performance in the days ahead will no doubt be influenced by earnings season, which has been preceded by plethora of negative company warnings.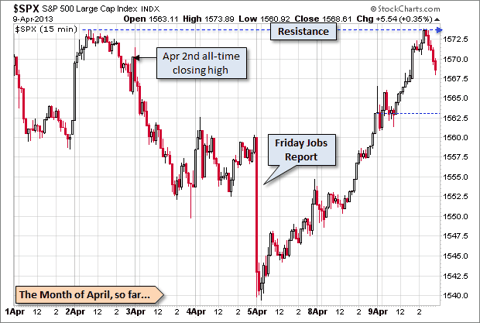 Click to enlarge
The S&P 500 is now up 9.99% for 2013 and 0.10% below the all-time closing high of April 2nd.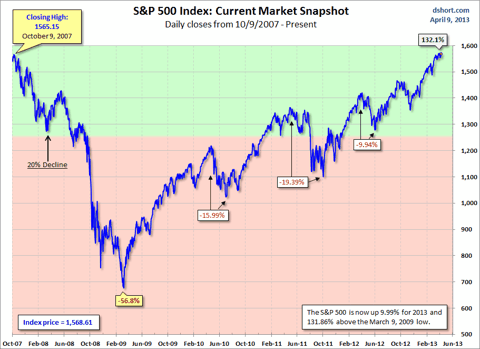 Click to enlarge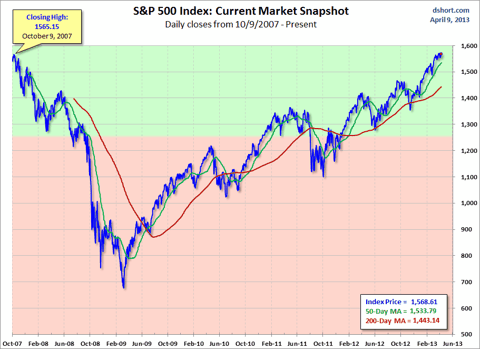 Click to enlarge
For a better sense of how these declines figure into a larger historical context, here's a long-term view of secular bull and bear markets in the S&P Composite since 1871.