I love New York City real estate. Although there are many economies around the world that are unstable, New York continues to be the "gold standard" for investment in commercial real estate. In a recent Forbes.com article, I explained:
Certain things are true of all commercial properties; their value and profitability depend on property- specific issues, such as location, lease revenues, property expenses, occupancy rates, and tenant quality. It is important that REIT investors also understand property cycles and how they affect local economies.
According to Eastern Consolidated, a leading full-service real estate investment services firm, New York ended the year on a solid note as a flurry of commercial property sales were closed in the final days of 2012. The total commercial sales volume doubled from $5.9 billion in the third quarter to $13.6 billion in the fourth quarter. The number of transactions jumped from 320 in the third quarter to 460 in the fourth quarter.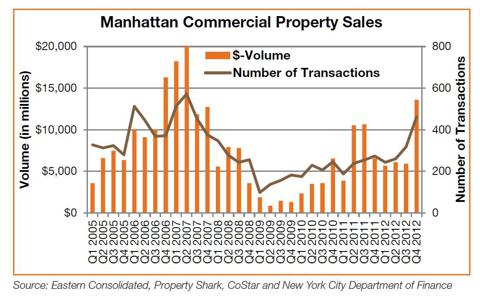 Click to enlarge
According to Eastern Consolidated, the retail property sales volume increased considerably from $285 million in the third quarter to $2.4 billion, a growth rate of over 760%. The largest sale was for the retail portion at 666 Fifth Avenue that traded for $707.8 million, or more than $6,000 per square foot.
The Manhattan office property sales volume increased from $2.5 billion to $4.4 billion, a growth rate of 73%. The largest sale in the quarter was a partial interest in 1411 Broadway. Ivanhoe Corporation, Inc. bought the interest from Blackstone Group for $367.5 million.
Clearly, Superstorm Sandy was devastating to the New York City area - causing over 10,200 job losses in the fourth quarter. However, in December 2012 over half of these jobs were recaptured and it's anticipated that most of the jobs will be fully recovered (except for some local businesses). The snapshot below shows how New York City's economy stalled a bit in the fourth quarter after growing robustly in the first nine months of 2012. The chart below also illustrates how New York's economy has outperformed the national economy over the last five years.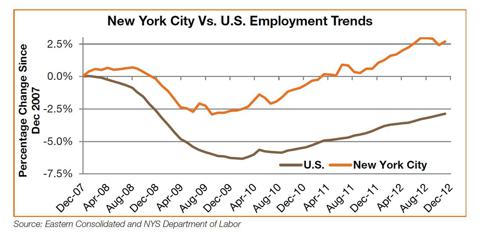 Click to enlarge
How to Invest in New York City Real Estate
The average investor cannot afford to own high-quality properties in New York City and one way to get exposure to the Manhattan skyline is to invest in a Real Estate Investment Trust (or REIT). There are several options to participate in the "big apple," including Vornado Realty (NYSE:VNO), Boston Properties (NYSE:BXP), or SL Green Realty (NYSE:SLG). As I reported on The Street.com, Empire State Realty Trust is working to combine its $2.3 billion namesake skyscraper with 18 other properties valued at $1.9 billion.
The only REIT today that is focused on the New York market exclusively is SL Green Realty. For more than 25 years, SL Green has been engaged in owning, managing, leasing, and repositioning office and retail properties in Manhattan. SL Green is New York City's largest commercial office landlord and is the only fully integrated, self-managed, self-administered REIT, primarily focused on owning and operating office buildings in Manhattan.
The Company was formed on August 20, 1997 to continue the commercial real estate business of S.L. Green Properties Inc., a company that was founded in 1980 by Stephen L. Green (the current Chairman). In 2007, SL Green acquired Reckson Associates Realty Corp. and added over 9 million square feet to its portfolio. Included in this total is over 3 million square feet of Class A office space located in Westchester, New York and Stamford, Connecticut. These suburban portfolios serve as natural extensions of SL Green's core ownership in the Grand Central submarket of Midtown Manhattan.
In Manhattan, SL Green has ownership interests in 85 properties that total approximately 27.8 million square feet of office and retail space (the company owns around 10% of total Midtown Class A office space). Current Manhattan office occupancy is 94.1%.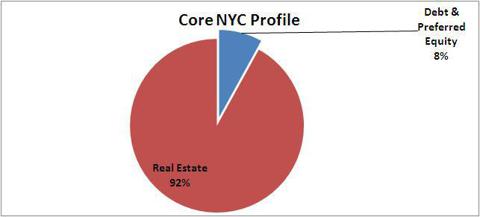 Click to enlarge
SL Green's suburban portfolio consists of 31 properties located in the NY Metro area (around 5.4 million square feet). That represents around 10% of the total investments (weighted by gross asset value).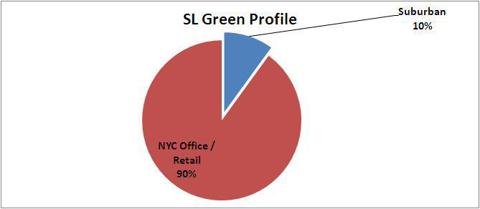 Click to enlarge
As evidenced by the pipeline chart below, SL Green has an impressive pipeline that consists of around 1.38 million square feet of deals that are signed and/or proposed.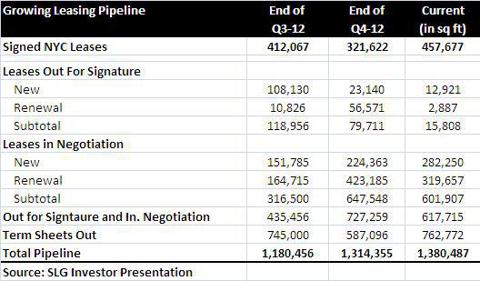 Click to enlarge
This company's accelerated leasing efforts appear to be paying off as explained by Matt Crosby, Director with Eastern Consolidated (in a phone interview):
These guys have shown an impressive ability to change their investment model to adapt to changing conditions. Their office model is generally to buy value-added deals, fix the problems and sell as core deals - or sometimes they continue to operate key assets long-term after stabilization. Office spaces tend to have fewer unique attributes than retail spaces and the office market in Manhattan is extremely efficient in terms of pricing.
In addition, Crosby adds that SL Green has become a competitive player in the retail arena:
Retail investing is a bit different. To a greater degree, you have to be immersed in that world, you know and talk to the tenants, know where they want to locate, what they value, what they'll pay. Retail investors actually have a short list of which tenants will locate in a given space and even have contingent commitments before buying the property. So that implies building new relationships and there is a learning curve to achieve that type of integration. In retail, SL Green has addressed this by partnering with top retail operators such as Jeff Sutton. They gave up more of the economics initially but have learned a lot about how to make money with that product type. They have made some smart buys and achieved nice returns. We expect them to become a larger force in retail and we are trying to stay on top of their evolving model.
SL Green's tenant base has a large concentration of financial services companies with exposure limited to around 6.4% for Citigroup (NYSE:C), SL Green's second largest tenant. Here is a snapshot of the top 12 tenants: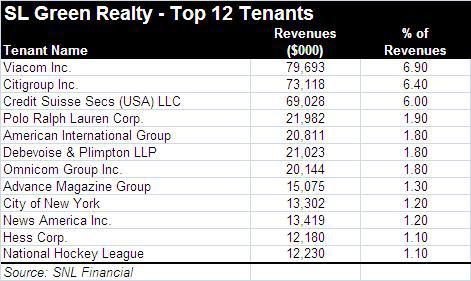 New York Is Bouncing Back. What About SL Green's Dividend?
New York City is a highly resilient market. It simply knows how to bounce back. But what about SL Green? Here is a snapshot of SL Green's dividend history:

Click to enlarge
Clearly, SL Green's dividend crashed by over 75% in 2009 (from 2.7375 to .6750). Since the Great Recession, the company's dividend has begun to recover but it's still less than one-third of the highest dividend paid in 2007. SL Green increased by 33% in the fourth quarter of 2012; however, the current yield is still one of the lowest dividends paid today (only 1.50%).

Click to enlarge
During the recent earnings call, Ross Nussbaum with UBS Investment Bank asked the following question:
I appreciate the dividend increase that the board put through. But I just was looking back. The last time you were at the current earnings level you're at now on a run-rate basis, the company was paying out a quarterly dividend that's in the $0.60, $0.70 quarter range. And I'm wondering in the board discussions around the dividend, were there any voices that spoke out and said, look SL Green is still, after all these dips and increases the last 2 years, still has basically the lowest dividend yield of any real REIT and shouldn't...
Marc Holliday, SL Green's CEO replied:
Well, I mean that certainly gets discussed at the board. It's usually somewhat of a -- it's a little bit more of a badge of honor than something we're not -- something that is viewed as negative because our shareholder base is almost exclusively institutional and we meet with the shareholders, Jim and Matt meet them regularly to discuss the dividend. And I would say, almost across the board, maybe 8 out of 10, if not 9 out of 10, generally conclude that they're owning SL Green for growth and income but with a much higher emphasis on growth.
So SL Green's management team makes it clear that the company's dividend policy is virtually nonexistent. Furthermore, Holliday voices his view that SL Green is happy to be viewed more as a growth company than a dividend machine. As he adds:
I guess, there's always -- there will always be someone who will say, well, it would be nice to have all that growth and high income but the 2 are somewhat in opposition to each other. And we find that we get better net asset value expansion by paying out a reasonable dividend. But clearly, it's always been from day one, lowest levels of the sector.
So, let's see what Mr. Market thinks about SL Green. Maybe he likes SL Green as much as I like New York City.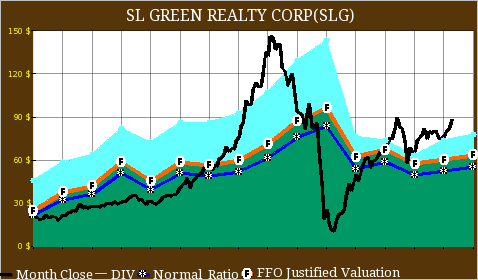 What a FAST Graphs™! SL Green shares climbed from around $21.00 in 1998 to a high of $146.58 in 2007 (the black line is the price line). Then, the crash…shares fell to $10.80 in early 2009. Like most REITs, SL Green was forced to cut the dividend drastically (shaded blue area is dividends paid) as the company's Funds from Operations (FFO) fell 36% (2009). Prior to the Great Recession, SL Green was able to generate strong cash flow and FFO. However, since 2010 SL Green began to "claw back" its dividend, and both the dividend and Funds From Operations began seeing improvement.
As the FAST Graphs™ below demonstrates, the Great Recession and meltdown in the credit markets, worsened by a near shutdown in business conventions and business and leisure travel, caused a major disruption in tourism in New York City. As the "big apple" began to recover, so did SL Green; however, as the price (the black line) began to trend much higher than the company's Funds From Operations (the orange line), it became apparent that Mr. Market likes SL Green a lot more than me. SL Green's P/FFO multiple is 21.7 (according to FAST Graph) is deemed expensive based on its historical FFO.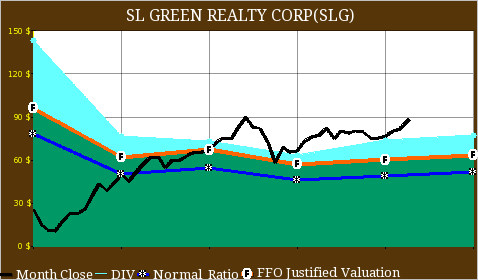 One other way to gain exposure to my favorite destination is to own SL Green's preferred shares and specifically SLG.I. Last August (2012), Michael Terry wrote an article (here) on the company's latest preferred stock that has a decent yield (6.50%) relative to many new issues and its office sector peers. The Series I Cumulative Redeemable Preferred shares trade at $25.45 with a call date of August 2017. (I wrote an article on REIT Preferred shares earlier this week and based upon the comment stream, there are better options, especially given the SLG.I S&P rating of B+).
So at the end of the day, I will just continue to eat a good steak (my favorite NYC restaurant is Quality Meats just behind The Ritz Carlton) in New York. Vornado still has issues to sort out and maybe there will be an Empire State REIT, one day…Until then, I will sing a familiar song:
Start spreading the news
I am leaving today
I want to be a part of it
New York, New York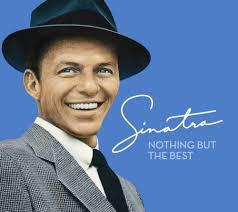 Source: Eastern Consolidated, SNL Financial, and FAST Graphs
Disclosure: I have no positions in any stocks mentioned, and no plans to initiate any positions within the next 72 hours. I wrote this article myself, and it expresses my own opinions. I am not receiving compensation for it (other than from Seeking Alpha). I have no business relationship with any company whose stock is mentioned in this article.