Under Armour (NYSE:UA) has performed tremendously for its shareholders over the past few years, rising from a 2009 low of $5.97 to its current price above $53. Despite this almost 800% gain in just four years, I think Under Armour has just begun to scratch the surface of its potential and still has room to run.
About Under Armour
Under Armour is rapidly becoming the premier brand for athletic performance apparel. The company practically invented the concept of "compression" apparel, which is the company's signature tight-fitting clothing that is designed to regulate body temperature by wicking away perspiration from the skin, thereby enhancing comfort.
The company has done very well over the past decade or so, and has primarily grown through sales to athletic teams at all levels of competition, as well as sales to athletic consumers. As a result of their increasing popularity, revenues have grown tremendously over the past decade; however there is still more room to grow in the industry.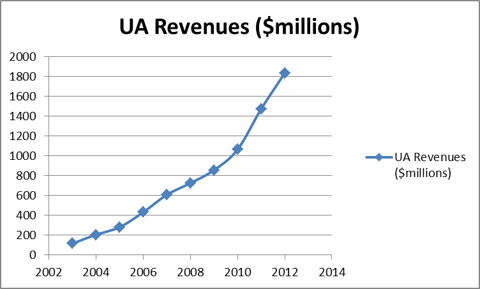 Click to enlarge
Potential for Growth
Under Armour's main market is synthetic performance apparel, which is currently around a $3 billion market of which Under Armour has a commanding 60% share. However, synthetic apparel is only one side of the story. With the addition of cotton performance apparel to its product lineup in 2011, Under Armour entered the "active use" sportswear market, which is much larger (about $12 billion annually). With Under Armour's reputation for quality and its expanding visibility, it is completely possible for Under Armour to build an equally impressive share of this market.
The final frontier for the company is the $58 billion "active wear" market, which Under Armour will eventually venture into, as it is the logical next step and the progression followed by previous sports apparel makers (like Adidas). This would require Under Armour to produce casual wear, not designed for athletic use but simply to be worn as everyday clothing.
Under Armour's 2012 sales were around $1.8 billion, so it's easy to see how it would be possibly to parlay their great reputation into something much bigger than it currently is.
Current Valuation and Earnings Projections
Under Armour currently trades at a lofty 33 times forward growth projections, but don't let that fool you. The company's earnings are expected (by the consensus of analysts following the company) to grow at a 25% annual rate for at least the next several years, more than justifying the higher valuation.
What Could Go Wrong?
Short of another major recession in the U.S., there isn't too much that could derail Under Armour's success. They are not too dependent on foreign sales, as most of their business is still domestic. The only real challenge is for Under Armour to make their cotton performance apparel (and eventually their everyday clothing) at the same level of quality that their compression wear is known for. Under Armour is pretty much synonymous with "quality" in the eyes of most athletes, and it is this reputation that should catapult the company to the next level, as long as they don't mess it up by cutting corners.
Where Could It Go?
If Under Armour meets expectations, and successfully captures significant market share in the active use sportswear market, it is completely conceivable for Under Armour to build their market share to 50% over the next five years or so. This would mean about $6 billion in annual revenues for the company, and since Under Armour's EBIT margins are around 12%, this translates to earnings of about $720 million, or $6.87 per share.
This could translate into a pretty lofty share price if the company is still growing at a high rate, which I expect them to do as they gradually enter the active wear market. Assuming a TTM P/E ratio of 30 (well below Under Armour's recent historical average), Under Armour could very well be a $205 stock within five years. I know this may sound like a stretch. Just remember where you heard it first!
Disclosure: I have no positions in any stocks mentioned, but may initiate a long position in UA over the next 72 hours. I wrote this article myself, and it expresses my own opinions. I am not receiving compensation for it (other than from Seeking Alpha). I have no business relationship with any company whose stock is mentioned in this article.