On April 9, First Solar (NASDAQ:FSLR) hosted its 2013 analyst day, at which the company issued guidance for the years 2013, 2014, and 2015. The company's guidance, which, for the most part, came in far above consensus estimates, sent shares of the world's leading solar energy company soaring; shares closed up over 45% on April 9 after multiple trading halts. While a near-term pullback may be possible, given such a rally, we believe that in the long run, First Solar's upside potential is fully intact, and our bullish stance on First Solar remains, for we see it as first among equals within this sector. We have been bullish on First Solar for some time, and while we admit that our October 2011 call to buy shares has not yielded profits, subsequent recommendations have.
The first table below outlines the performance of our buy recommendations regarding First Solar (data is accurate as of the close of trading on April 9, 2013, and First Solar's share price reflects its closing price on the date of publication). The 2nd table (utilizing data included in the 1st table), compares the aggregate performance of our recommendations regarding First Solar against an investment in the SPDR S&P 500 ETF, assuming a hypothetical $100 purchase of either First Solar or the SPDR S&P 500 ETF each time we issued a buy recommendation on First Solar (for a total of $500 in hypothetical investments).
First Solar Recommendation Performance
| | | | | | |
| --- | --- | --- | --- | --- | --- |
| Publication Date | Share Price | $100 Investment (in Shares) | % Change Since Publication | % Change in S&P 500 Since Publication | $100 Investment (in Shares of SPY) |
| | | 1.7307 | -31.89% | | |
| | | 2.9283 | +15.23% | | |
| | | 6.8729 | +170.44% | | |
| | | 5.5772 | +119.46% | | |
| | | 3.6982 | +45.53% | | |
Overall Performance, First Solar vs. S&P 500
| | | | | |
| --- | --- | --- | --- | --- |
| Investment | Cost | Shares Held | Current Value | Overall Return |
| First Solar | $500 | 20.8073 | $818.76 | +63.75% |
| S&P 500 | $500 | 3.8963 | $610.74 | +22.15% |
While we freely admit that our initial, October 2011 call to buy First Solar has underperformed the S&P 500, our subsequent recommendations have proven to be profitable. And investors who followed each of our previous 5 recommendations to buy shares of First Solar have solidly outperformed the S&P 500 on an overall basis. And in our view, First Solar will continue to outperform in the long run, as the company moves to cement its leadership of the global solar market.
First Solar Guidance: The Sun Finally Begins to Shine
After reporting what many saw as a disappointing fourth quarter, First Solar left many investors and analysts in suspense on its Q4 earnings call, pledging to give detailed guidance for 2013 at its April analyst day. And the company has done just that, providing upbeat guidance for the year, and easily surpassing consensus estimates. For 2013, First Solar is forecasting (at the midpoint of guidance) revenues of $3.9 billion and EPS of $4.25, versus consensus estimates of $3.17 billion in revenue and $3.60 in EPS. First Solar is set to begin recognizing revenue from its Desert Sunlight project in the 2nd half of 2013, and will finish booking revenue from the project by late 2014. Multiple observers have already argued that First Solar's above-consensus forecasts merely reflect the shifting of revenue and EPS forward, and that as a result, the company's results for 2014 and 2015 will be adversely affected. However, First Solar's forecasts for 2014 and 2015 show that the company's growth is set to continue, and we present the company's guidance, along with results for 2012 and 2011 in the table below.
First Solar Long-Term Forecasts (in Thousands of $)
| | | | | | |
| --- | --- | --- | --- | --- | --- |
| | | | | | |
| Revenue | $2,766,207 | $3,368,545 | $3,900,000 | $3,750,000 | $4,500,000 |
| Gross Margin | 35.13% | 25.32% | 21% | N/A | N/A |
| Operating Margin | 19.93% | 14.6% | 11.41% | N/A | N/A |
| EPS | $6.01 | $4.90 | $4.25 | $3.25 | $5 |
| Operating Cash Flow | ($33,463) | $762,209 | $900,000 | $650,000 | $800,000 |
At first glance, First Solar's guidance does not seem to inspire confidence. EPS, which reached $6.01 in 2011, is set to rebound to just $5 in 2015. And First Solar's margins in 2013 are set to continue shrinking. And 2014 operating cash flow, while still decent at $650 million, will be lower than both 2012 and 2013 operating cash flow. However, 2 factors serve to make First Solar's long-term guidance more positive than it appears to be.
The first factor is that this much of the company's guidance compares favorably with consensus forecasts. For 2014, consensus estimates currently call for $3.37 billion in revenue, and $3.49 per share. While First Solar's 2014 EPS forecast is light, revenue is ahead of consensus, and for 2015, the company surpasses consensus estimates on both fronts. Current consensus estimates call for 2015 revenues of $3.7 billion and EPS of $3.39. At the midpoint of First Solar's guidance for 2014 and 2015, the magnitude of the company's above-consensus 2015 EPS forecast more than makes up for the miss in its 2014 EPS forecast. Secondly, we expect many critics to point out the fact that even if First Solar matches its forecasts in 2014 and 2015, its profits will be meaningfully below its 2011 levels. What is the logic in investing in a company whose EPS 2 years from now will be nearly 17% lower than its EPS 2 years ago? The answer lies in First Solar's share price. For much of 2011, shares of First Solar traded well above $100; the company's 2011 high was near $170. However, First Solar's fall in the 2nd half of 2011 and 2012 have pushed its share price well below those levels. Even with a rally of over 45% on April 9, shares of First Solar still closed below $40. As of this writing, First Solar trades at just 9.26x estimated 2013 EPS, far below its 2011 valuations. And First Solar is set to generate meaningful operating cash flow in 2013, 2014, and 2015. Combined with the industry's healthiest balance sheet (First Solar ended 2012 with $441.3 million in net cash & investments), this should serve to help underpin the company's share price, and as the company's cash balances grow in the future, may lead to share buybacks and/or a dividend.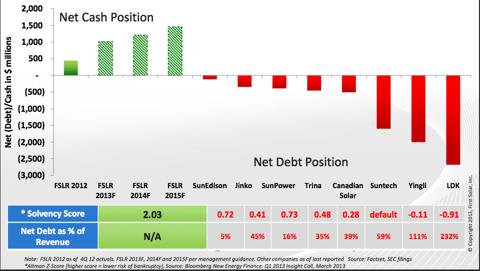 As the graph above shows, First Solar is the only solar company with a net cash balance, with the rest of the sector mired in billions of debt. It should be noted that First Solar is forecasting working capital do decrease by $125 million in 2013 (at the midpoint of guidance). On its own, this is neither bullish nor bearish. Working capital can decline for several reasons, such as changes in inventory, and such changes could be bullish or bearish, depending on the underlying business trends. We expect more color on working capital when First Solar reports its Q1 2013 earnings; CFO Mark Widmar has done a solid job of discussing First Solar's balance sheet and cash/capital position on previous conference calls, due to the heightened scrutiny of the liquidity/solvency of solar companies.
Strengthening the Competitive Position: Industry Bankruptcies, Continued Efficiency Improvements, and New Markets
First Solar's analyst day also covered the company's underlying business trends, and here, First Solar is poised for long-term success. A confluence of factors, ranging from more discipline within the Chinese solar sector (primarily in the form of bankruptcies and consolidation) to continued efficiency improvements should help First Solar fortify its competitive position. Over the past several months, there have been multiple signs that a meaningful shift is taking place within China's solar sector. LDK Solar (NYSE:LDK) has already received what many view as a bailout, and in December, hired Citigroup to advise it on renegotiating its debts. And in January, the company announced that it is selling 17 million shares of common stock to Fulai Investments; and since climbing to over $2.20 in January, shares have fallen to $1.32 as of this writing, due to continued concerns over LDK's finances. And Suntech (NYSE:STP) has been forced to place its main unit, Wuxi Suntech Power Holdings (Suntech Power Holdings is the unit's Cayman Islands-based parent) into bankruptcy, and the unit is to be taken over by a holding company of the Wuxi municipal government.
These shifts are unlikely to be the last changes that take place within the Chinese solar sector. There are too many weak solar companies in the sector, and we believe that in 2013 and 2014, the playing field will be narrowed, resulting in a set of fewer, but stronger solar companies. Already, there are signs of progress within the Chinese solar sector. As Suntech moves through bankruptcy proceedings, and LDK continues to work on restructuring its balance sheet, Trina Solar (NYSE:TSL), one of China's healthier solar companies (with less than $600 million in net debt, Trina's debt ratio stands at 67%, below the average of 80% for the broader solar sector), is forecasting a return to profitability in the 2nd half of 2013, versus consensus estimates that have called for the company to return to profitability only in Q4 2014. Trina's chairman has said that the global solar capacity glut is easing, as more companies go bankrupt, thereby reducing their capacity.
A healthy Chinese solar sector is not a negative for First Solar. The dramatic expansion in global solar capacity has helped fuel a steep fall in polysilicon prices, eroding First Solar's CdTe cost advantage. However, as global capacity falls, and First Solar continues to increase the efficiency and pricing of its panels, First Solar's cost advantage has the potential of returning. At its analyst day, First Solar forecast 2013 module costs to be between 63-66 cents/watt (when the costs of underutilization are included), and guided for costs to fall to 53-58 cents/watt in 2014, and 47-50 cents/watt in 2015. First Solar is making meaningful improvements to its cost structure, as advances in the company's R&D efforts are leading to higher efficiencies and lower manufacturing costs. Alongside its analyst day, First Solar announced that it has achieved a new world record in CdTe module conversion efficiency, with the company increasing its conversion rates to 16.1% in laboratory testing. The company's current module roadmap estimates conversion efficiency of around 13% for 2013, rising to 17% in 2017 as First Solar gradually deploys new panels throughout its production lines and end markets. In addition to these announcements, First Solar also announced that it has acquired TetraSun, a San Jose-based solar startup (founded in April 2009) that is developing low-cost, high efficiency solar modules. TetraSun's technology is optimized for high-yield manufacturing, thereby helping drive down production costs while maintaining superior efficient. TetraSun utilizes 156 mm n-type wafers and its manufacturing process does not require the use of transparent conductive oxide. Efficiency is also boosted by low temperature coefficients, which will help First Solar maintain energy yields in hotter climates. Commercial level production of TetraSun's panels is slated for mid-2014, and we look forward to hearing more about the technology on First Solar's Q1 2013 conference call.
While we believe that First Solar is making meaningful progress in reducing the cost of its panels, as well as raising their efficiency, it is important for investors to remember that in the utility-scale solar market, cost is not the overriding factor that companies use to decide which solar company to partner with. First Solar has noted many times that its conversations with utility customers have shown that when it comes to selecting a partner, these companies want a partner with a strong local presence, power plant reliability, and strong grid management capabilities. Furthermore, utilities need to have confidence in the financial health of the solar company they are partnering with, First Solar is, from a financial perspective, by far the healthiest company in the global solar sector. And First Solar, which now has around 5,600 employees, is expanding into multiple "sustainable" global solar markets, with a keen eye towards the local needs of each market. The company is making progress on creating business in Chile, India, China, Saudi Arabia, Japan, South Africa, and Australia, all crucial long-term solar markets.
For example, Saudi Arabia has committed itself to boosting the use of renewable energy in its domestic power market, for every barrel of oil used to for domestic power generation is a barrel of oil that cannot be exported or turned into other products Saudi Prince Turki Al Faisal Al Saud has said that, "Oil is more precious for us underground than as a fuel source. If we can get to the point where we can replace fossil fuels and use oil to produce other products that are useful, that would be very good for the world." Importantly, First Solar is not simply entering these markets with the belief that it fully knows the market in question. The company has taken care to understand the unique dynamics of such markets, and has either partnered with or acquired solar companies within these markets in order to build a better competitive position. In China, First Solar has partnered with Zhenfa, one of the country's largest photovoltaic power generators. And in Chile, First Solar has acquired Solar Chile, which has 1.5 gigawatts of solar projects under construction throughout Chile; it should be noted that Chile's Atacama Desert has the world's highest solar irradiance. Within Chile, high natural gas prices (around $12-$13 per million BTU's, versus $4-$5 in the United States) has led to Chilean utilities to begin shifting power generation to solar energy.
Conclusions
We do not believe that it will be easy to dethrone First Solar within the global utility-scale solar market. As most companies in the sector work to avert defaulting on their debt, First Solar is utilizing its strong balance sheet to make continued investments in improving its solar technology, manufacturing processes, and global reach, all while reducing the costs of its panels. With a renewed focus on sustainable solar markets, where high solar irradiance and a combination of high prices for conventional liquid fuel generate favorable conditions for solar power, First Solar is poised for continued growth.
We have been bullish on First Solar for some time, and continue to believe that at these levels, shares of First Solar are undervalued in the long-term. While shares will not recover to the highs they saw in 2008 (shares of First Solar peaked above $300 in 2008), they do not need to reach such levels for investors to realize meaningful profits. It is possible that, after a 45% rally in a single day, shares of First Solar will pull back. But, with over 30% of the company's float sold short, skepticism regarding First Solar remains high, and in our view, such skepticism is unwarranted in the long-term. First Solar's 2013 analyst day showed that First Solar is executing on all fronts, and we believe that in the global solar sector, First Solar will continue to remain first among equals in the years to come.
Disclosure: I am long FSLR. I wrote this article myself, and it expresses my own opinions. I am not receiving compensation for it (other than from Seeking Alpha). I have no business relationship with any company whose stock is mentioned in this article.