The rebound in housing (NYSEARCA:XHB) and new home construction (NYSEARCA:ITB) may be causing a pickup in demand for lumber (NASDAQ:WOOD) and energy. Natural gas (NYSEARCA:UNG) is up close to 100% over the past year. Lumber is also in a powerful uptrend up close to 25%.
Low housing inventories have boosted new construction of homes which requires more lumber, copper, steel and increased electricity. Coal and nuclear demand should pick up during the peak electricity summer season as natural gas has almost doubled off its $2 low in 2012 and is getting more expensive.
Don't ignore the coal (NYSEARCA:KOL) and nuclear sector (NYSEARCA:URA) as a viable, economic alternative to natural gas. Coal stocks and uranium miners have corrected for over 2 years now. Some of the large coal miners such as Peabody Energy (BTU) are trading near book value and more than 80% is controlled by institutions. Large utilities may begin to back off on natural gas as prices have risen significantly compared to uranium and coal.
I warned my readers that natural gas prices are historically volatile compared to the price of coal. Natural Gas, coal and nuclear (NYSEARCA:NLR) are all crucial for modern industrial nations to utilize in their energy mix as a base-load power source that is not dependent on the wind blowing or the sun shining.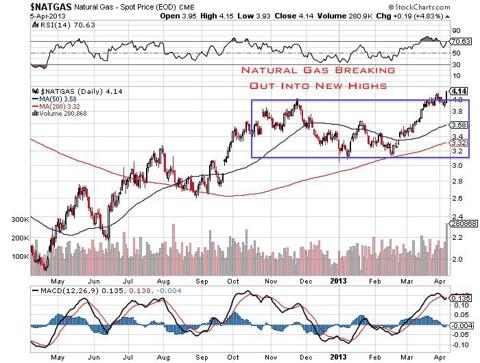 Natural gas is now gaining momentum, breaking the $4 barrier and appears to be headed higher. Natural Gas has doubled since 2012 and is hitting a new 52 week high. Investors should look into cheaper coal and uranium miners, trading at record low P-E levels and completely ignored by the public.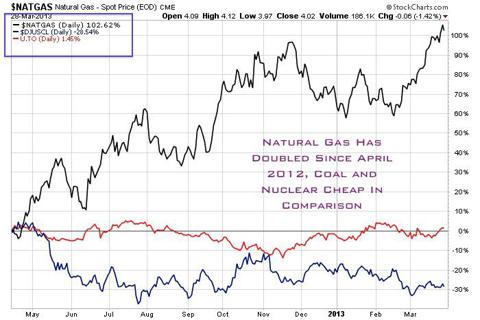 Notice the chart above and look at the disconnect between natural gas and uranium / coal. Either natural gas will pullback or uranium and coal may be boosted up as an alternative. Both sectors are making major improvements in reactor and power plant design.
Nevertheless, investors must be aware of increasing environmental regulations, which could negatively impact "fracking" for natural gas, coal fired powered plants or expiring nuclear reactors. Increasing regulations must always be balanced so that it does not destroy an economy trying to recover with rising electricity costs.
Nevertheless, don't give up on the coal and uranium sector as easy money policies continue to boost the economy-- especially housing and construction. Utilities will seek to secure a diversified mix of commodities which are cheap. Look to the undervalued coal and nuclear sector ETFs as viable and affordable alternatives to natural gas, which has doubled since 2012.
Disclosure: I have no positions in any stocks mentioned, and no plans to initiate any positions within the next 72 hours. I wrote this article myself, and it expresses my own opinions. I am not receiving compensation for it. I have no business relationship with any company whose stock is mentioned in this article.