One of the longest running technology rumors can finally be put to rest as Facebook (NASDAQ:FB) finally announced the Facebook phone last week. Well, there is not really a Facebook phone, but instead a user interface layer, Facebook Home, which sits above Google's (NASDAQ:GOOG) Android. Facebook Home is essentially a glorified wrapper over Android that lets users see their Facebook activity even before they unlock their smartphone. I believe Facebook's objectives are three-fold:
Increase use of Facebook, especially on mobile where most future growth is forecasted
Increase immediate revenue through new target advertising
Establish a mobile ecosystem that can ultimately lead to an entire operating system
Over the past year I have oscillated between being bullish and bearish on Facebook as the company is very difficult to get a read on from an investment standpoint. Will Facebook Home be the next big thing that catapults Facebook higher? Only time will tell but there are three fundamental flaws in Facebook Home that should temper investors' optimism.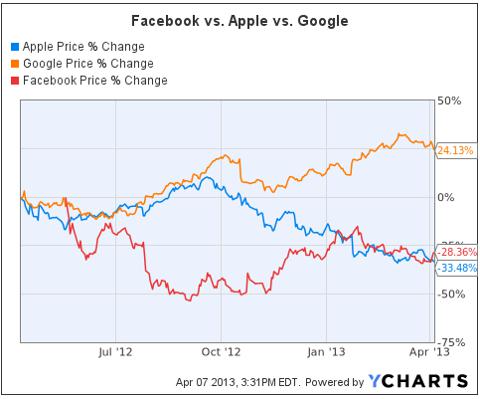 Advertising Overload and Privacy Concerns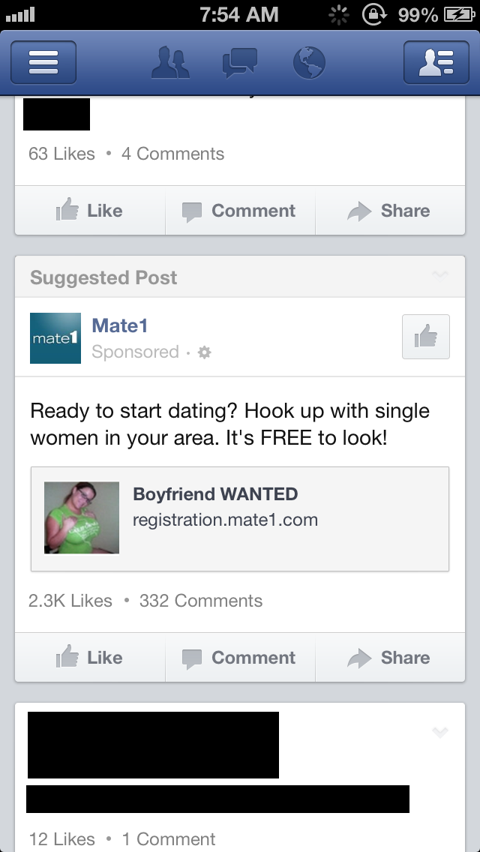 Since Facebook has become a public company the level of advertising has increased, especially on mobile, as the company seeks to increase advertising revenue. Facebook has already disclosed that there will be ads in the "Cover Feed" and it is only a matter of time before you will see the standard online dating websites on your lock screen. For example, please see the mobile advertisement screenshot taken Tuesday morning.
Facebook is following Amazon's (NASDAQ:AMZN) example with the advertising on the Kindle; however, the advertising on the Kindle is not in the actual words of the book. In contrast, Facebook advertises right in the middle of your friends' status updates and other content with its sponsored advertisements. These obtrusive advertisements are akin to Amazon putting an advertisement for McDonald's in the middle of Moby-Dick.
Advertisers have already made it clear that Facebook will have to be very careful with the advertising on Facebook Home. Angus Wood from iProspect said that "invasive, tedious or over-frequent marketing in such a personal space will be an instant switch-off for Home users. Facebook are unlocking a vast amount of consumers' time. But alongside that, the closer you come to the consumer, the softer you need to tread, and the bar for content quality will be higher than ever."
The advertising might be delicate at first but it is not difficult for me to fathom a Facebook advertisement that you must watch for five seconds before being able to unlock your phone or access an application that you really want to. Is Facebook simply going to alienate users with this latest feature? Will Facebook have access to your GPS information and know where you are at all times of the day? Will Facebook utilize this information for highly targeted advertising that makes users uncomfortable? This are important questions that will have to be answered.
Battery Life…or Death
As smartphones become more and more alike, one of the largest differentiating factors is battery life. Facebook was very quiet regarding the topic of battery life at the announcement and instead focused on the benefits of having easier access to Facebook. Many heavy users of their smartphones struggle to make it an entire day without having to recharge their phones and Facebook Home will be another drag on battery performance. Facebook Home will be downloading high-resolution photos and media that will drain battery life much faster than an idle phone. I cannot imagine that casual users will be too happy to see how Facebook Home depletes their battery life.
Can Android Be Fragmented Further?
A simple analogy for Android is that there are too many cooks in the kitchen trying to bake the cake. If you take the example of the new Samsung Galaxy S4, you have Google developing the core Android 5.0 Key Lime Pie operating system, Samsung (OTC:SSNLF) developing the TouchWiz Nature user interface, and now Facebook developing the Facebook Home top user interface layer that sits above the previous two. Sound complicated? That's because it is. Apple's (NASDAQ:AAPL) strategy of keeping its platform closed to intrusive third party applications is looking like a better strategy by the day. Consumers flock to Apple's platforms because they are simple to use and have low learning curves while fragmented Android continues to offer a less user-friendly experience.
What is Next For Facebook Stock?
In sum, I believe Facebook Home is a great short-term catalyst for investors but will not translate into a significant increase on Facebook's bottom line. I agree that Facebook Home will be a hit with power users but that is not going to move the needle on Facebook's stock. The writing is on the wall and technology will be shifting towards wearable computing in the next decade - by the time Facebook is able to establish a true Facebook phone or ecosystem, I believe it will have missed its opportunity.
Impact on Competitors?
Now that I have addressed how I believe Facebook Home may impact Facebook's stock, I would like to address the implications for two of its largest rivals: Google and Apple. Since the announcement of Facebook Home, many contributors have offered their reactions to the new Facebook offering and one that caught my eye was titled Facebook Is Not Stabbing Google by Mr. Paulo Santos.
While Mark Zuckerberg will not be mistaken for Marcus Brutus in Julius Caesar, in my opinion, the launch of Facebook Home is a significant first salvo made by Facebook against Google. I agree with Mr. Santos that in its current form Facebook Home is not a threat to Google but that could change. He states that "at this point, Facebook Home presents a symbiotic relationship with Google. It keeps Google's monetization efforts intact while presenting a further reason to opt for Android - at least while Facebook Home is available just on Android." If Facebook is successful in attracting users to Facebook Home version one, it can start to quietly insert its own services into the platform. Facebook offers email, apps, chat, and has not made it a secret about its plan to establish a search engine: all of these encroach directly on Google's core offerings. Despite my opinion that Facebook will not benefit much from Facebook Home, I believe Google has much to lose. The dilution of Android is a large concern for Google and a real risk. I do not believe that Google will benefit from many users switching from iPhones or BlackBerries to Android as Facebook Home is a platform primarily for heavy Facebook users.
With respect to Apple, I am extremely confident that Apple will not allow Facebook Home to be released for iOS. Apple does not permit third party applications to replicate core aspects of its operating system and the lock screen would certainly qualify as a core feature. When asked about iPhone availability, Mark Zuckerberg stated:
That's above my pay grade to be able to answer that... Look, I would love for that answer to be yes. We are trying to build a community. We have a billion folks using our services now, and we want to get to 3 or 5 billion one day. We're going to do that by building the best experience across all devices... Of course, a lot of people also love iPhones - I love mine, and I would like to be able to deliver Facebook Home there as well.
I continue to be very bullish regarding Apple's prospects and I believe it has the most upside out of the technology stocks mentioned in this article. Apple dipped 4.4% last week and if any of that decline was due to concerns regarding Facebook Home, I smell a buying opportunity. Apple's forward P/E sits at a minuscule 8.5x despite the huge cash stockpile, innovative prospective products, and a 2.5% dividend. Would you rather speculate on Facebook Home or invest in a proven company like Apple or Google?
Disclosure: I am long AAPL, GOOG. I wrote this article myself, and it expresses my own opinions. I am not receiving compensation for it (other than from Seeking Alpha). I have no business relationship with any company whose stock is mentioned in this article.
Additional disclosure: Long AAPL June $500 Calls. Please refer to profile page for disclaimers.