Background and Thesis
The purpose of this article is to calculate the returns one can reasonably expect by buying Microsoft (NASDAQ:MSFT). We believe the stock offers excellent growth prospects in relation to price at 11.2 x trailing 12 month earnings.
The current valuation of Microsoft seems ludicrous to us. The Enterprise Value is $169.5 Bn and in the last 12 months, the company generated $29.2bn of Free Cash. That's a 17.2% Free Cash Flow yield. In other words, if you buy the stock now, assuming zero growth you get your cash back in 6 years. If you assume -10% growth per year, you would get your cash back in 10 years. The company is making acquisitions, paying dividends and buying back stock. We believe that even if all the acquisitions (such as Skype) end up in bankruptcy, and the legacy businesses continue to deteriorate, the return profile for the stock in relation to the price is highly compelling.
Between 1999 and 2007, the stock had an average P/E of 33. This was a hefty multiple to pay for a stock that only grew EPS in that same period on average 10% per year. We believe the stock has fallen out of favor with investors because they still see Microsoft as the stock that never went anywhere in that period. Indeed since 2007, the company has grown EPS by 7.9% per year, dividends by 9.7% and net cash per share by 13.2%. At the same time the stock price is slightly lower than where it was at the end of 2007.
Company Overview
A long term cash flow generator….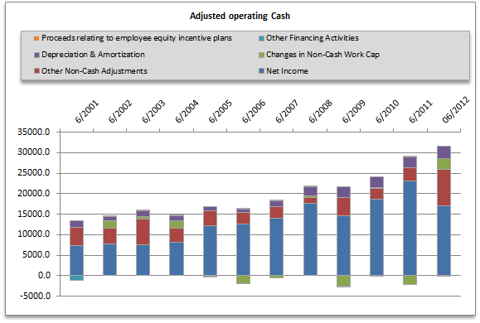 Focused on returning excess cash to shareholders (buybacks and dividends)....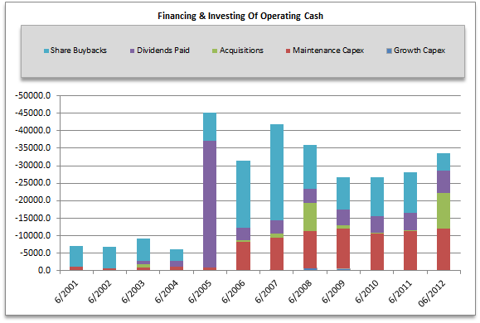 Below one can see how cash is deployed….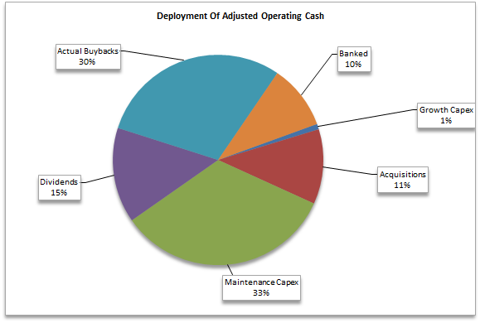 Growing levels of invested capital….
Revenues/Invested Capital appear to have stabilized....
Margins have hit 5 year lows. Will they stabilise here?....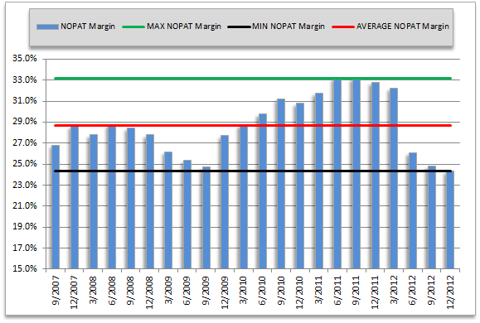 ROIC is at its 5 year lows. Will it stabilise here?....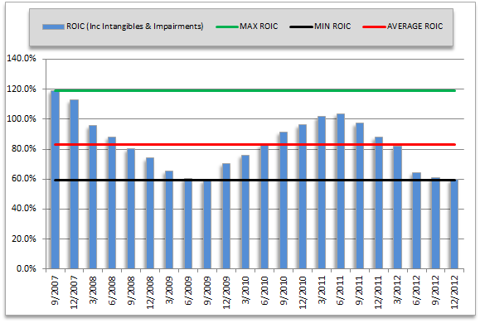 EPS Assumptions
Our annualized average EPS estimate for the next 5 years is 22.8%. The various components can be seen below. To put things in perspective, Microsoft is re-investing $5bn a year into its business. If it can achieve a ROIC of 60% on this figure then we would see new NOPAT of $3bn per year. That's a 17.6% growth on current NOPAT. Even if ROIC falls, one can still expect fresh NOPAT to come into the business.
Expected Return
Assuming Microsoft continues to trade on its current P/E of 11.17x trailing earnings, then we are looking at a 25.8% IRR over the next 5 years with a $79.77 price target. This is based on the current net cash pile remaining untapped which gives us an additional margin of safety. If ROIC does continue to deteriorate then we could see a lower return but certainly not less than double digit.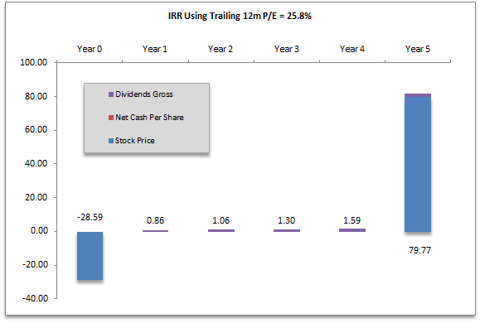 Disclosure: I am long MSFT. I wrote this article myself, and it expresses my own opinions. I am not receiving compensation for it (other than from Seeking Alpha). I have no business relationship with any company whose stock is mentioned in this article.