If you identify with investors looking for undervalued dividend stocks during earnings season, this list might be of interest to you. Given the difficult macro environment, the challenging credit markets, and the low interest rate environment, it is tough to find attractive dividend plays.
To create the list below we began by screening for stocks that pay a dividend of at least 2% but not more than 5% with sustainable payout ratios below 50%. This allowed us to focus on the better credit quality names. We then screened for those that have outperformed the market over the last quarter, with quarterly performance above 10%.
Finally, we screened that universe for those that appear undervalued relative to the Graham Number. The Graham Number is a measure of maximum fair value created by the "godfather of value investing" Benjamin Graham.
It is based on a stock's EPS and book value per share (BVPS).
Graham Number = SQRT(22.5 x TTM EPS x MRQ BVPS)
The equation assumes that P/E should not be higher than 15 and P/BV should not be higher than 1.5. Stocks trading well below their Graham Number may be undervalued.
The List
Compare average analyst ratings for the stocks listed below. For an interactive version of this chart, and more tools, click on the image below.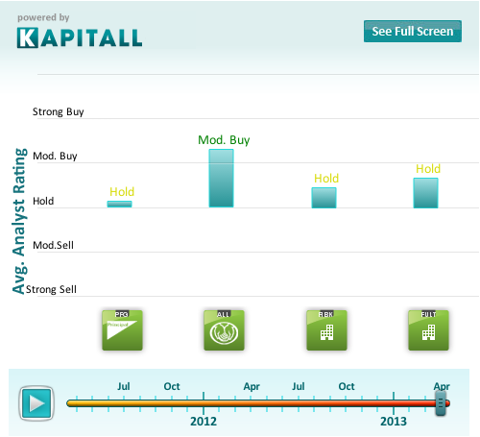 Do you think these stocks should be trading higher? Use this list as a starting point for your own analysis.
1. The Allstate Corporation (NYSE:ALL): Engages in the personal property and casualty insurance, life insurance, retirement, and investment products businesses primarily in the United States.
2. First Interstate Bancsystem Inc. (NASDAQ:FIBK): Operates as the bank holding company for First Interstate Bank that provides commercial and consumer banking services.
3. Fulton Financial Corporation (NASDAQ:FULT): Operates as a multi-bank holding company that offers retail and commercial banking products and services in Pennsylvania, Delaware, Maryland, New Jersey, and Virginia.
4. Principal Financial Group Inc. (NYSE:PFG): Provides retirement savings, investment, and insurance products and services worldwide.
*EPS and BVPS data sourced from Yahoo Finance, all other data sourced from Finviz.
Disclosure: I have no positions in any stocks mentioned, and no plans to initiate any positions within the next 72 hours.
Business relationship disclosure: Business relationship disclosure: Kapitall is a team of analysts. This article was written by Rebecca Lipman, one of our writers. We did not receive compensation for this article (other than from Seeking Alpha), and we have no business relationship with any company whose stock is mentioned in this article.