I have spent more than a year writing about the various forms of dividend stock retirement portfolios. The Team Alpha Retirement Portfolio started with $100k and is valued at roughly $140k today. The number of stocks within the portfolio has fluctuated between 15-20 in any given month, and is well-diversified. One issue that is faced, is that some of our newer readers find that the price to "enter" this portfolio is higher than they can safely invest right now. It is not that easy for a younger investor to come up with $100k to kick off a portfolio for the future.
I have received a number of emails from investors looking for a well-balanced portfolio to get started with. These folks are also very reluctant to take the risks that a portfolio such as The Young And Restless Portfolio carries with it. I decided to offer this simple article as a way to start a younger investor seeking relative safety (less risk), with some potential for capital appreciation, while offering a modest but consistent dividend. The amount I would suggest to begin with would be no less than $25,000.
A Well Diversified "Start-Up" Portfolio
The goal is to use an equal allocation in each of the stock selections and to re-invest all dividends back into the individual stocks. While there will still need to be regular monitoring of events and the fundamentals of each company, I believe that this core group of stocks could achieve the foundation of a much larger portfolio in the years ahead.
The following stocks are the ones that I suggest the beginning investor take a look at for a startup portfolio.
Microsoft (NASDAQ:MSFT): Price: $29/share, Dividend Yield: 3.25% ESS Rating: Bullish
MSFT is perhaps the greatest technology success story in the world. The company has endured the struggles of a mature company after reaching extraordinary heights. Their balance sheet is pristine and has enough cash to do just about anything they want.
While their future has not been written, the company at present offers any investor a consistent dividend with a track record of increases. MSFT is the technology stock of this portfolio; I believe it makes for a sound investment for a start-up portfolio.
General Electric (NYSE:GE): Price: $23/share, Dividend Yield: 3.30%, ESS Rating: Bullish
The largest conglomerate in the world, GE has faced some difficult years, basically from its exposure to the financial sector. Since 2009, the company has cleaned up that division and has brought the dividends back into the parent company to add more cash to the total GE picture.
The company itself is in just about every facet of our lives, from energy to industrial to healthcare equipment, just to name a few. In the last few years, the share price has seen a resurgence of over 140%, and I believe it has not scratched the surface of its potential. Now, the company is back on track with sold dividends as well, and it is my stock pick of 2013. I believe it belongs in any investor's portfolio.
Exxon Mobil (NYSE:XOM): Price: $89/share, Dividend Yield: 2.60%, ESS Rating: Bullish
The largest public company on the planet has been the leader in the energy sector for decades. The dividend yield, while lower than we would all like, has been a dividend champion of consistent increases decade after decade. The dividends alone have made investors wealthy and secure, and cannot be denied.
Now that the company has expanded its reach into all forms of energy, XOM is considered by many to be the leading company to finally bring energy independence to the USA. I believe that this stock is a must-own in every portfolio of any size.
Coca-Cola (NYSE:KO): Price: $40/share, Dividend Yield: 2.75%, ESS Rating: Bullish
Through economic good times as well as rough times, Coca-Cola has perhaps the world's most well-known brand name. Its soft drinks are known worldwide, and have been the best selling products around the globe. It performs well as a defensive stock and also has a clear potential for global growth.
This company also has a track record of dividend growth and payments for decades upon decades, and will make any portfolio productive. KO, it's the real thing.
Johnson & Johnson (NYSE:JNJ): Price: $81/share, Dividend Yield: 3.10%, ESS Rating: Bullish
Perhaps the largest pharmaceutical company on Earth, JNJ is in all business sectors of the drug industry. Be it by prescription, over the counter, or medical devices, JNJ has just about everything. It has also faced some serious litigation bumps along the way, but the company has survived, thrived and has grown both its share price as well as its dividend for decades.
If there is one pharmaceutical company that should be a fixture in any portfolio, JNJ is it.
While I have written extensively on most of these stocks, I will go into detail in future articles as events arise. For now, this portfolio can get you started on the road to a solid dividend investing strategy for the long term.
Here Is The Beginning Allocation Breakdown
The Basic Foundation Dividend Portfolio
Stock
Initial Inv
Orig. Price
Div. Yield
MSFT
5000
29
3.30%
GE
5000
23
3.30%
XOM
5000
89
2.60%
KO
5000
41
2.75%
JNJ
5000
81
3.10%
The original portfolio, as it stands right now, would deliver a dividend yield on cost of roughly 3.00%. Remember, at your youthful age, dividends should be re-invested back into each stock for exponential growth over time. That will be the way we track the performance of this portfolio.
While I will not be updating this as regularly as our other portfolios, the stage has now been set, and I will revisit our progress every few months. For now, let's take a look at a chart of where we have been and where we are right now.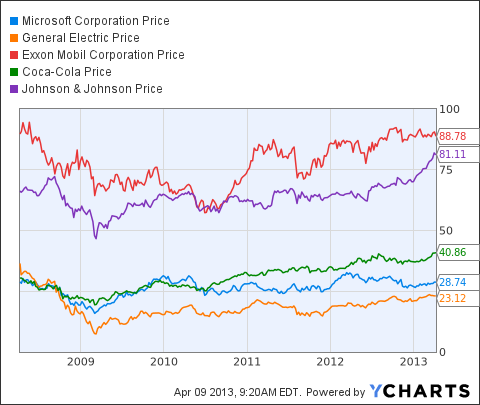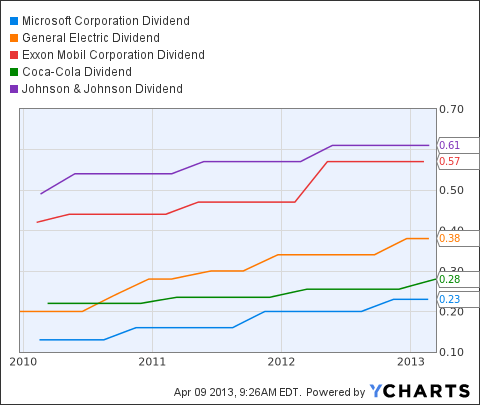 Both of these charts show sound growth in both share price, and more importantly, dividend growth. By beginning your journey towards a more secure financial future, you can do far worse than using this template to begin with.
Walk before you can run!
Disclosure: I am long GE, XOM, JNJ, KO. I wrote this article myself, and it expresses my own opinions. I am not receiving compensation for it (other than from Seeking Alpha). I have no business relationship with any company whose stock is mentioned in this article.