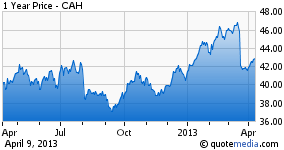 The healthcare industry is undergoing changes in several parts of the world and presenting new challenges to all stakeholders including healthcare providers, pharmaceutical and medical equipment companies, patients as well as health insurance providers. Rendering healthcare services in a cost-effective manner has gained prime importance across both developing as well as developed countries. Every single part of the healthcare value chain is now pruning costs and increasing efficiency because the system is changing such that companies and service providers are being paid for creation and delivery of value, and are increasingly under pressure to revise any inflated charges to patients. Companies are forming partnerships that will help them benefit from each others' core competencies and customer bases. As new partnerships are forming, some old ones are getting broken as well and large sections of businesses are taking a beating. Sailing in the midst of such stormy seas these days is Cardinal Health (NYSE:CAH). This is the time to hold on tight and observe how the story unfolds.
Recent events that rocked its boat
Companies that operate drug store chains and retail and corporate pharmacies are very important customers for drug distributors like Cardinal Health, which primarily provide products and services to pharmacies, hospitals and other healthcare providers. Cardinal Health Inc. shares dropped by more than 10% the week after Walgreen (WAG) announced it won't renew its contract with the drug distributor.
Walgreen was Cardinal's second largest customer, accounting for 21% of FY 2012 revenues, which amounts to about $22.5 billion. The company operates a large drugstore chain throughout the U.S. (Walgreen) and provides customers consumer goods, pharmacy products (prescription and non-prescription) as well as health and wellness services. Walgreen bought a stake in AmerisourceBergen Corporation, a drug distribution company. Last summer AmerisourceBergen had gained Express Scripts Holding Company (NASDAQ:ESRX). Express Scripts had been Cardinal's third largest customer. CVS Caremark Corporation (CVS) now remains the largest customer, responsible for 22% of Cardinal Health's revenues ($23.7 billion). However, given the loss of the Walgreen and Express Scripts accounts, CVS has gained a strong bargaining position with Cardinal which it can leverage when the time to renew the contract comes around this summer.
Current company moves to stabilize situation
The recent loss of these major drugstore chain and retail pharmacy accounts definitely puts pressure on Cardinal Health to quickly take steps to differentiate itself from other companies that distribute drugs and provide products and services to pharmacies and healthcare providers. It decided to diversify into a business segment that promises good growth in the future, and investors can take note that this move indicates that the company is in sync with the changing healthcare landscape across the country.
On March 18, 2013 Cardinal Health Inc. acquired AssuraMed for $2.07 billion. AssuraMed is an Ohio based seller of home medical supplies. Through this acquisition Cardinal has entered the home-health supply market by buying the business from its private equity owners. Cardinal will now be in a position to deliver the products that people need to take care of their medical needs at home and not depend upon hospital care.
AssuraMed is a large supplier of products for home treatment of diabetes, wounds, and incontinence among other things. It currently distributes over 30,000 products to more than 1 million patients across the U.S. AssuraMed generated approximately $1 billion in sales in 2012. AssuraMed's contribution to the topline will not be able to compensate for Cardinal's recent major loss of the Walgreen account, however, as a long-term strategy this move is likely to be beneficial as Cardinal has acquired a company in a business segment with significant growth potential. One can look at it as a small step in the right direction. The AssuraMed deal is expected to roughly add $0.02 - $0.03 per share to the fiscal 2013 non-GAAP earnings of Cardinal Health, with the accretion leading to about $0.18 per share in 2014.
Cardinal Health has made this move keeping in mind the changing trends in the healthcare industry. Since hospital care is becoming increasingly expensive and chronic diseases are on the rise, the need for medical supplies that will help people treat themselves at home is growing.
Cardinal also launched the new Flexal nitrile exam gloves to add to its product line. It also received new clearances from the FDA for its Durablue Sterilization Wrap which is used for sterilization of reusable surgical instruments. The new product launch and the FDA clearance will help reinforce in the mind of the public that apart from assisting in pharmaceutical drug distribution, Cardinal is also involved in designing innovative solutions to aid healthcare providers in improving their services.
An effective salvation strategy?
Cardinal's move to acquire AssuraMed is indicative of its intention to diversify into a new type of business behind healthcare that is in sync with current trends in the industry. This is indeed a fairly good idea provided that Cardinal ensures that it is able to root itself strongly in this business and create a dominant position in the home medical supply delivery market.
While the loss of major pharmacy accounts like Walgreen have significantly impacted the company's revenues and public confidence in the company, positive steps like the acquisition of AssuraMed will definitely help to a certain degree with damage control.
CVS has indeed gained a superior bargaining position with the company with respect to the renewal of the contract this summer, and Cardinal would do better not to lose this important account.
An effective salvation strategy would include sustaining all current significant partnerships as well as diversifying into newer business avenues where the company can quickly establish itself as a high quality and cost-effective service provider. While the stock's performance relative to the market fluctuated considerably towards the end of last month, since April 5th, 2013 it has consistently been faring much better compared to Dow Jones and S&P 500, but CVS and WAG have been outperforming it. Cardinal seems to be moving in the right direction taking small yet significant steps to improvement.
Disclosure: I have no positions in any stocks mentioned, and no plans to initiate any positions within the next 72 hours. I wrote this article myself, and it expresses my own opinions. I am not receiving compensation for it (other than from Seeking Alpha). I have no business relationship with any company whose stock is mentioned in this article.