Chevron (NYSE:CVX) was given permission by Brazil's oil regulator to resume production at the offshore Frade Field. The announcement is a positive catalyst for Chevron, Petrobras (NYSE:PBR), and Transocean (NYSE:RIG). Chevron is the operator of the field, with a 51.7% working interest. Petrobras owns 30% of the field and Frade Japao Petroleo Limitada has an 18.3% stake. RIG is Chevron's primary drilling contractor.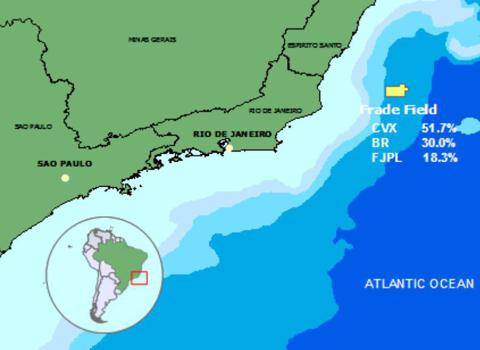 The Frade Field is located in the Campos Basin in 3,700 feet of water. Production began in 2009. Peak annual production is expected to average 75-80,000 boe/day. The field produced 70,000 barrels a day before a spill in late 2011 which caused the field to be shut-in by Brazilian regulators. A resumption of output could begin within days.
Frade was discovered in 1986 by Petrobras. In 1989 Texaco was farmed into the field and participated in two appraisal wells in 2001. The Frade Field is Chevron's first oil field project Brazil.
The field consists of multiple stacked reservoirs. It has been water flooded to maintain pressure. The field was developed by a total of 19 wells: 12 horizontal production wells and 7 vertical injection wells. CVX was granted permission to restart output from four wells for one year. Approval was given to produce from another 2 wells for up to two months if they are needed to balance oil and gas pressure in the reservoir.
The field is exploited using subsea wells with a floating production storage and offloading ("FPSO") vessel. The FPSO has the capacity to process 100,000 barrels of oil per day and has a maximum storage capacity of 1.5 million barrels. The production facilities include capacity for 36 million cubic feet of gas per day. Gas in excess of the FPSO's onboard fuel requirements is sent to shore via an existing Petrobras pipeline.
In my February article Chevron: The Best Integrated Oil Company In The World, I wrote:
In December of 2012, Chevron offered to settle with the Brazilian government for $150 million, an amount CEO Watson says "seemed commensurate with what transpired." Given Petrobras' on-going financial problems, and the recent extreme drop in its stock, I would suspect Brazil is probably as anxious to get Frade production back up-to-snuff as quickly as is Chevron. Expect a settlement soon.
A quick glance at Petrobras' stock chart is all the evidence I needed to believe the company badly needed a Frade lifeline: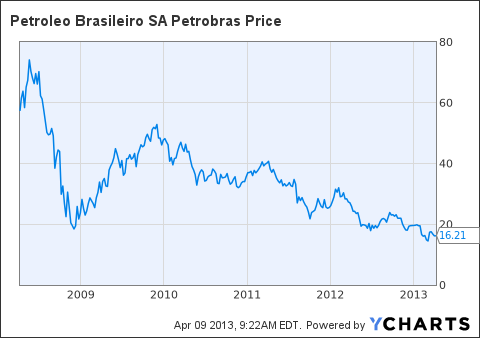 It's clear Petrobras will need outside engineering and capital to help exploit the massive but technically challenging pre-salt discoveries it has made over the past decade. Although pre-salt production reached 300,000 barrels/day in February, PBR's overall production has not kept pace with market expectations despite large capital expenditures. Recent operational performance has caused investors to doubt PBR's long-term production plans, which call for it to double production to 4.2 million boe/day by 2020.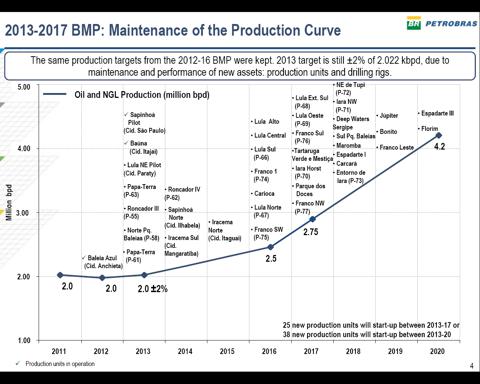 Lifting the ban on Chevron was one step in correcting this problem. The next step is for Brazil and Petrobras to admit the best way to economically exploit its huge pre-salt discoveries is to rely more on American oil company's expertise and operational capability. Such a partnership would be an obvious win-win for both sides. However, such a change in sentiment will require a more pragmatic assessment of the pre-salt discoveries by both Petrobras and the Brazilian authorities.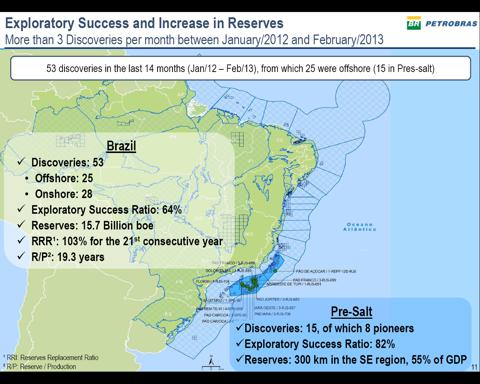 Regardless, the restart very welcome news for Transocean, Chevron's primary drilling contractor at Frade. RIG is currently engaged in a battle with investor Carl Icahn. Icahn has proposed the company pay a special $4/share dividend and has called for the company to repeal its staggered board structure.
Summary
News of the Frade restart is positive for Chevron, Petrobras, and Transocean. Of the three stocks, my favorite remains Chevron. It is the industry's leader in the important "profit per barrel" metric. CVX's recent Coronado discovery in the Gulf Of Mexico was another feather in its hat. Its three big growth projects (Jack/St. Malo, Big Foot, and Tubular Bells) in deepwater Gulf of Mexico are all on schedule to start up in 2014 and will have a total production capacity of 296,000+ boe/day. CVX pays a $3.60 dividend which works out to about 3%. Chevron is a steal at $118. The stock is making higher highs and lower lows and appears to be poised for a production led breakout.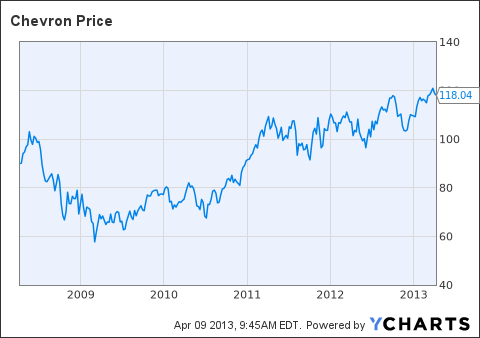 Disclosure: I am long CVX. I wrote this article myself, and it expresses my own opinions. I am not receiving compensation for it (other than from Seeking Alpha). I have no business relationship with any company whose stock is mentioned in this article.
Disclaimer: I am an engineer, not a CFA. Please do your own research and contact your investment adviser. I am not responsible for investment decisions you make.