In mid March, Linn Energy (LINE) and LinnCo (LNCO) received an early termination of the waiting period associated with the acquisition of Berry Petroleum (BRY) -- announced in February.
Given the deal is expected to close by the end of June at the latest, investors should consider what Linn is getting in this $4.3 billion deal, $1.7 billion of which is assumed debt.
The acquisition is structured as a stock-for-stock merger of Berry with LinnCo, a holding company, followed by the acquisition of the Berry assets by Linn Energy.
Berry shareholders will receive 1.25 common shares of LinnCo, equivalent to $46.24 per Berry based on LinnCo's price on February 20th.
The structuring of the deal is expected to be tax-free to Berry shareholders and the acquisition is expected to be immediately accretive, generating distributable cash flow per unit of approximately $0.40 during the first year.
The acquisition significantly increases Linn's oil based assets.
Heading into the acquisition, Linn had 4.8 Tcfe of proved reserves.
Berry will boost Linn's estimated proved reserves and production by approximately 34% and 30%, respectively. Importantly, Berry boosts Linn's liquids exposure to 54% of proved reserves from 46%.
The deal gives Linn entry to the Uinta Basin and doubles Linn's exposure to Wolfberry in the Permian Basin.
The following map shows Berry's California, Colorado, Utah and Texas assets.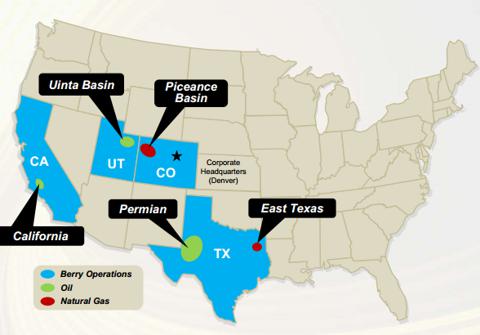 The next map shows Linn's pre-Berry acreage.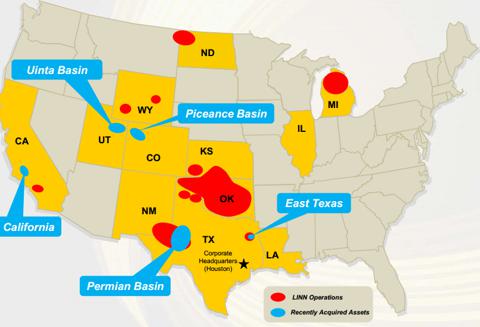 As you can see, Berry's acreage dovetails nicely with Linn's existing operations, giving the combined company operational leverage.
Berry's oily assets and growth plans offer Linn upside.
Berry's California operations are in the San Joaquin Basin in Kern County -- one of the largest oil field in the country.
The company's legacy Midway field production of 13k barrels of oil per day kicks off stable cash flow for new projects, including expanding the North Midway/Diatomite assets Berry holds.
Heading into the merger, Berry had planned nearly a third of its capex for Diatomite, where it expects 350 completions this year. Last quarter, Berry's year-over-year production in Diatomite grew 10%.
Berry's California assets also generate its biggest profits, with a corporate margin of $60 per barrel of oil equivalent.
This is well above Berry's expected overall $48 corporate margin -- assuming $90 WTI crude prices -- for 2013. Those margins are even more attractive given steam floods are boosting production in those legacy acres.
In Utah, Berry had planned 25% of its 2013 capex for its 165k net acres in Uinta, where it operates 600 producing wells -- 60% of which are oil.
Berry's Uinta production jumped 26% from Q3 in Q4 and Berry thinks its Uinta production, which generates margins of $40 per barrel, can ultimately climb from 5k barrels of oil equivalent a day in 2012 to nearly 15k barrels in 2017.
Over in Texas, Linn will get Berry's 61,000 acres in the Wolfberry trend in the Permian Basin.
Berry's margins in the Permian were expected to be $50 per barrel this year and 25% of its capital spending was slated for the basin.
Berry's previous capital spending in the Permian, where it has 325 proved locations, allowed production to climb 16% sequentially in Q4. For 2013, Berry had plans to add 115 more locations at 40 acre spacing in Ector County, which were projected to boost production another 7-8%.
Overall, 68% of the reserves Linn gets from Berry are oil and there's little reason to think Berry's pre-deal expectations of 10-15% annual production growth won't carryover to Linn.
After all, Berry replaced 270% of its oil production last year.
Given the highly profitable California assets and production opportunities in both Uinta and the Permian Basin, Linn appears to be getting a solid cash flow generating operation likely to support the shares healthy 7.7% current dividend yield.
If so, investors may want to keep a close eye on Linn as we move further into the second quarter and closer to the deal's completion.
Source Material:
Berry's February Company Update
Linn's Berry Petroleum Merger Overview
Disclosure: I have no positions in any stocks mentioned, but may initiate a long position in LNCO, LINE, BRY over the next 72 hours. I wrote this article myself, and it expresses my own opinions. I am not receiving compensation for it (other than from Seeking Alpha). I have no business relationship with any company whose stock is mentioned in this article.