The stock of Microsoft (NASDAQ:MSFT) has behaved well since finishing a three month bottoming process earlier in the year, culminating with a $1 rise in trading Tuesday. I think investors are starting to view its shares more favorably and place more value on Mr. Softie, which is extremely cheap on historical valuations (The stock is selling near the bottom of its five-year valuation based on P/E, P/S, P/CF and P/B). I think this move will continue for four main reasons.
1. Investors have been provided with some positive news around dividend hikes from Microsoft's large cap tech brethren recently. Cisco Systems (NASDAQ:CSCO) hiked its dividend by an impressive 21% late in March and now yields a solid 3.3%. Qualcomm (NASDAQ:QCOM) then topped that by announcing a 40% dividend hike Tuesday which will bring Qualcomm's yield to above 2%. I noted that tech stocks have become much bigger dividend payers over the last few years, and this trend would continue in this article in March. Microsoft has increased its dividend payout substantially over the past five years. Although the next hike will probably be announced in the third quarter, the dividend hikes in the large-cap tech space should provide a nice tailwind to MSFT in the months ahead.
2. One of the unique parts of the rally over the last three months is the defensive nature of the advance. Consumer Staples (NYSEARCA:XLP), even though they have much slower growth and higher valuations and in some cases lower yields than what is available in the tech space, have outperformed the tech sector (NYSEARCA:XLK) by more than 10% over the past three months (See Chart).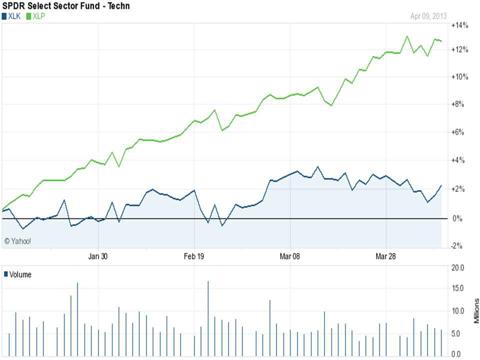 Compare Microsoft to Consumer Staple stalwart Procter & Gamble (NYSE:PG).
PG: The stock is selling at 18x forward earnings, yields 2.9%, has grown its dividend by 8% annually over the past five years. The company sports an AA- rated balance sheet but still has some $30B in net debt on the books.
MSFT: The stock is selling at 9.5x forward earnings, yields 3.2%, has grown its dividend by more than 16% annually over the past five years. The company is one of four stocks in the S&P that has a higher credit rating (AAA) than the federal government and has over $60B in net cash and short-term investments on the books.
Since everything eventually reverts to the mean, one can expect techs to outperform consumer staples over the next year.
3. Unlike Apple (NASDAQ:AAPL), investors do not have high expectations for Microsoft. If a new Windows phone or Surface tablet does not post great sales, investors pretty much take it in stride. AAPL, on the other hand, responds negatively to any bit of bad news even as it has record product sales. I wrote a piece on this difference in expectations between these two companies around six months ago and postulated MSFT would outperform AAPL in the medium term because of this discrepancy among other factors. This prediction has turned out be prescient as Apple has cratered while MSFT has been steady over the last half year (See Chart). These low expectations should continue to help Microsoft navigate any hiccups it may have in its product line although I also expect Apple has bottomed here at around $420 a share.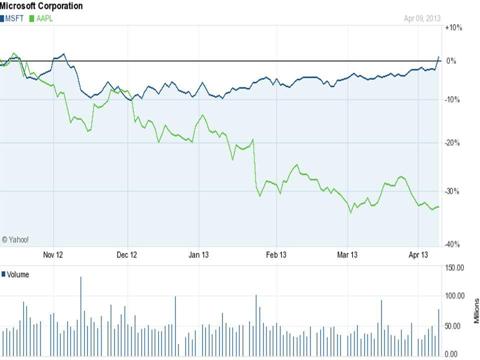 4. Finally, Microsoft broke across its 200-day moving average yesterday for first time since October (See Chart). For all these reasons, I believe Microsoft is heading higher from here.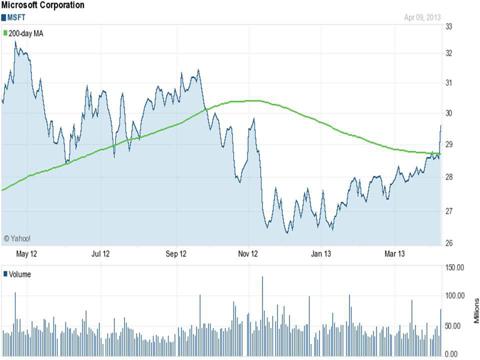 Disclosure: I am long AAPL, CSCO, MSFT, QCOM. I wrote this article myself, and it expresses my own opinions. I am not receiving compensation for it (other than from Seeking Alpha). I have no business relationship with any company whose stock is mentioned in this article.